Gay Pride, ACT UP and AIDS Activism, New York, 1992-1994
Made between 1992-1994, these photographs provide an intimate look at New Yorkers engagement in AIDS activism and the fight for LGBTQ+ rights. Diverse groups of New Yorkers came together for the collective cause of civil rights. At political funerals, marches, protests, parades, community centers, the people photographed were well aware of how media representation would define them. They were active participants in the making of these images.
Beginning with the 1992 ACT UP Ashes Action, where members from all over the United States brought the ashes of their loved ones to George Bush's White House lawn. This action remains one the most important of the group's history. In 1993, the Lesbian Avengers led the First New York Annual Dyke March across 42nd Street with a float made to be a bed. Also that year, I photographed legendary transgender activist Sylvia Rivera at the Gay Pride Parade. In 1994, on the occasion of the 25th anniversary of the Stonewall uprising, ACT UP held its own march. There I photographed Stonewall veteran and gay rights pioneer, Robert "Bob" Kohler. In 1994 a coalition of activists marched across the Brooklyn Bridge from Brooklyn to City Hall to focus media attention on drastic cuts proposed to the Division of AIDS Services (DAS). Closing the series are photographs of Ali Forney and  Safe Space. Ali, a non-conforming transgender activist was murdered in New York in 1997. In 2003, The Ali Forney Center was founded in his honor. These are the only existing photographs of Ali.
This period brought myriad challenges to the LGBTQ+ community. What you see in these photographs is a combination of love, pain, pride, rage and resilience. The the civil rights gains in the 25 years after Stonewall and up until today are now under attack, again. History teaches us we can look to the past to inspire, educate and ignite the next generation to fight for social change.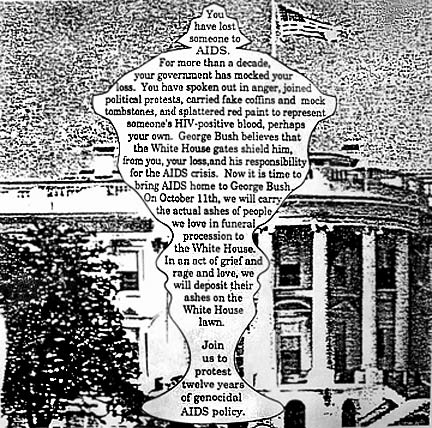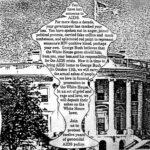 ACT UP Ashes Action, Washington, D.C., October 11, 1992
ACT UP NY held its first political funeral, the ASHES Action, on the weekend of the final exhibition of the AIDS Quilt. In a procession starting at the Capitol, 11 people from both coasts carried ashes of friends, family and lovers. Met at the White House lawn by police in riot gear, on motorcycles, and on horses, the procession - by then some 8,000 strong - broke through police lines and scattered the ashes on the White House lawn.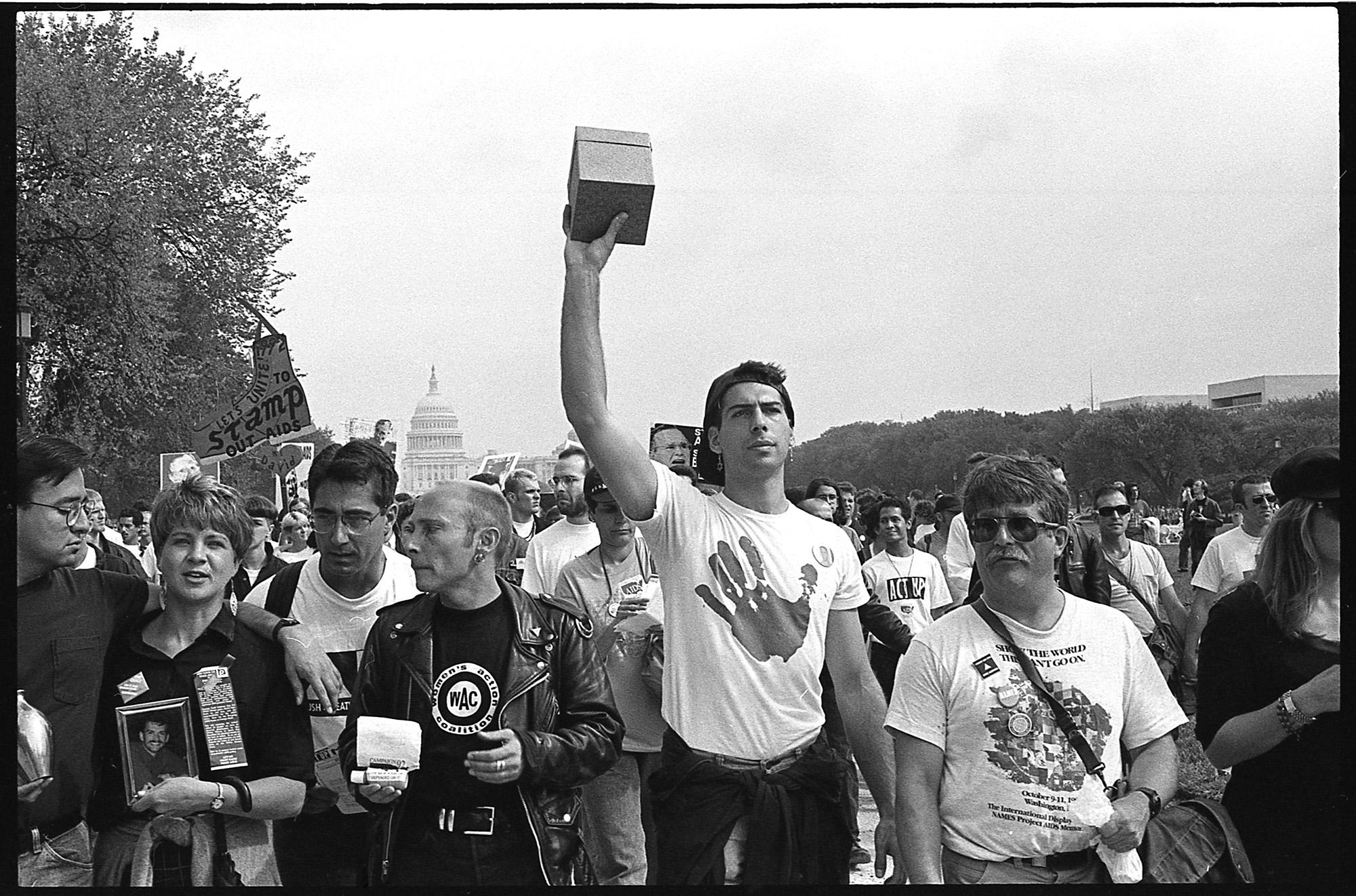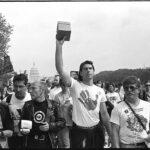 David Robinson, ACT UP founding member and Ashes Action organizer.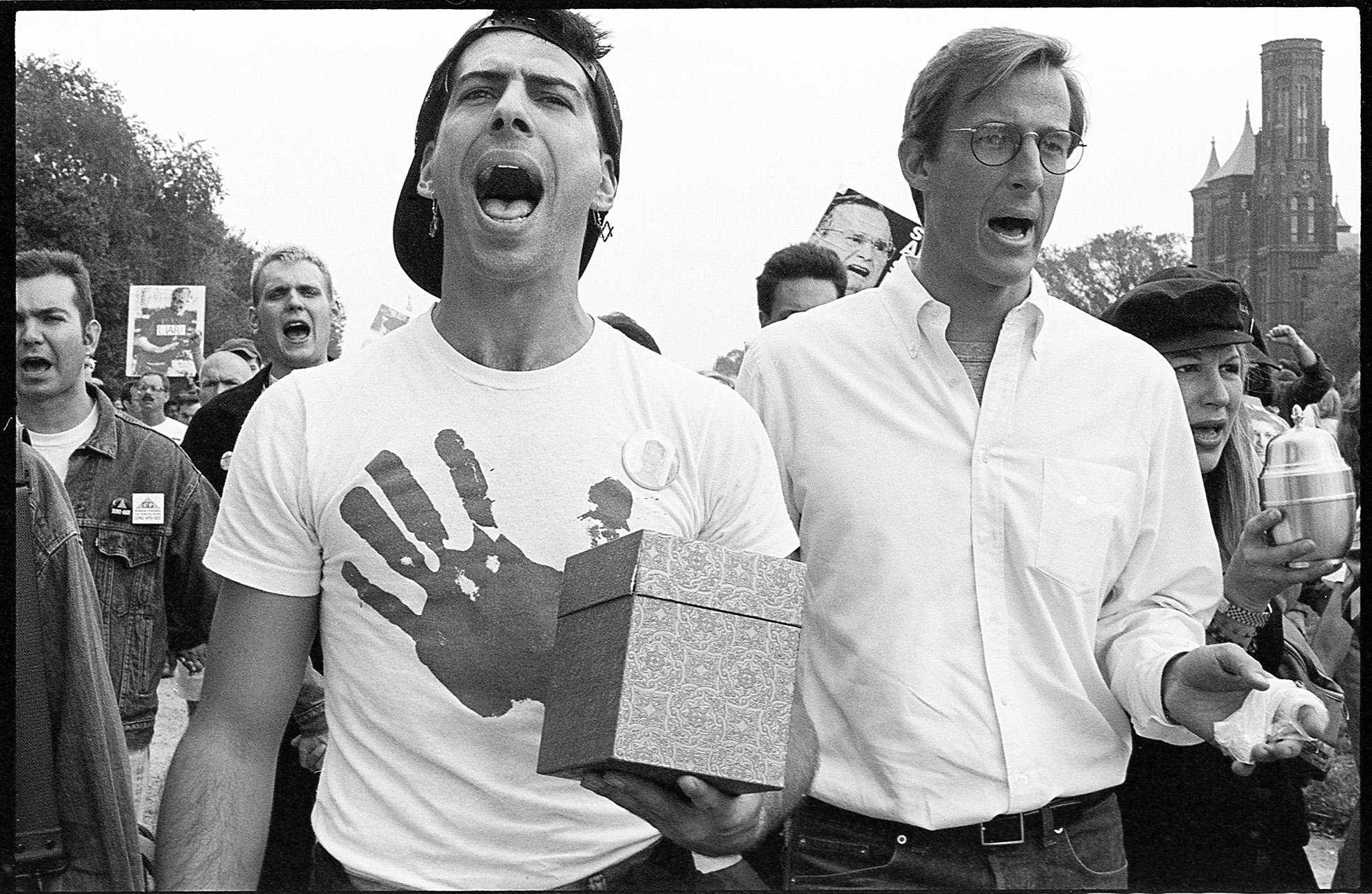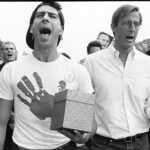 David Robinson and journalist Mark Schoofs, who in 1999 received the Pulitzer Prize for his series on AIDS in Africa for The Village Voice.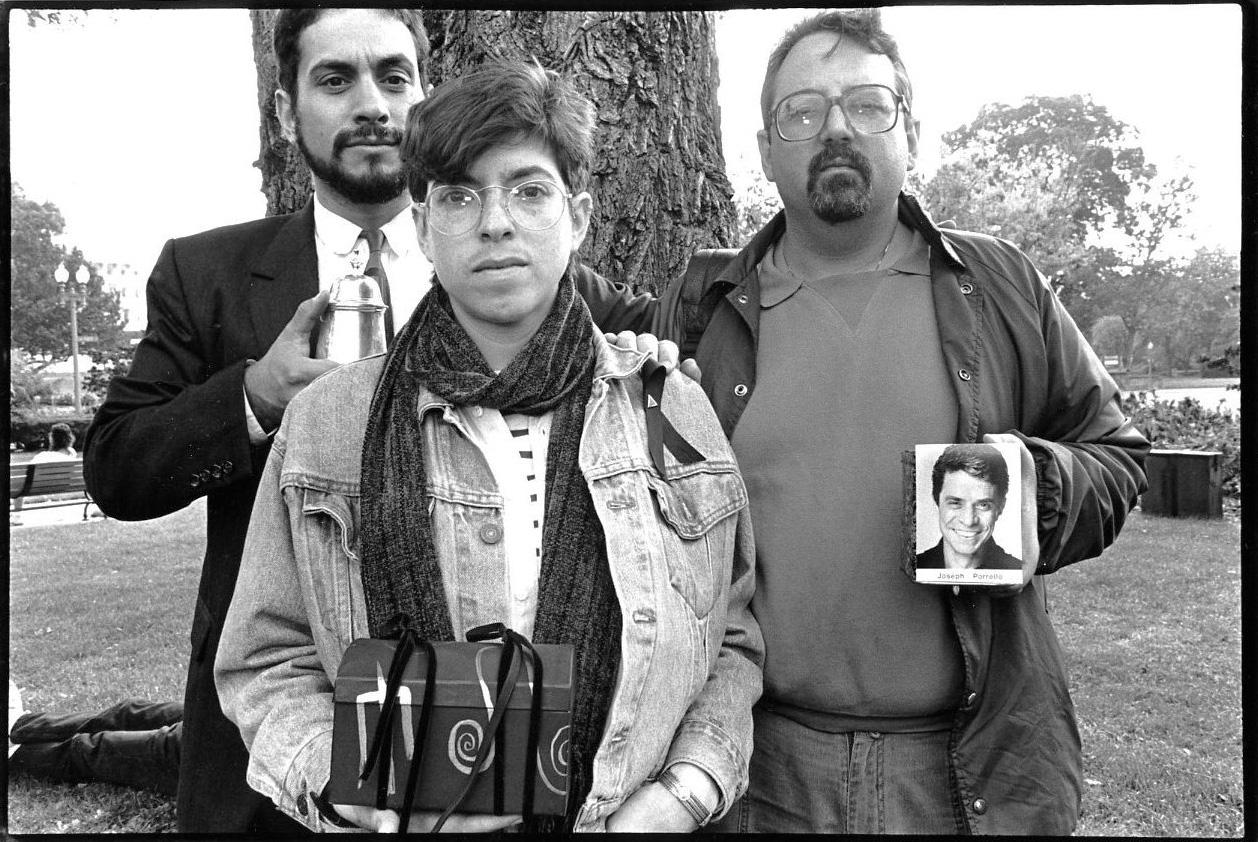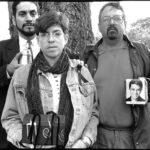 ACT UP NY member, Alexis Danzig holding the ashes of her father. She met these two men on the day of the action. Their names are unknown.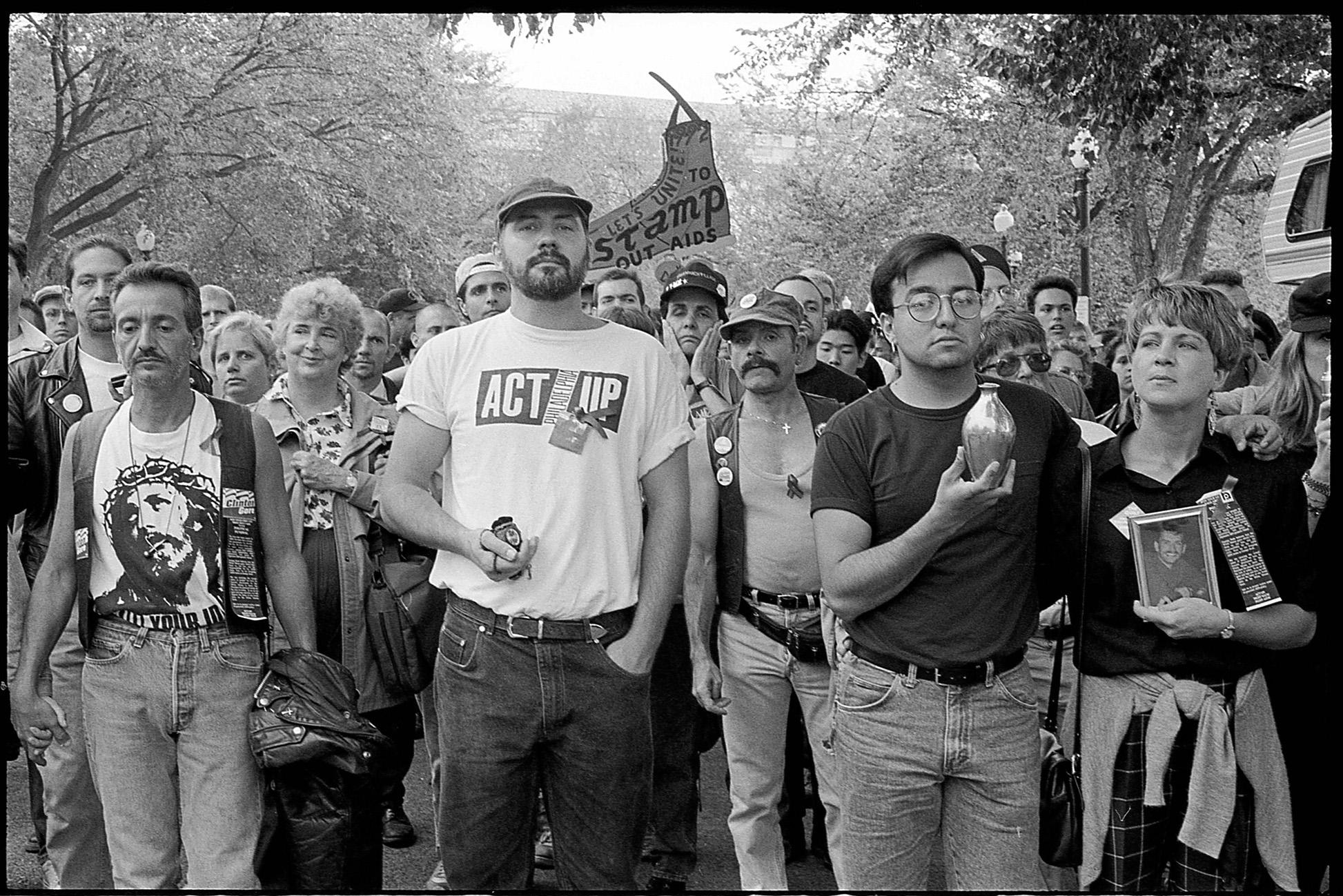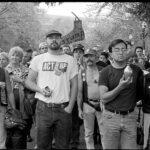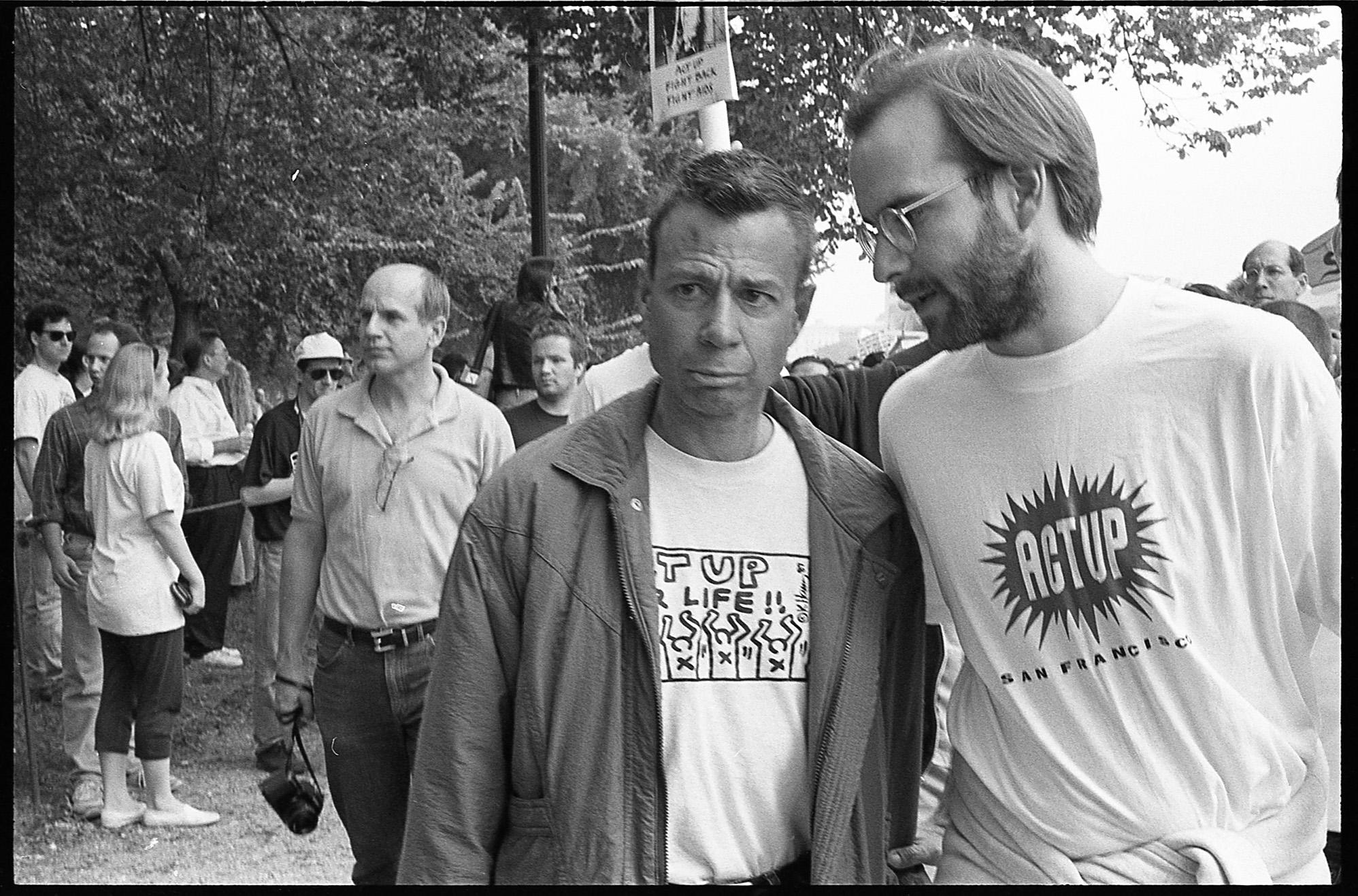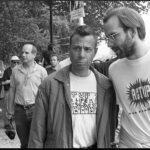 Bob Rafsky(1945-1993), ACT UP NY.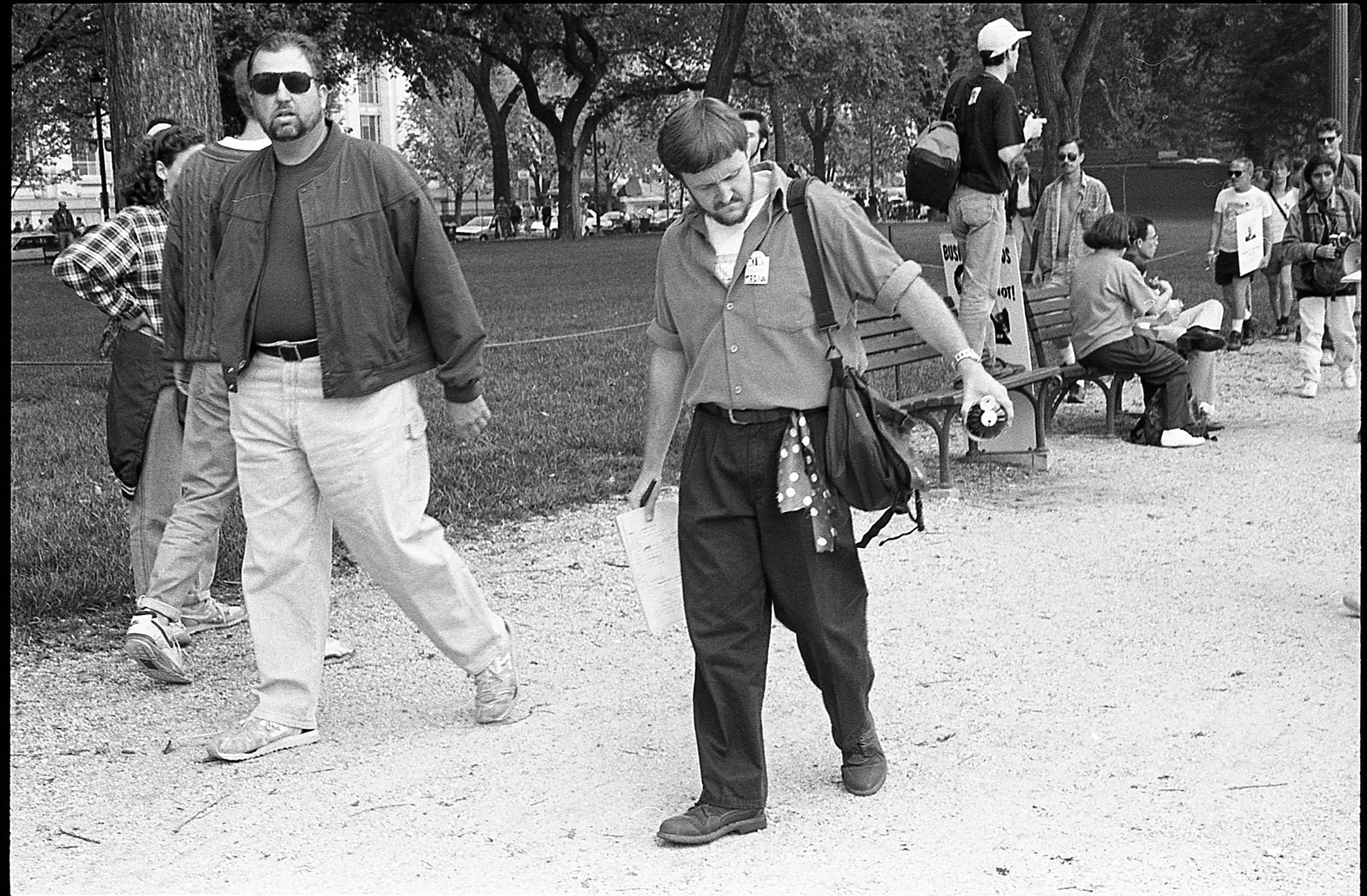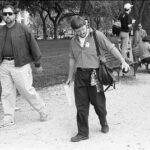 ACT UP NY member Jaimie Leo drips blood along the mall.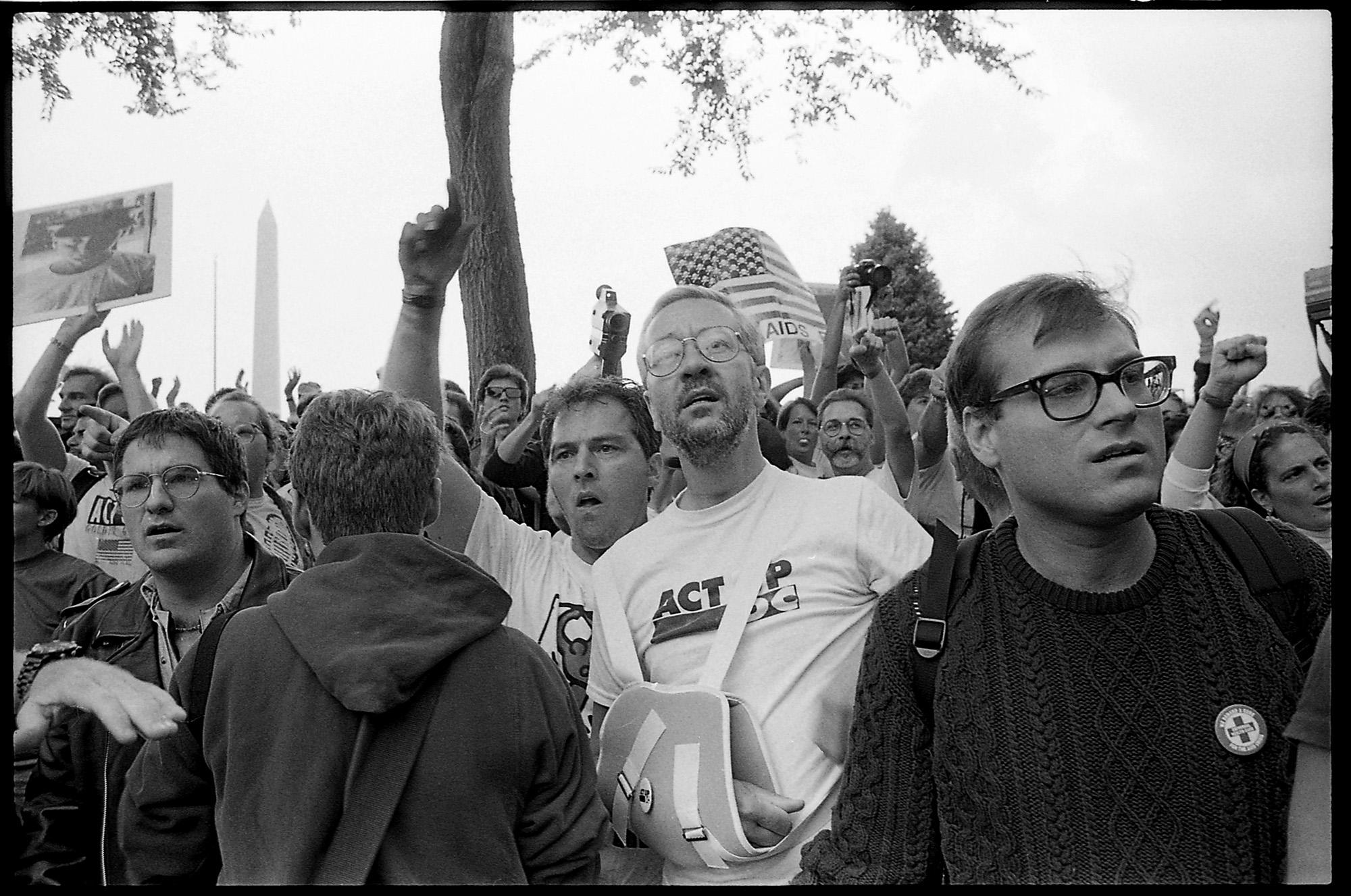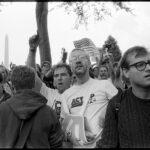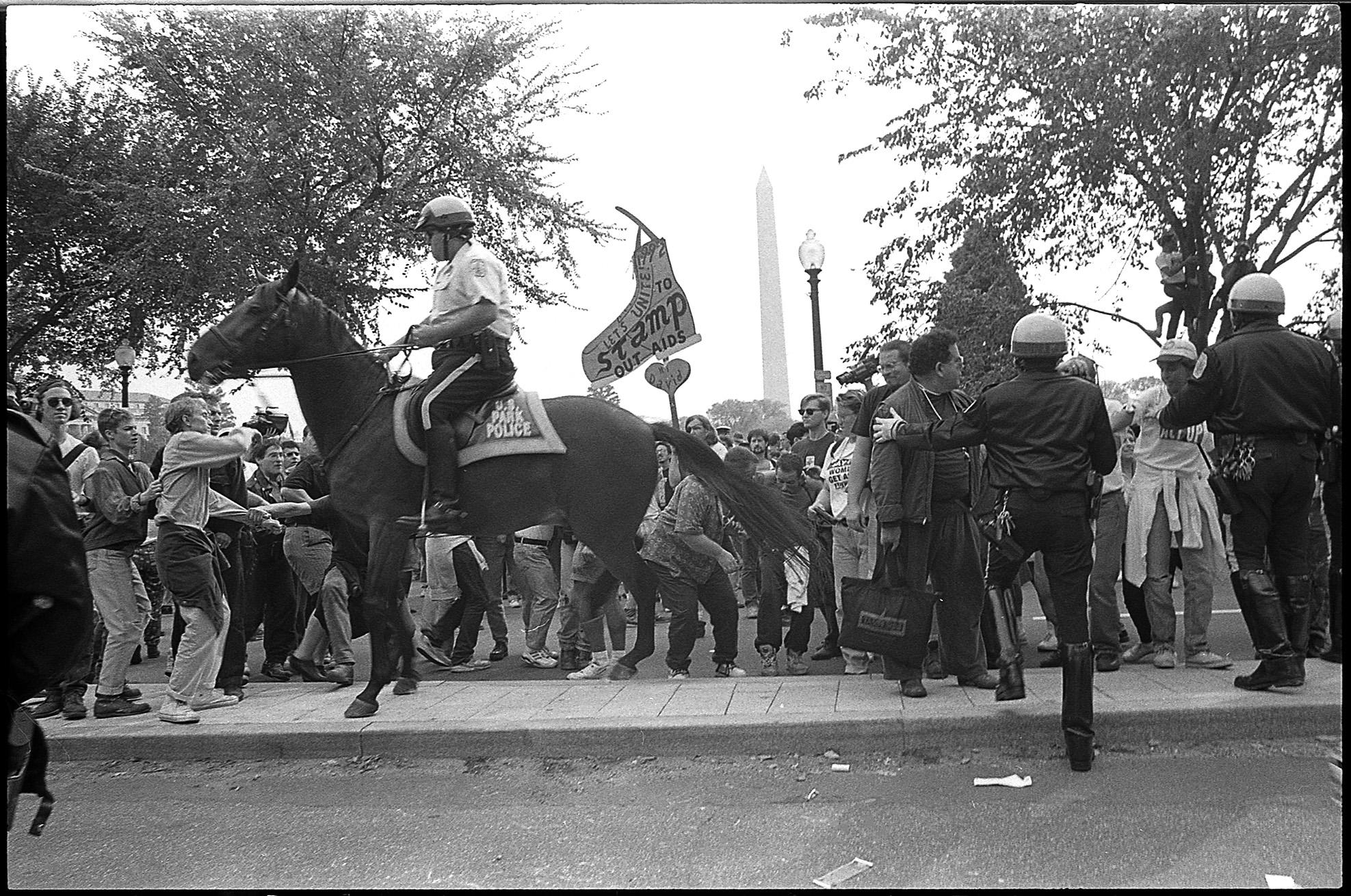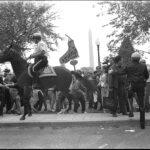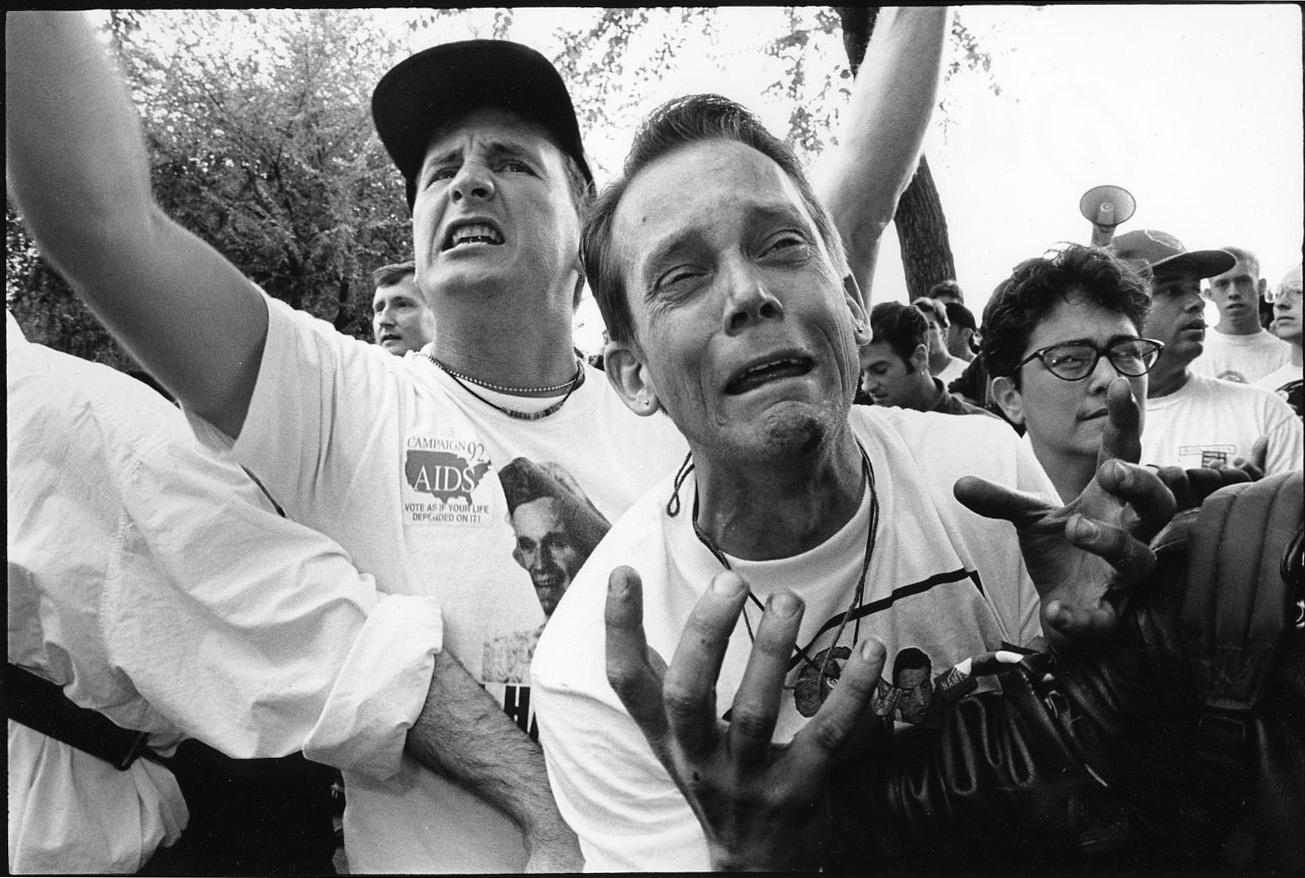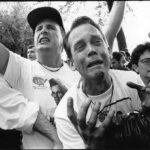 From an interview conducted before the action, Greg Ross of San Jose CA., "I'm here to scatter my own ashes. I'm going to die of AIDS probably in 2 years. Until I die I will join your forces."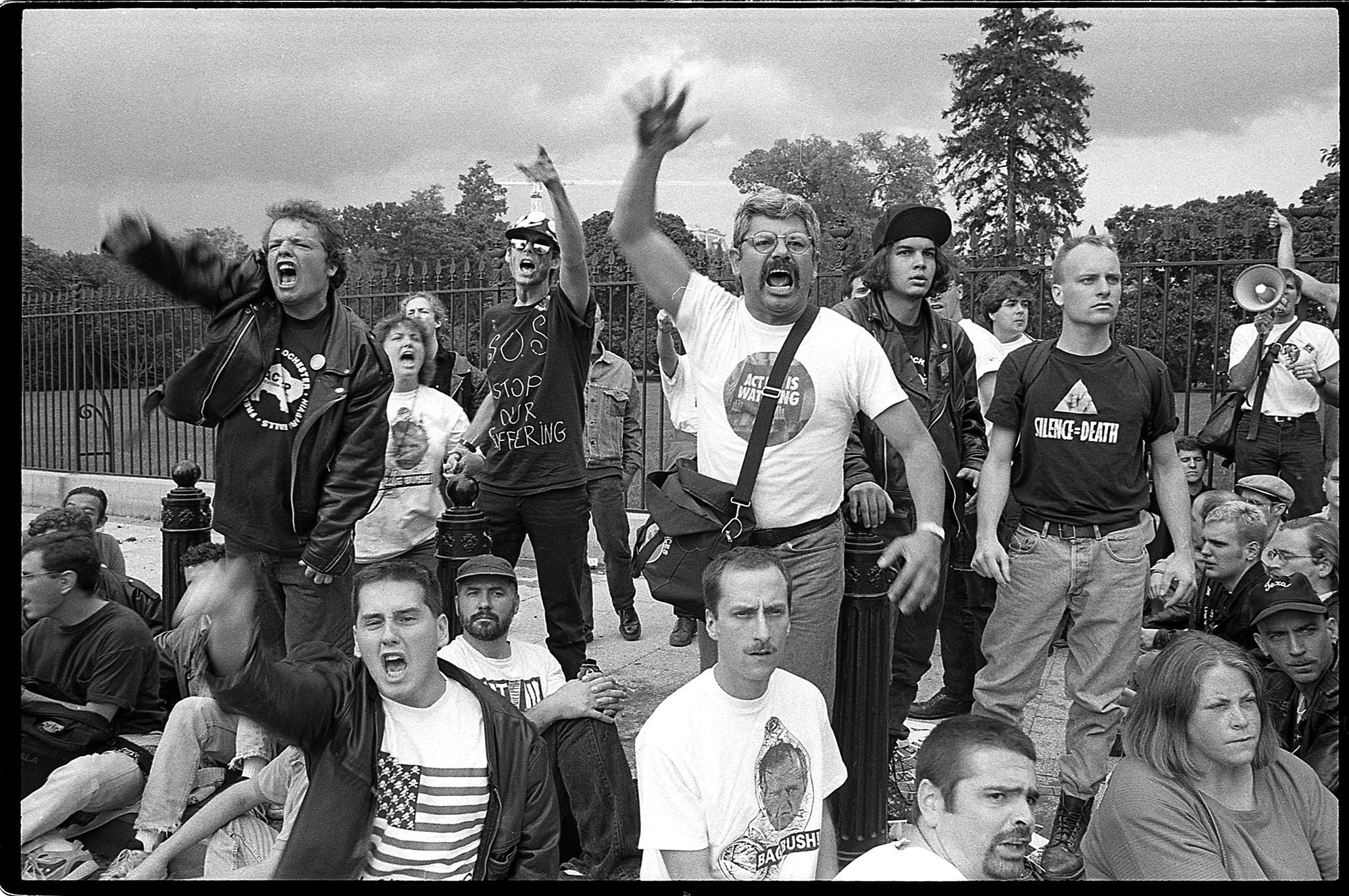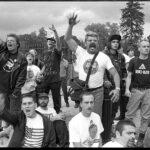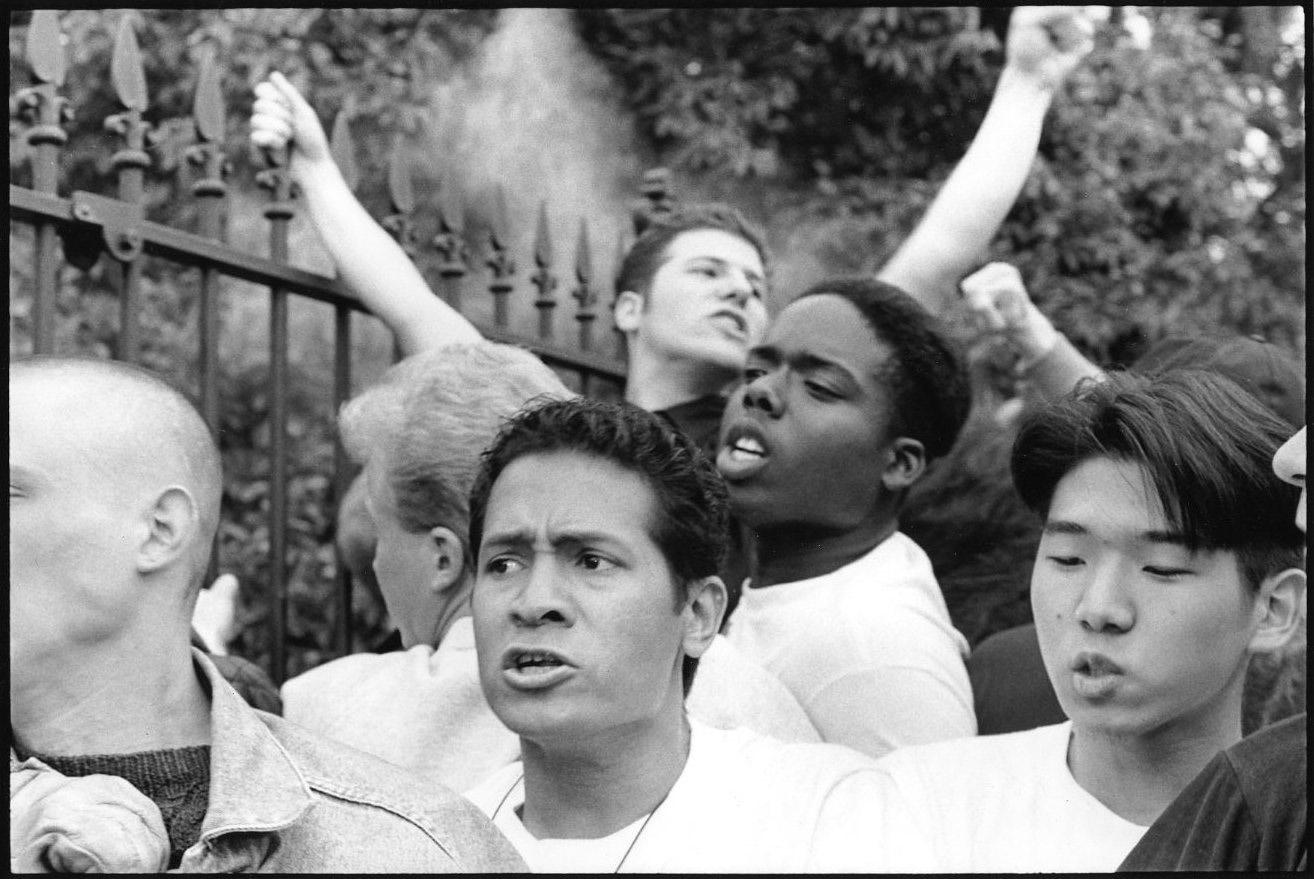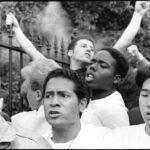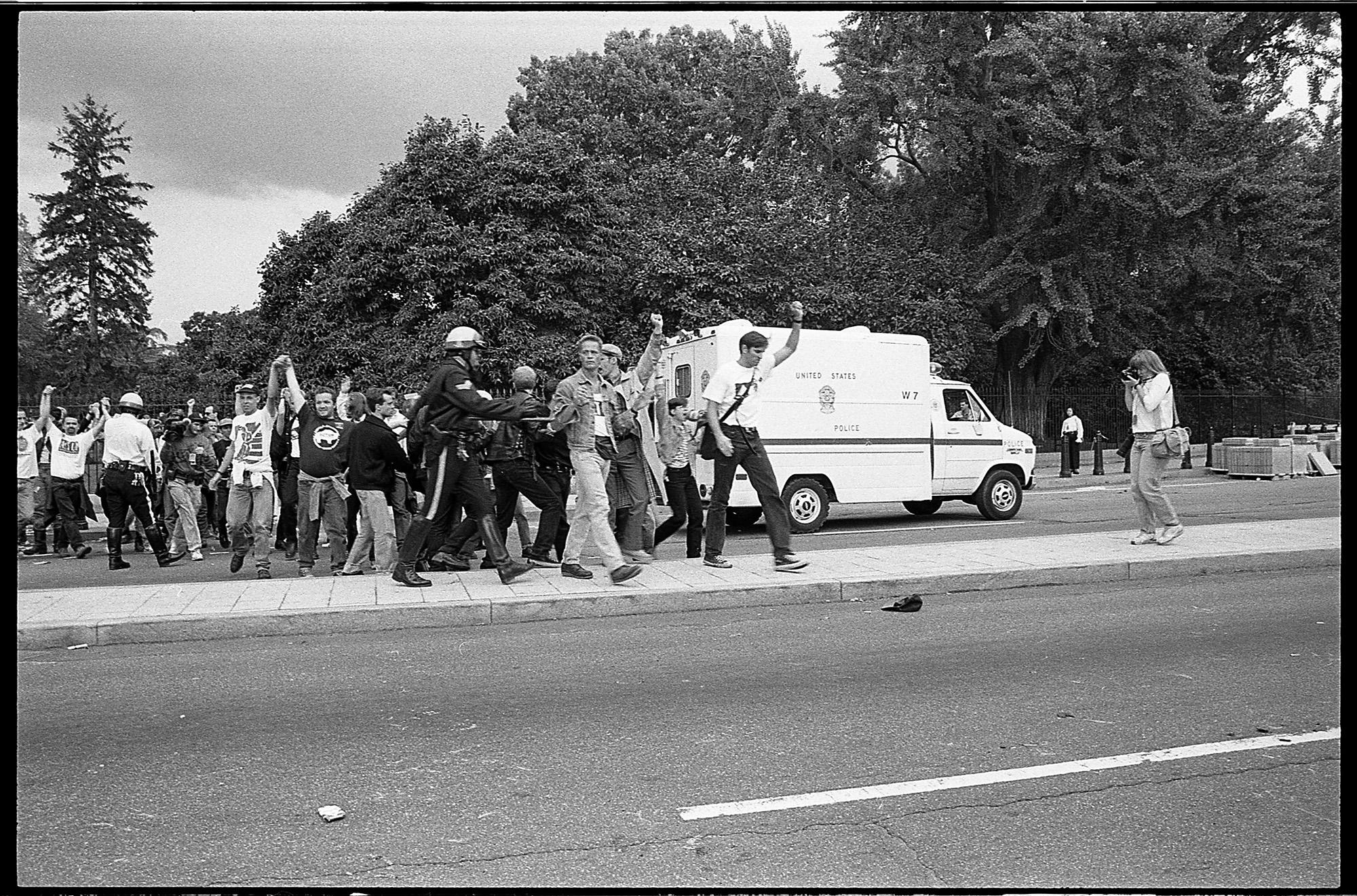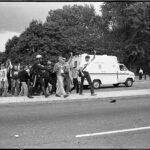 The Irish Lesbian and Gay Organization (ILGO) protest against the groups' exclusion from the New York's St. Patrick's Day Parade, March 17, 1993.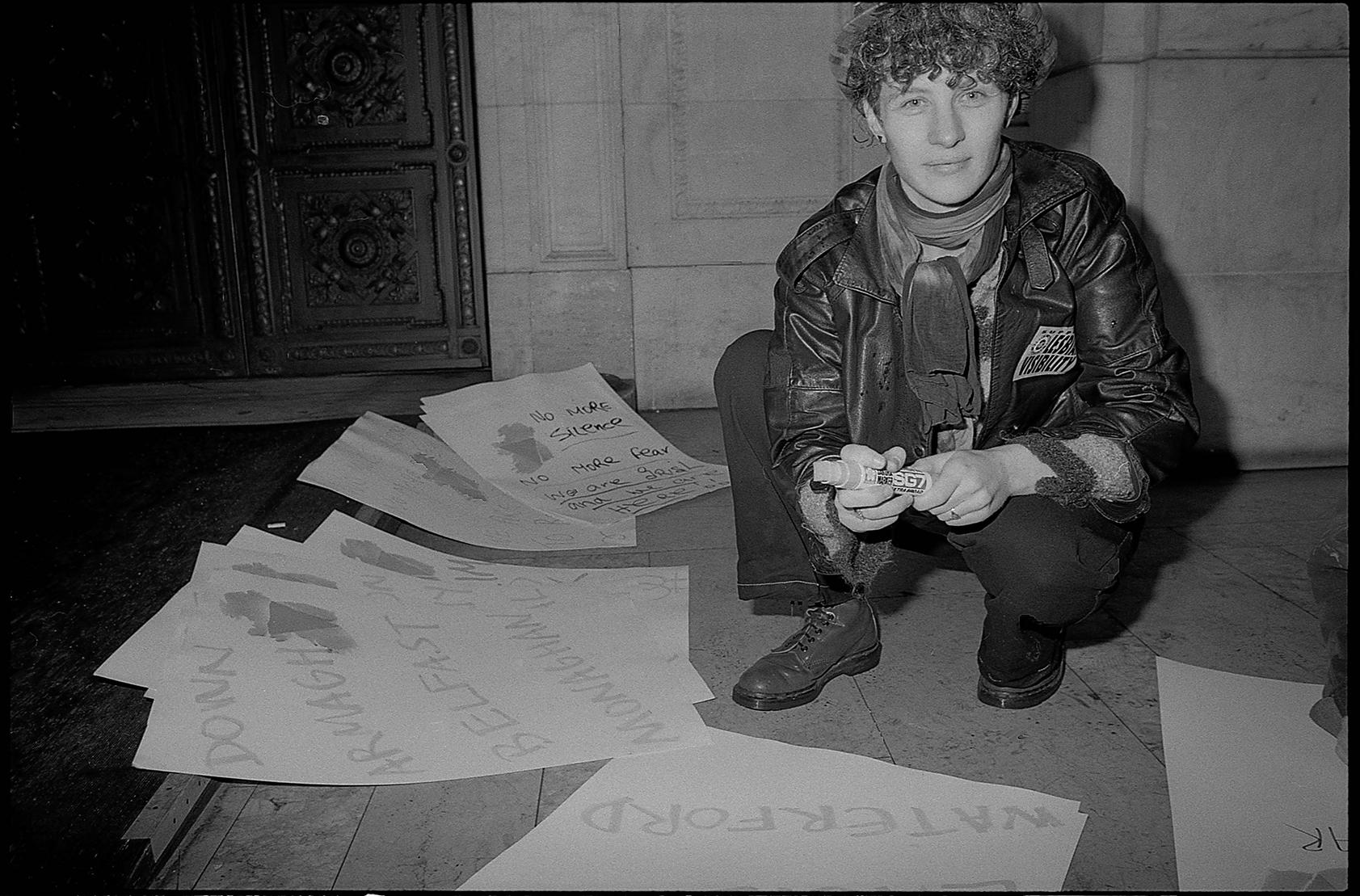 ILGO co-founder, Anne Maguire.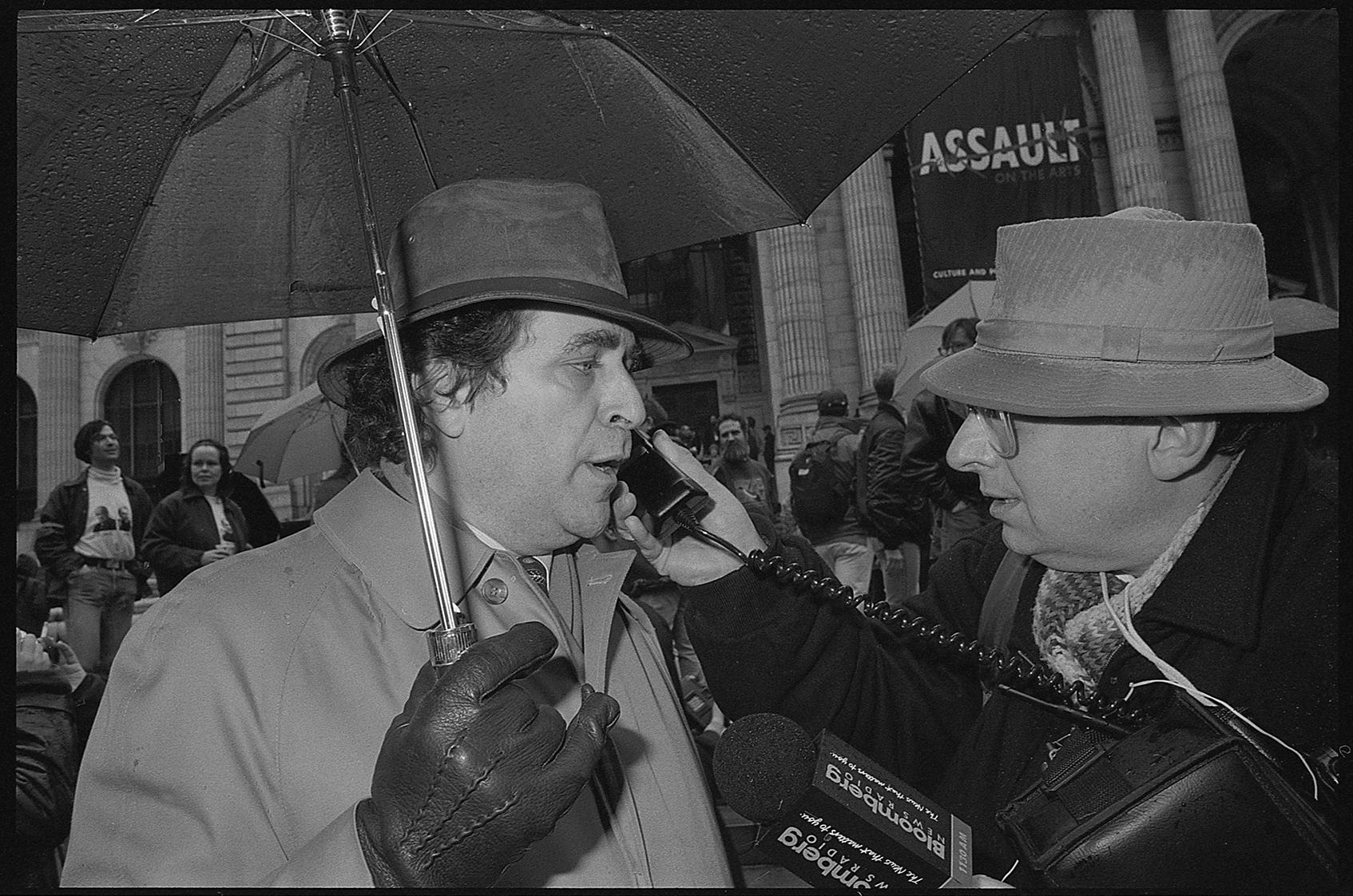 Norman Siegel, attorney for the New York Civil Liberties Union and ILGO.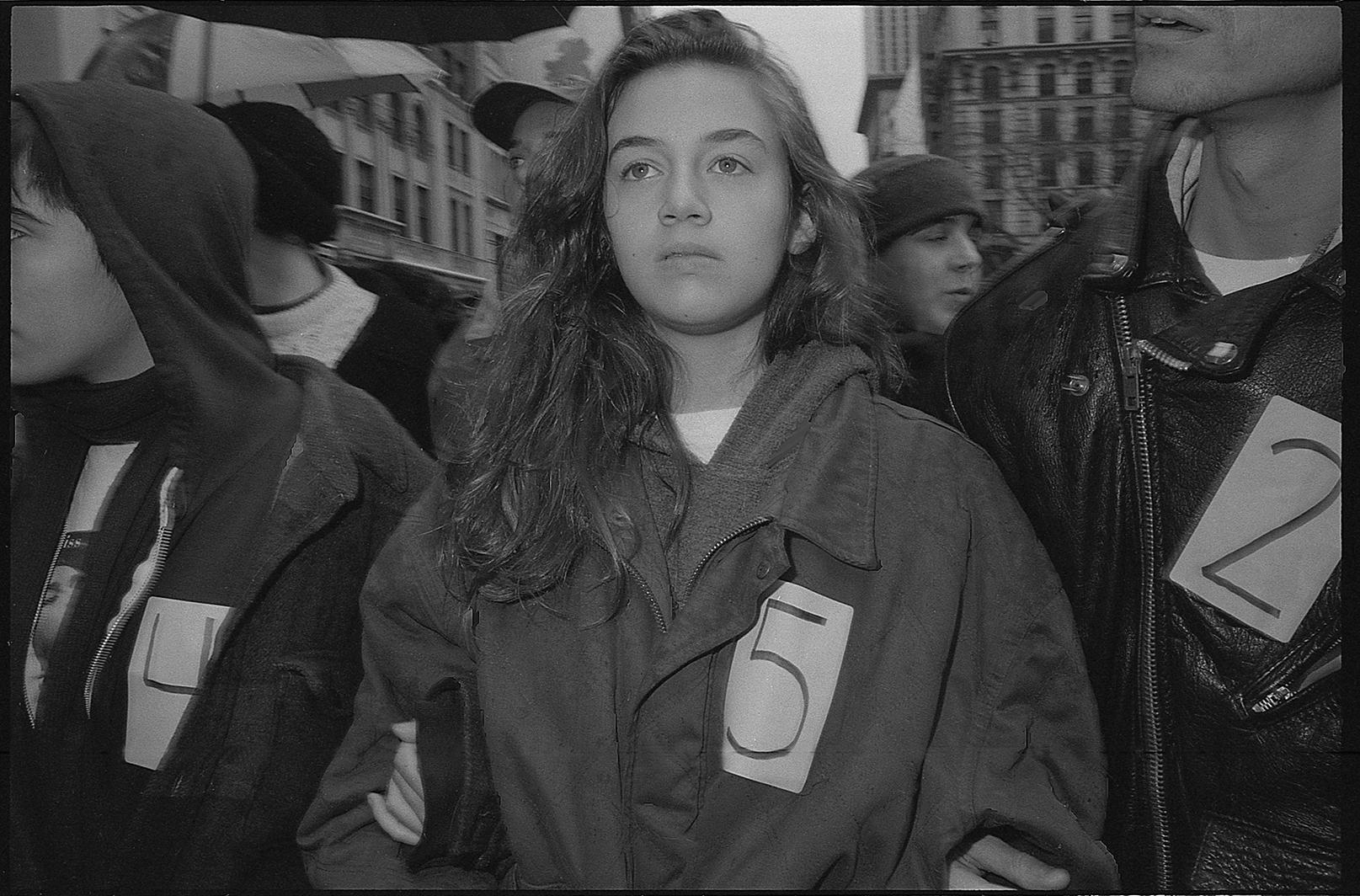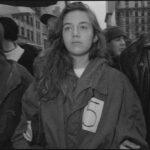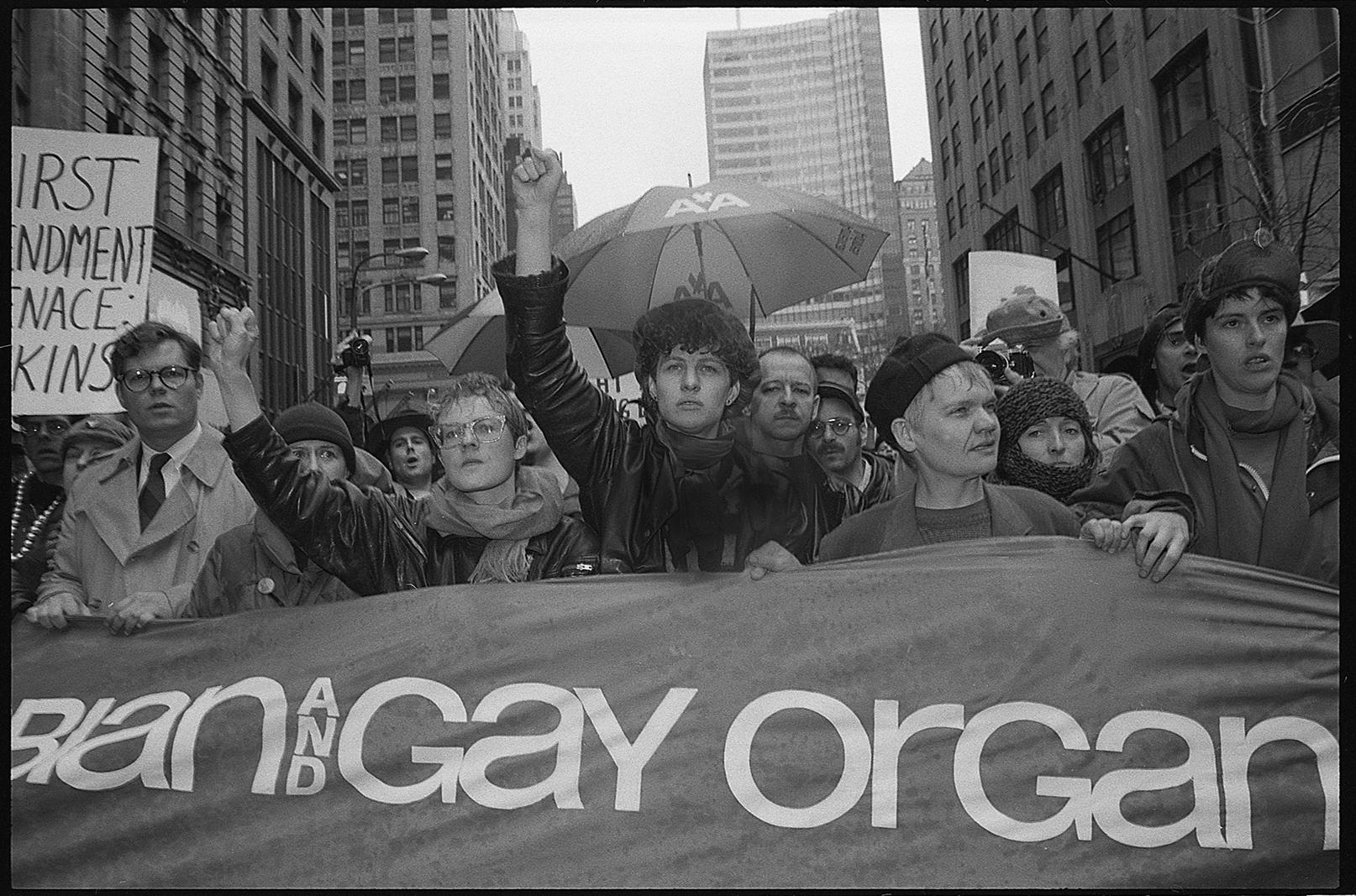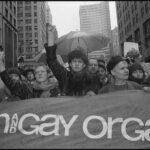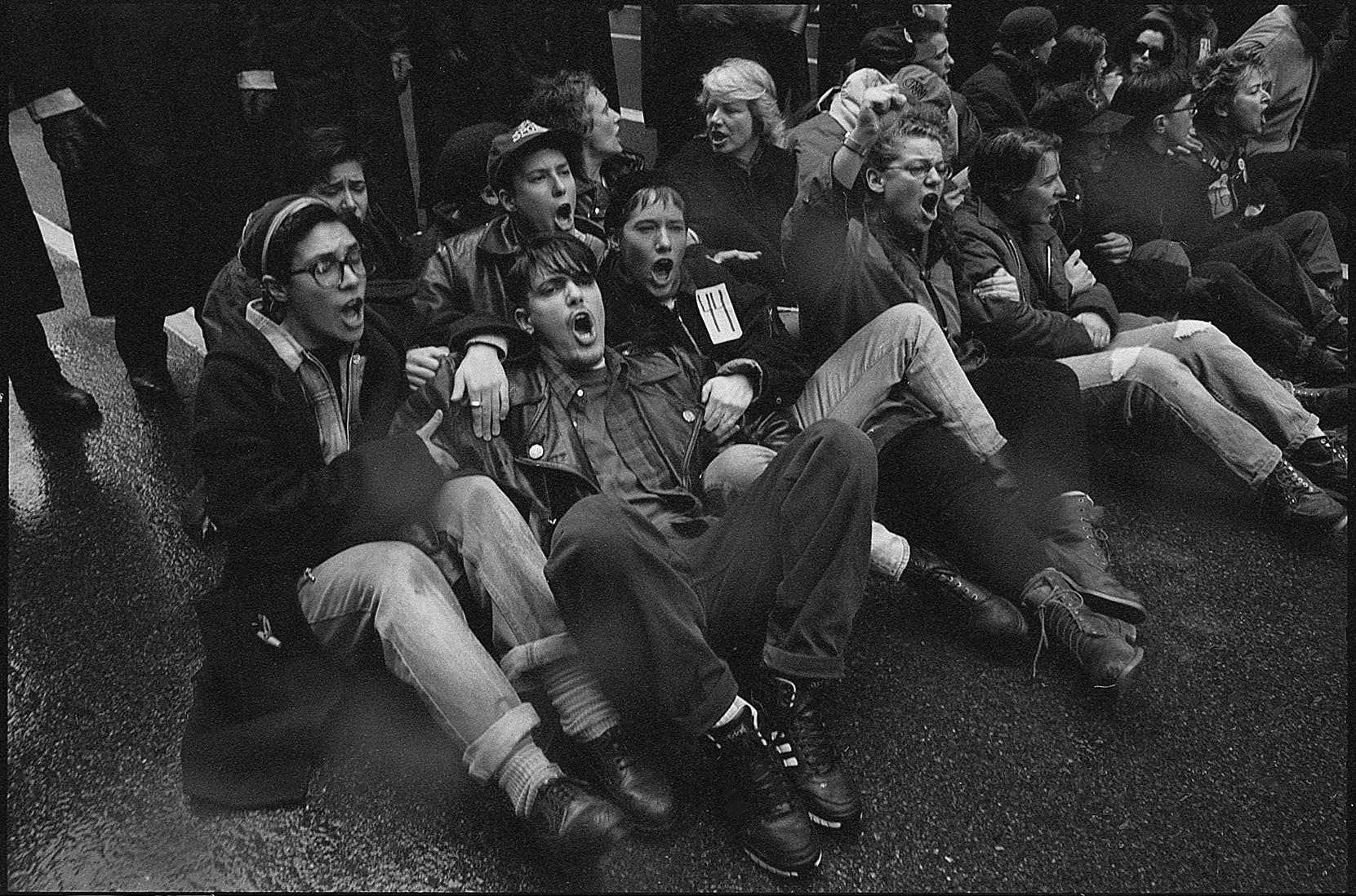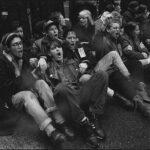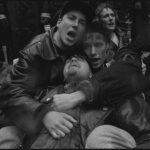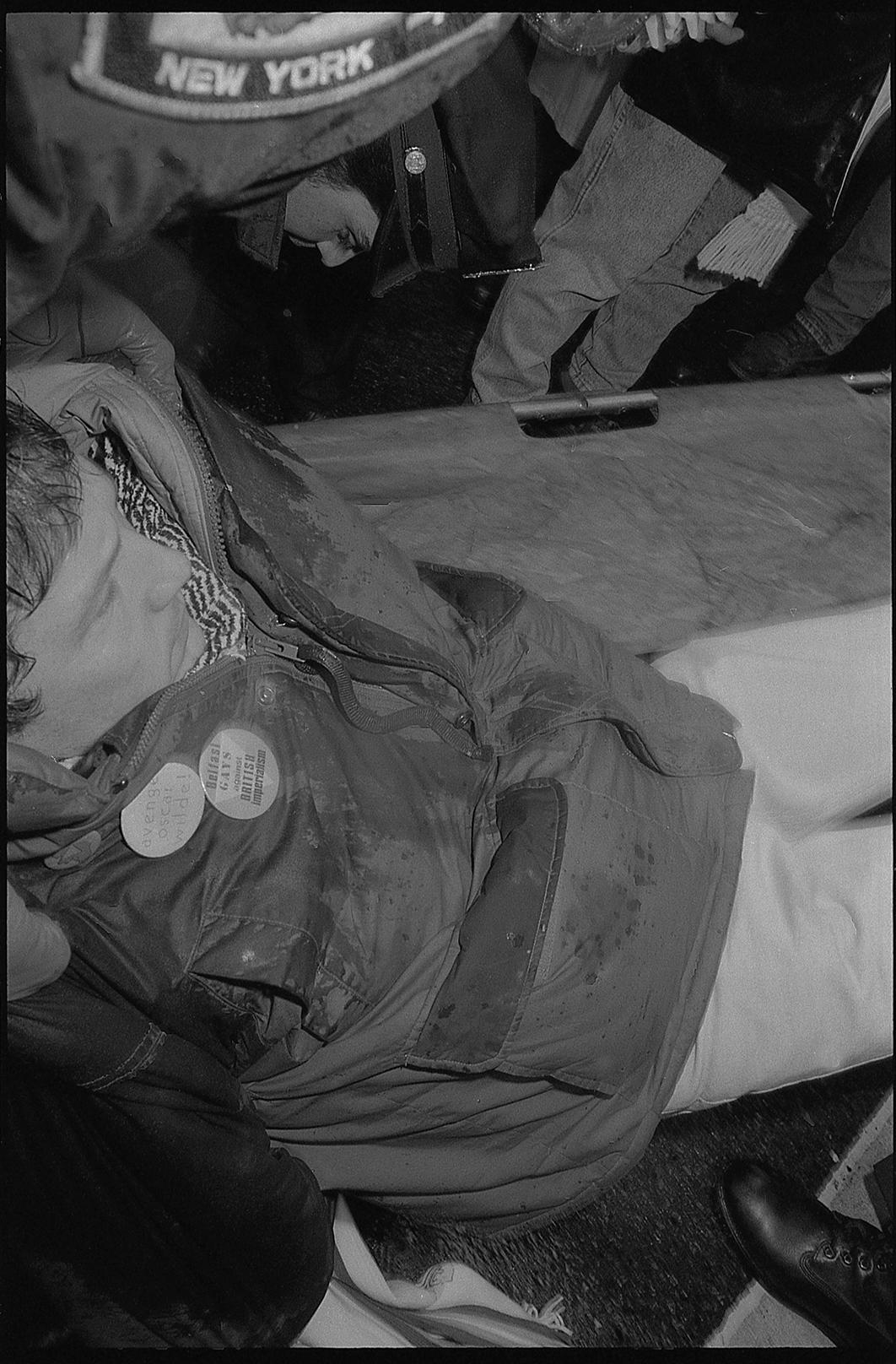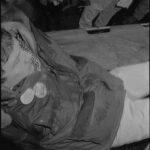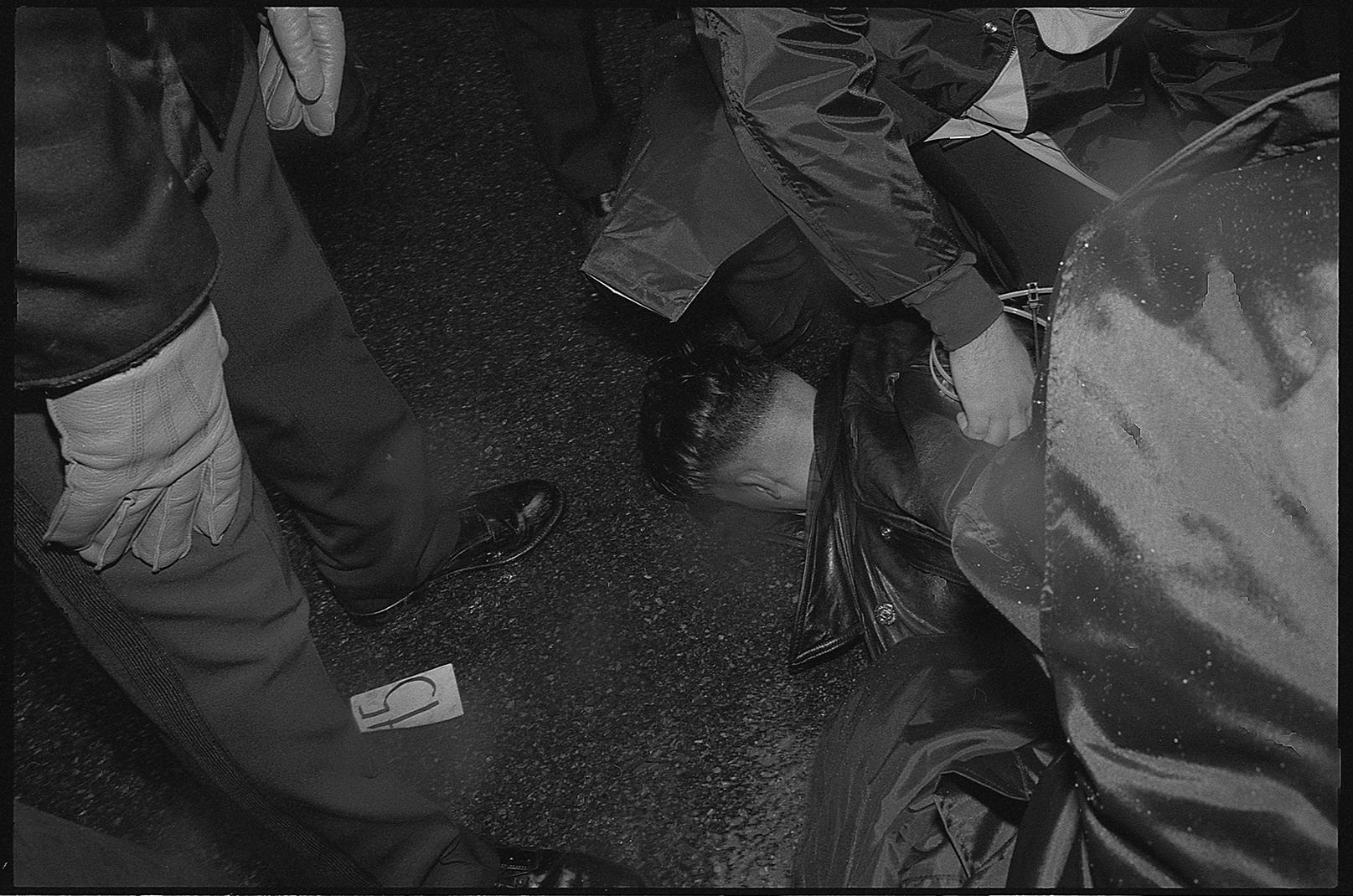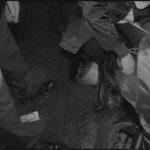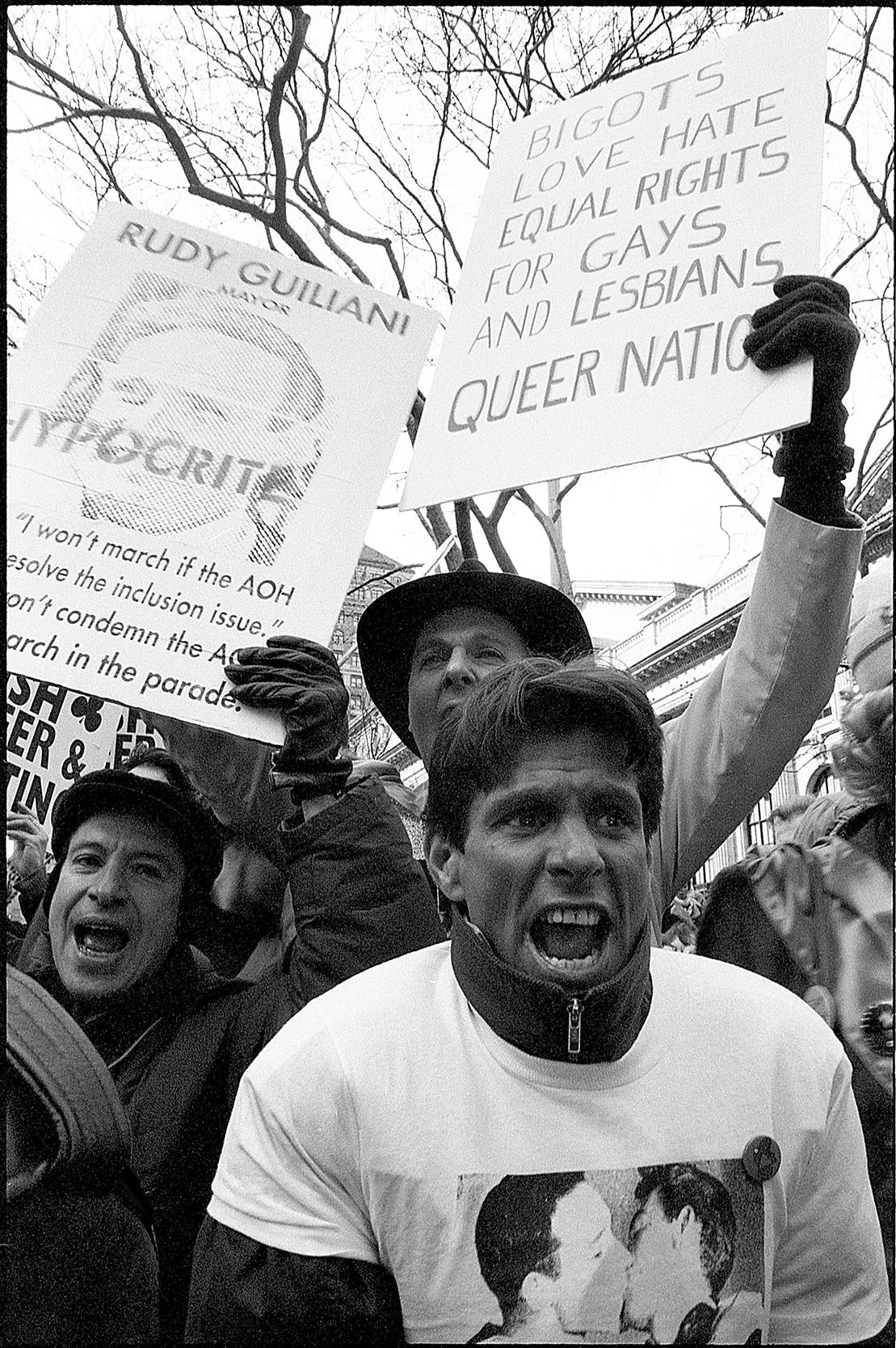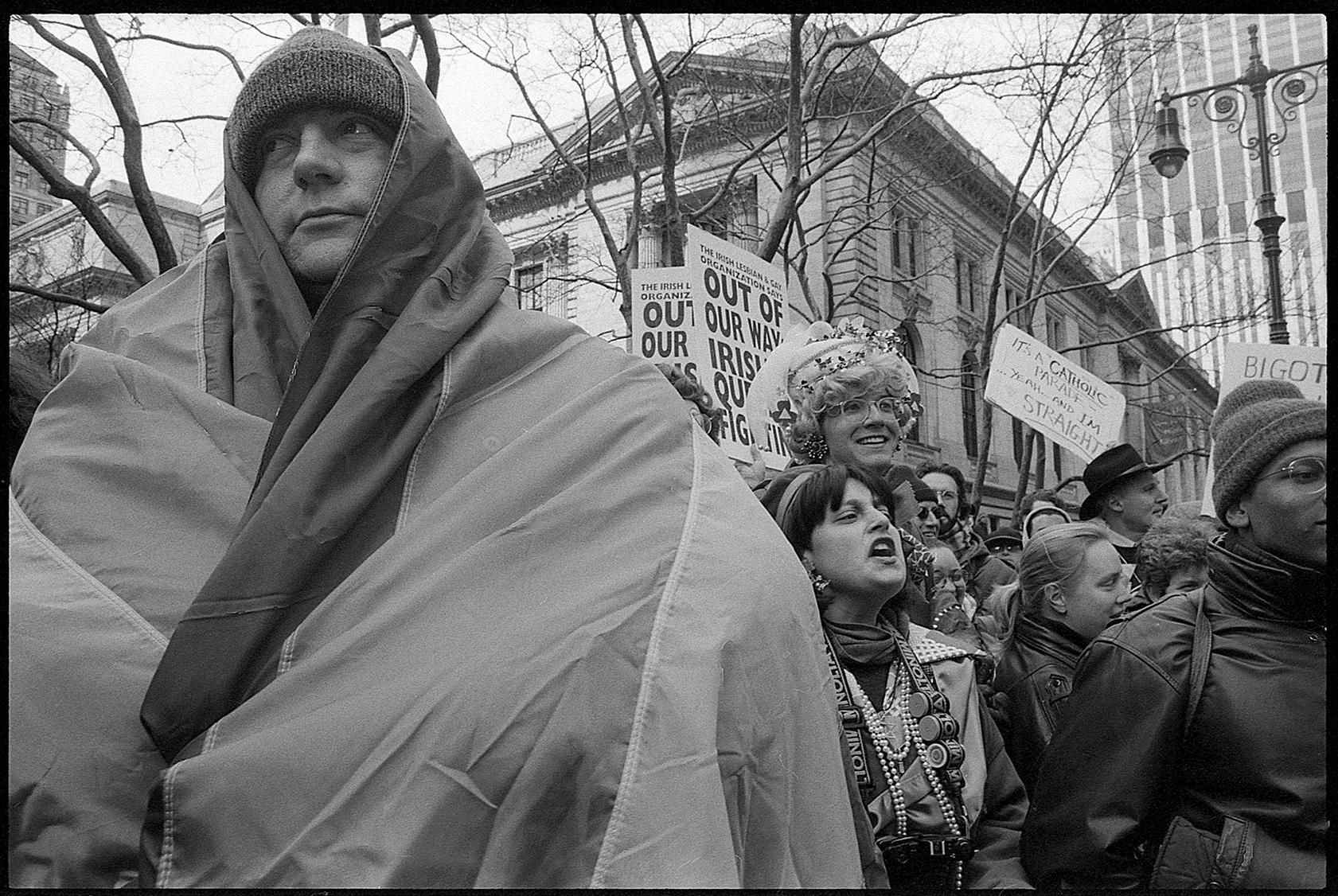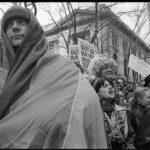 First Annual New York Dyke March, June 26, 1993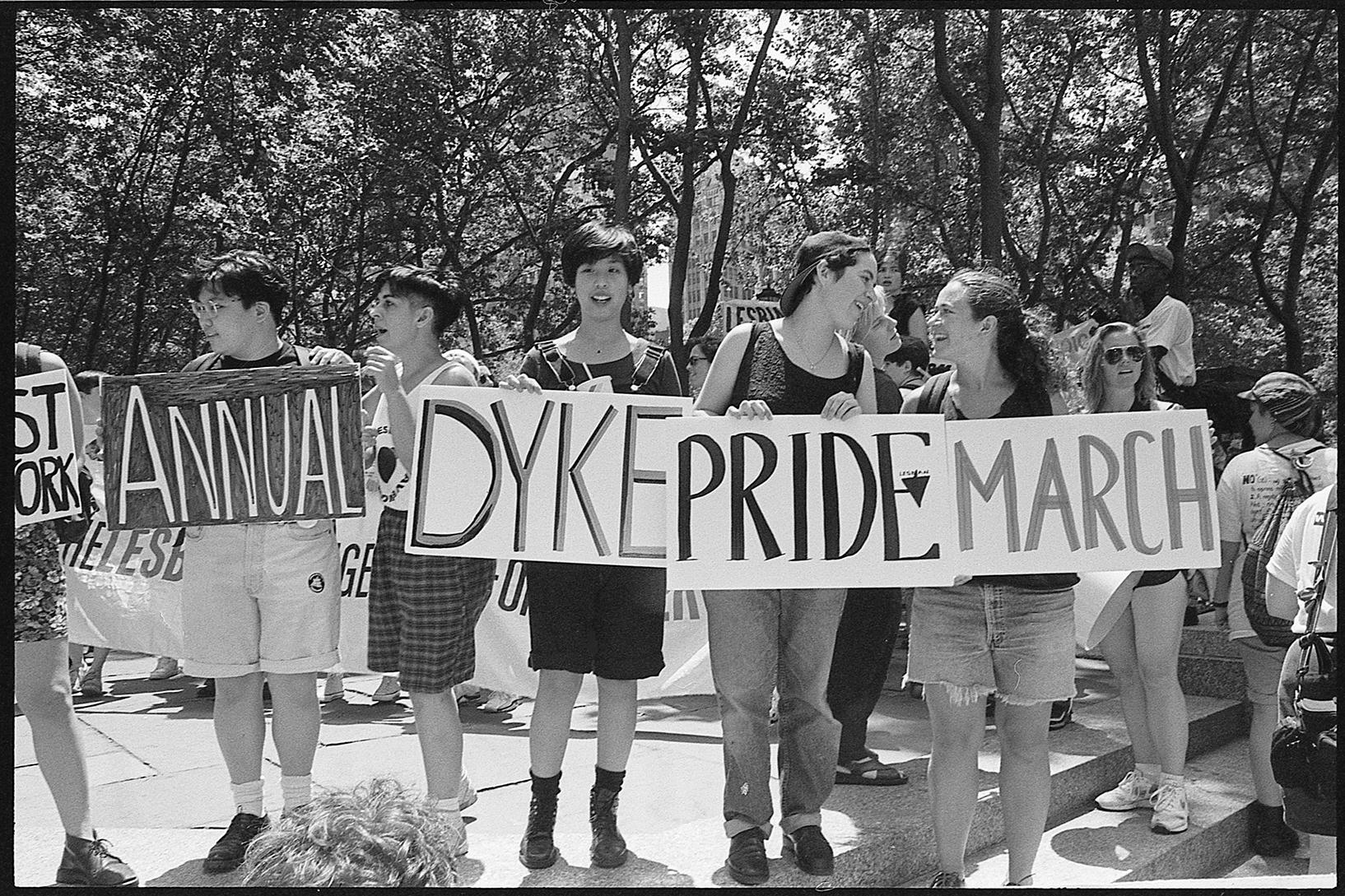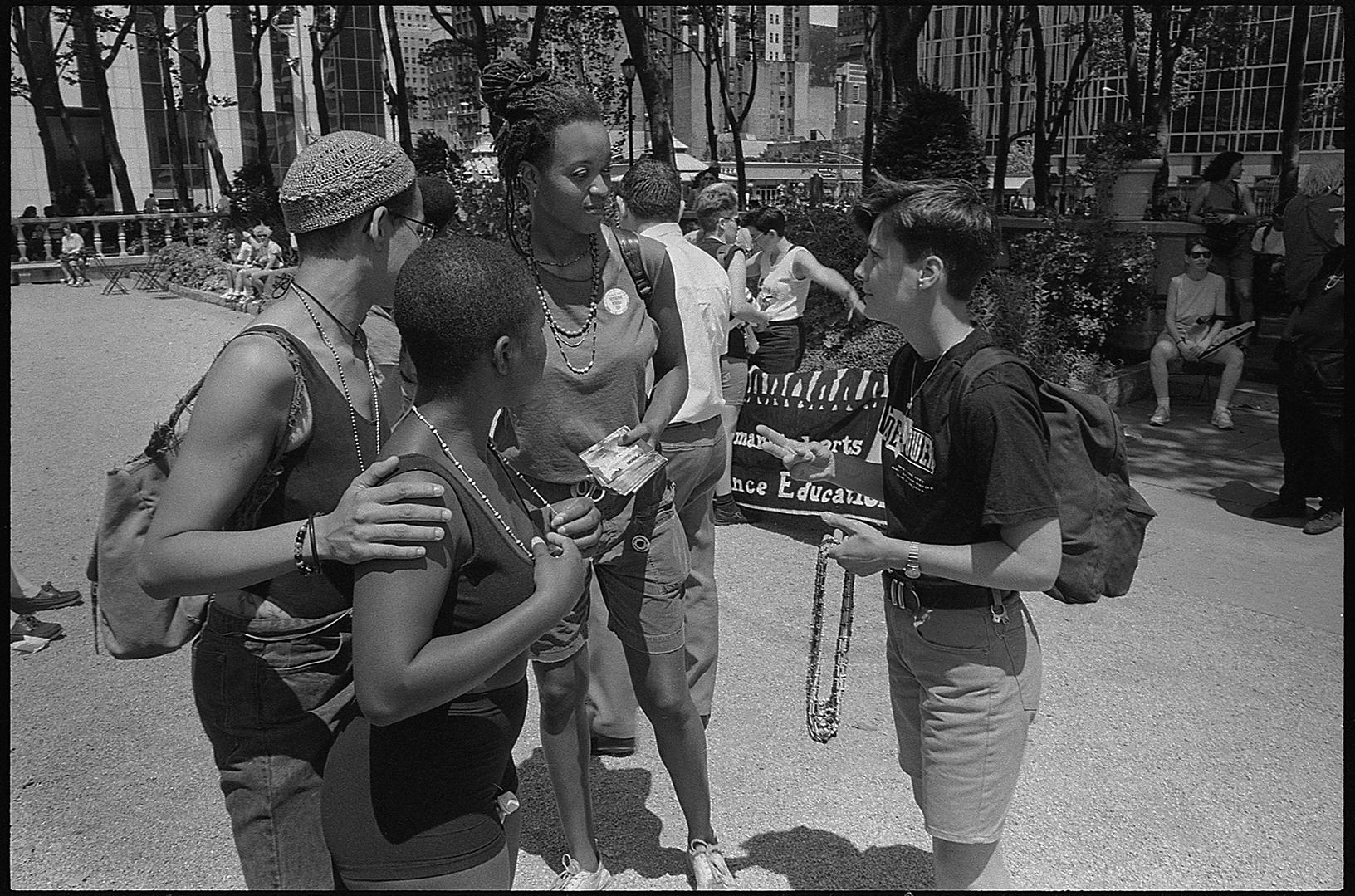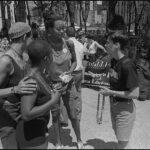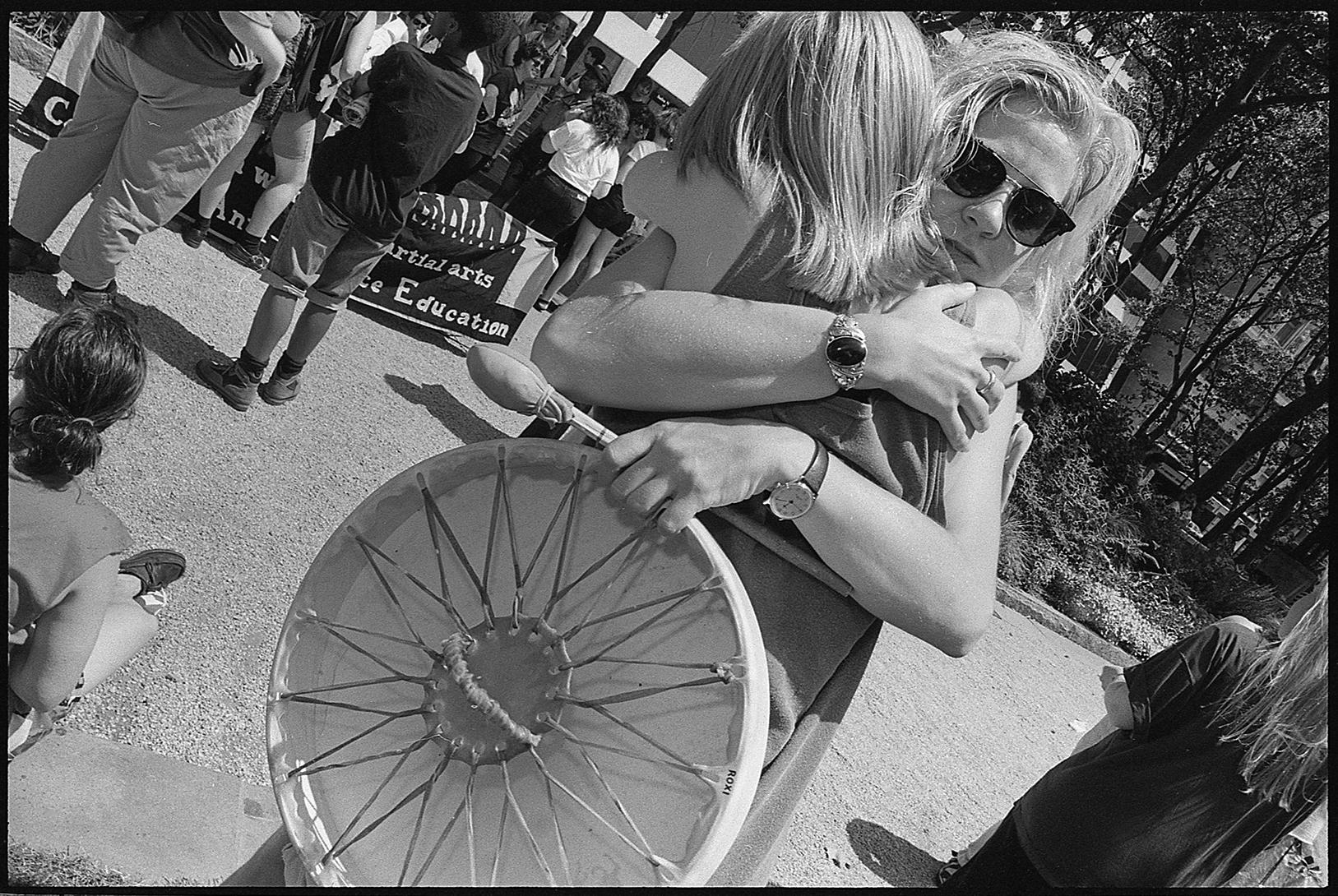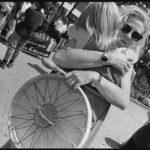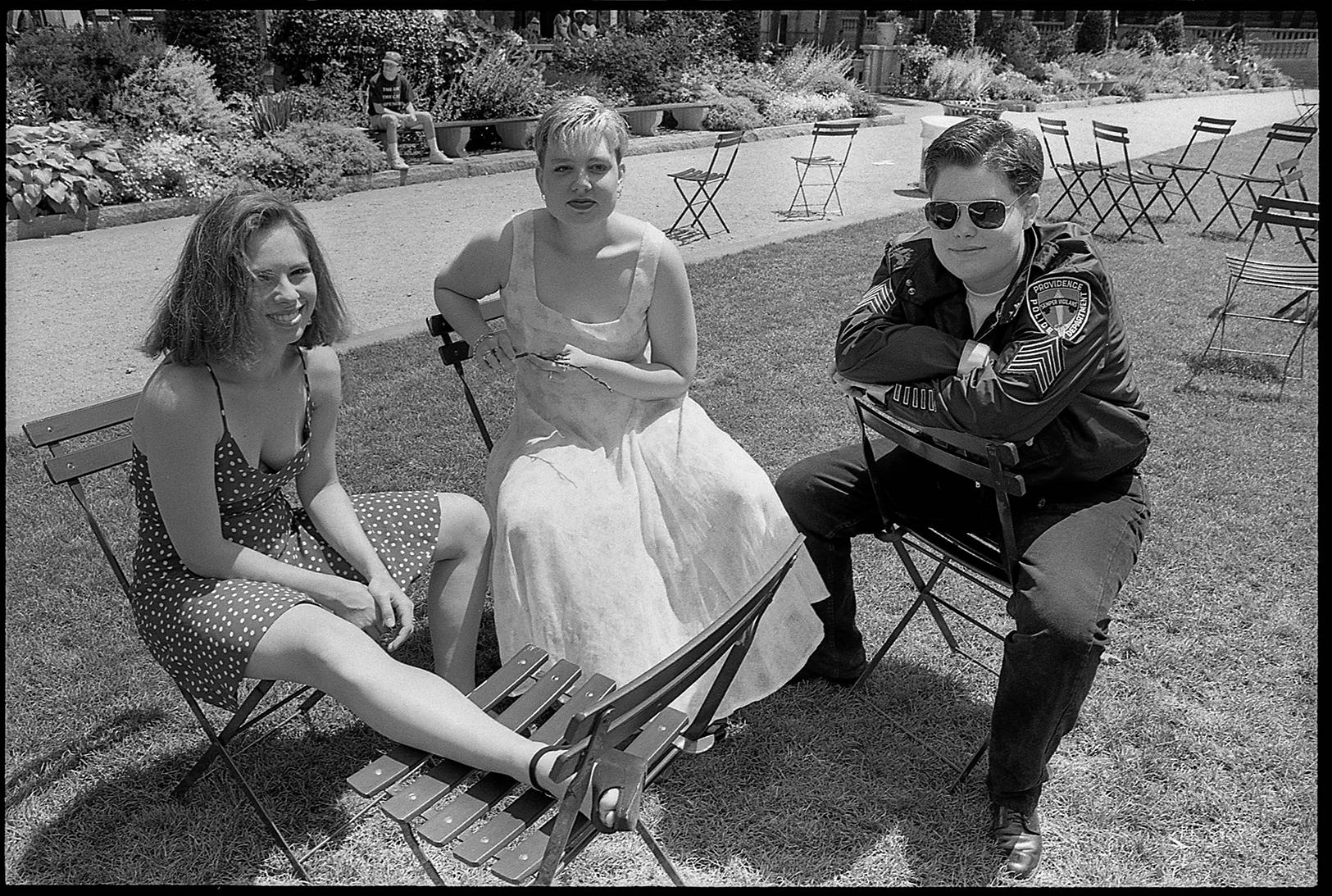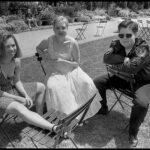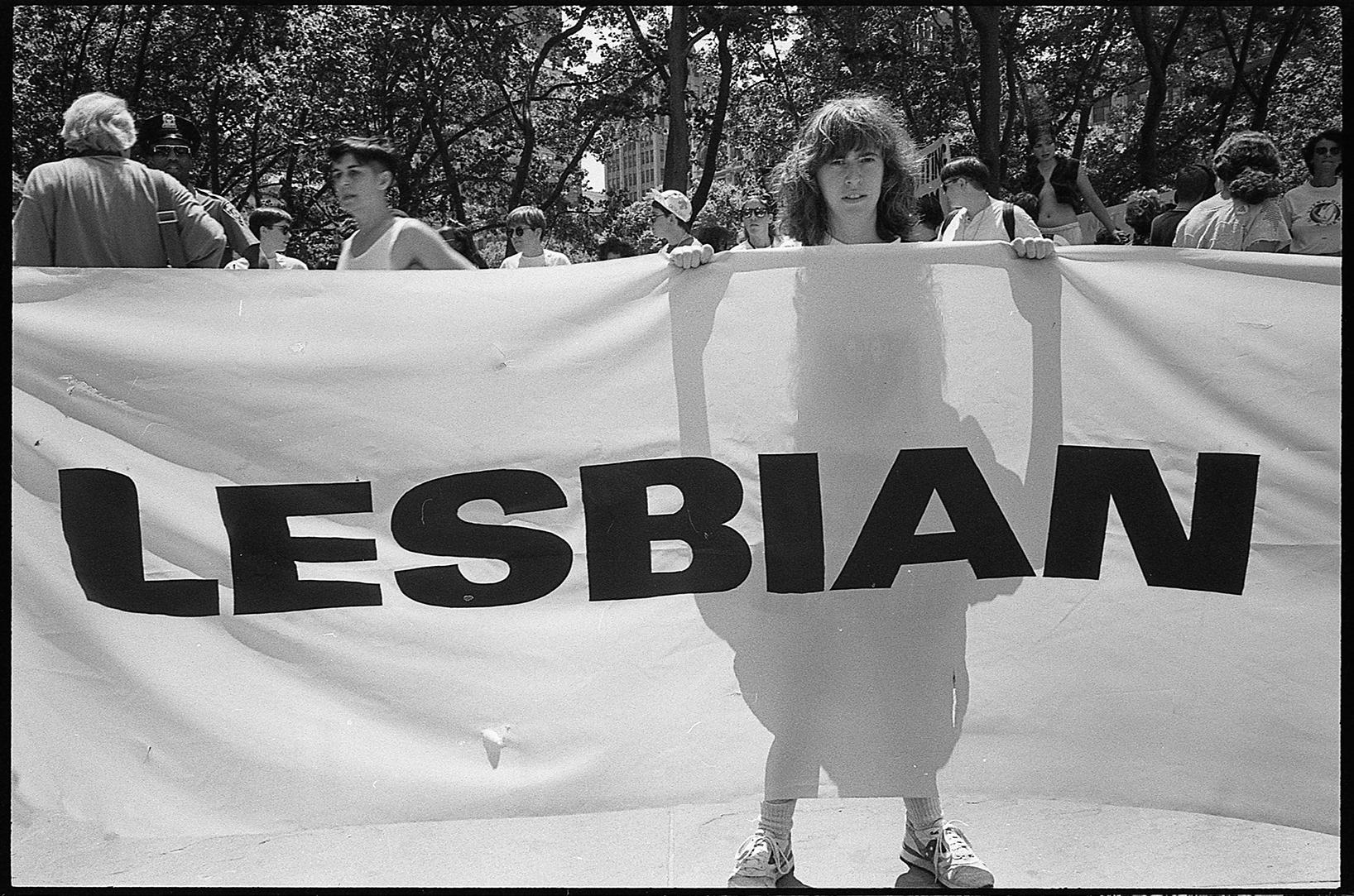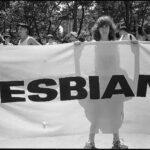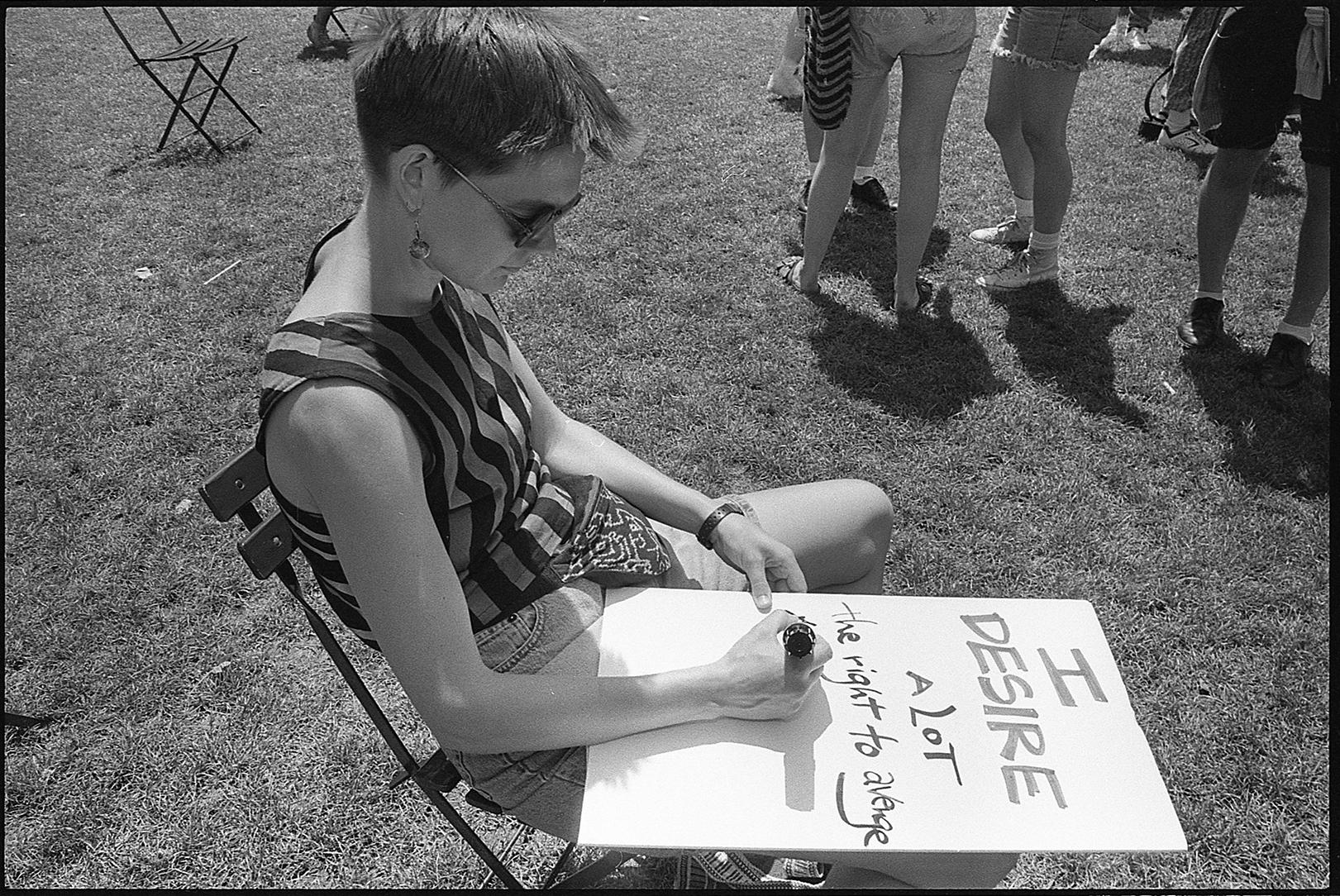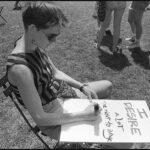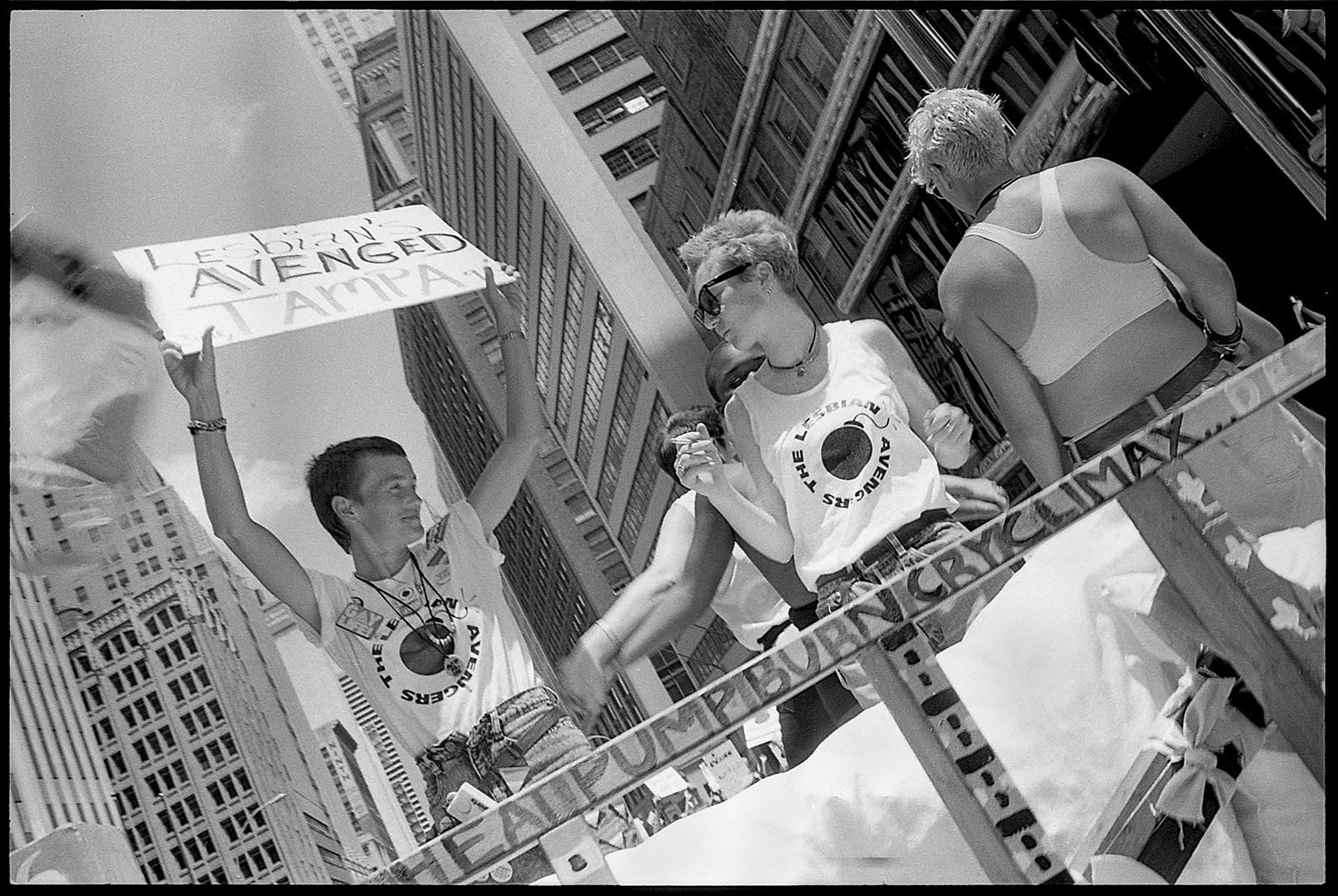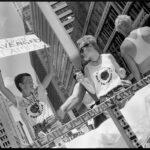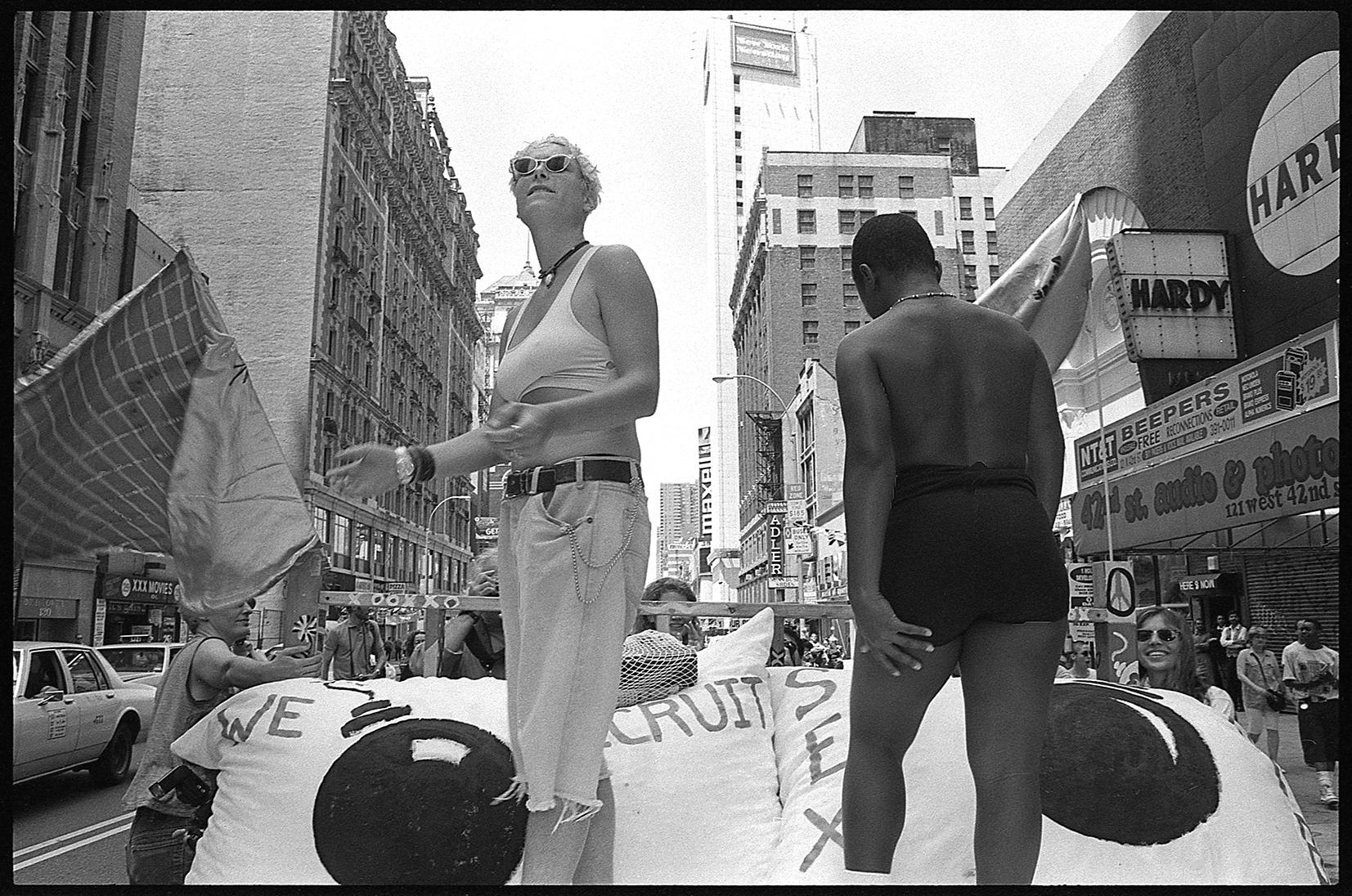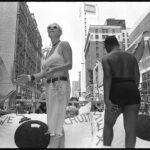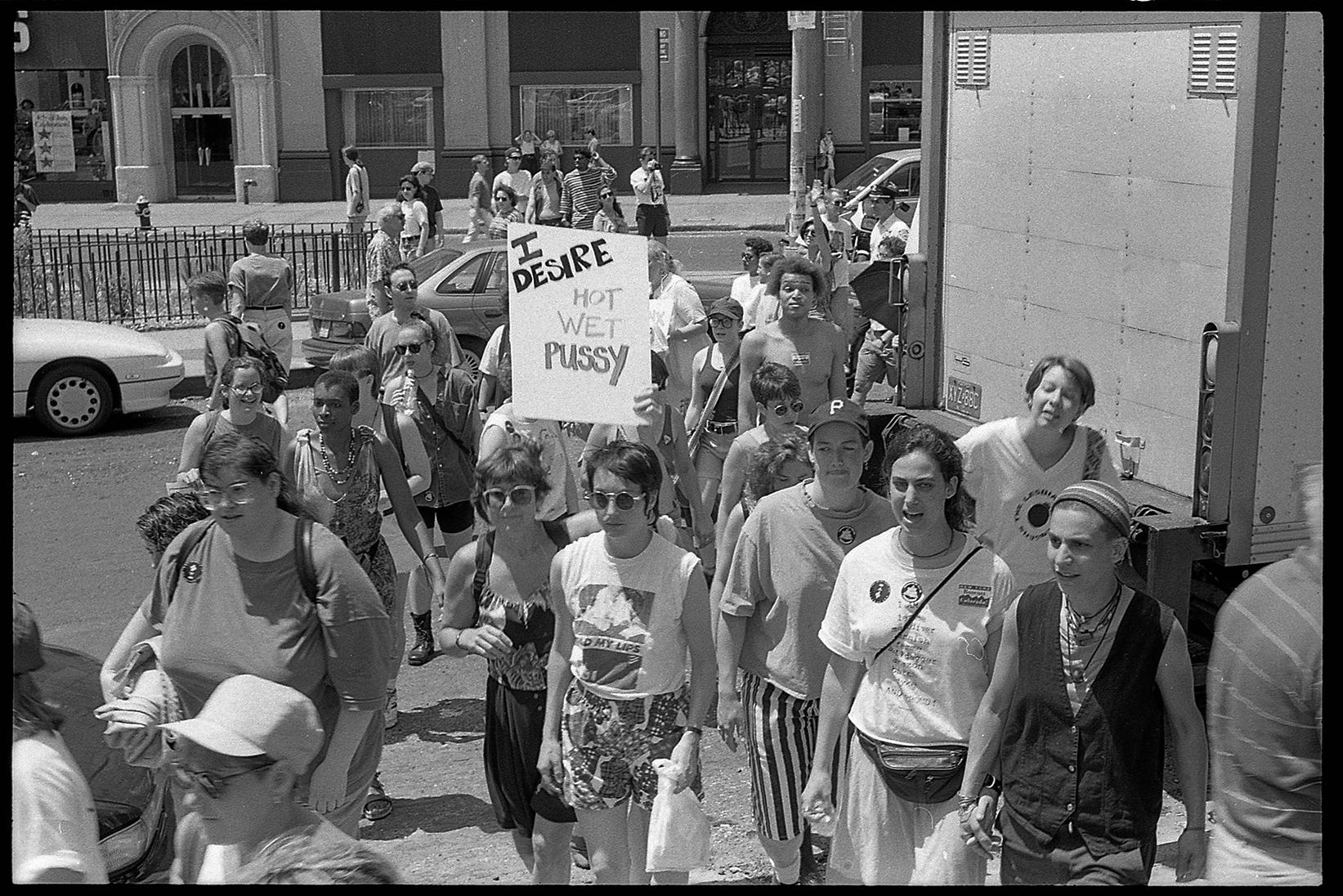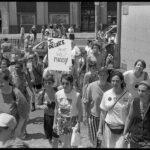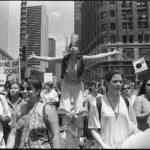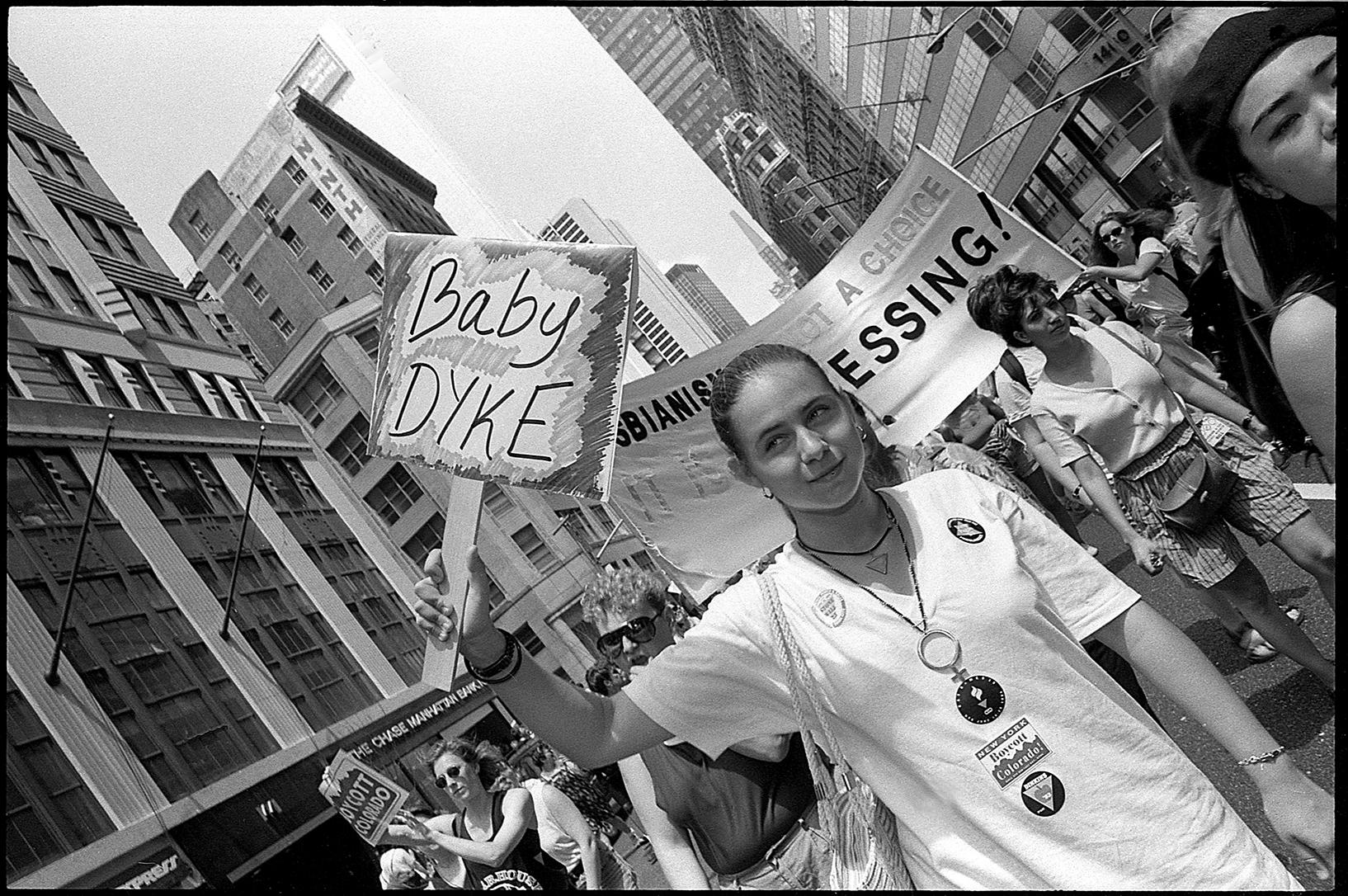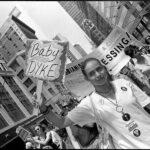 New York City Gay Pride Parade, June 27, 1993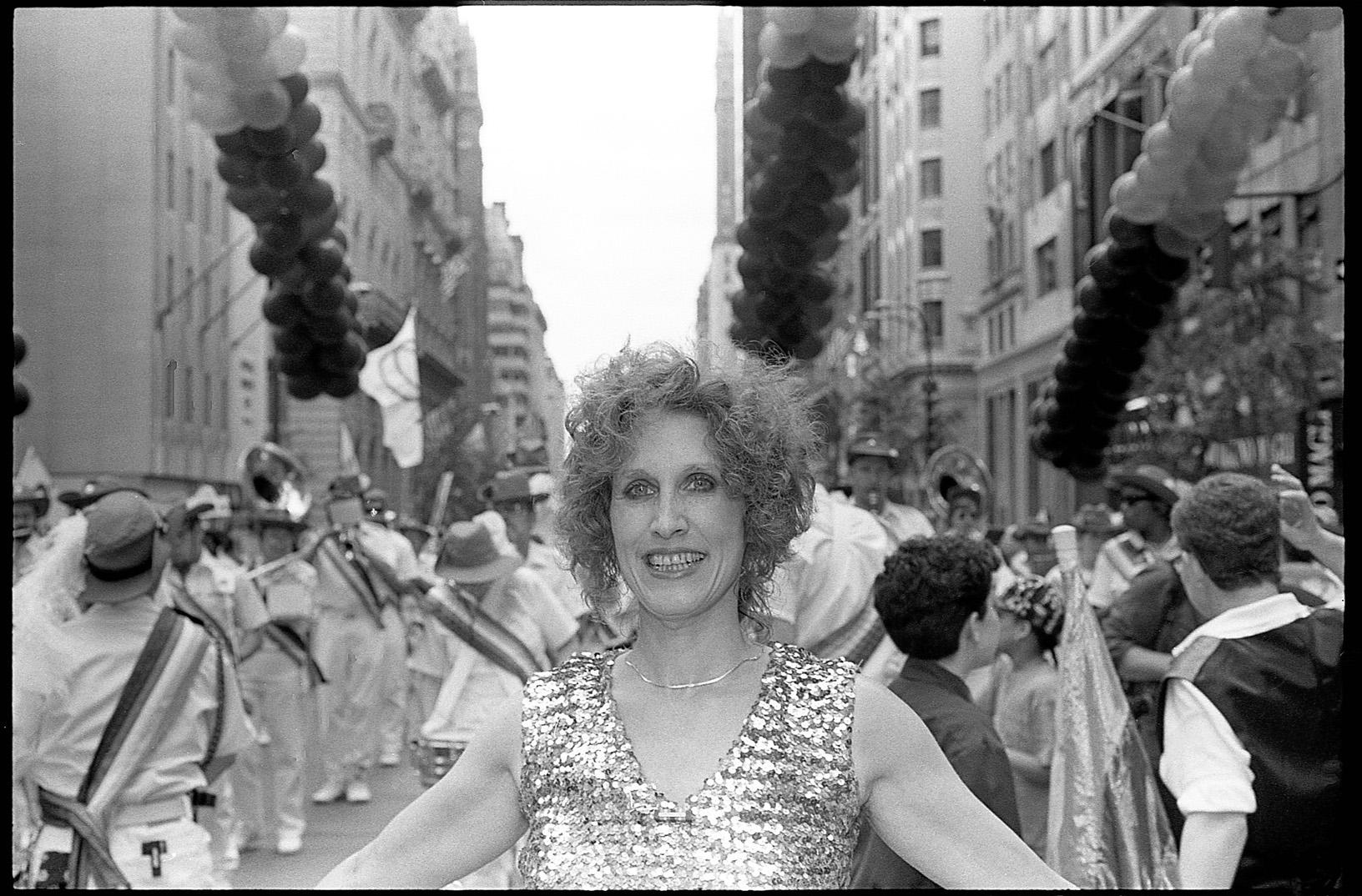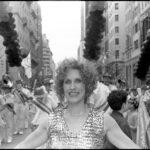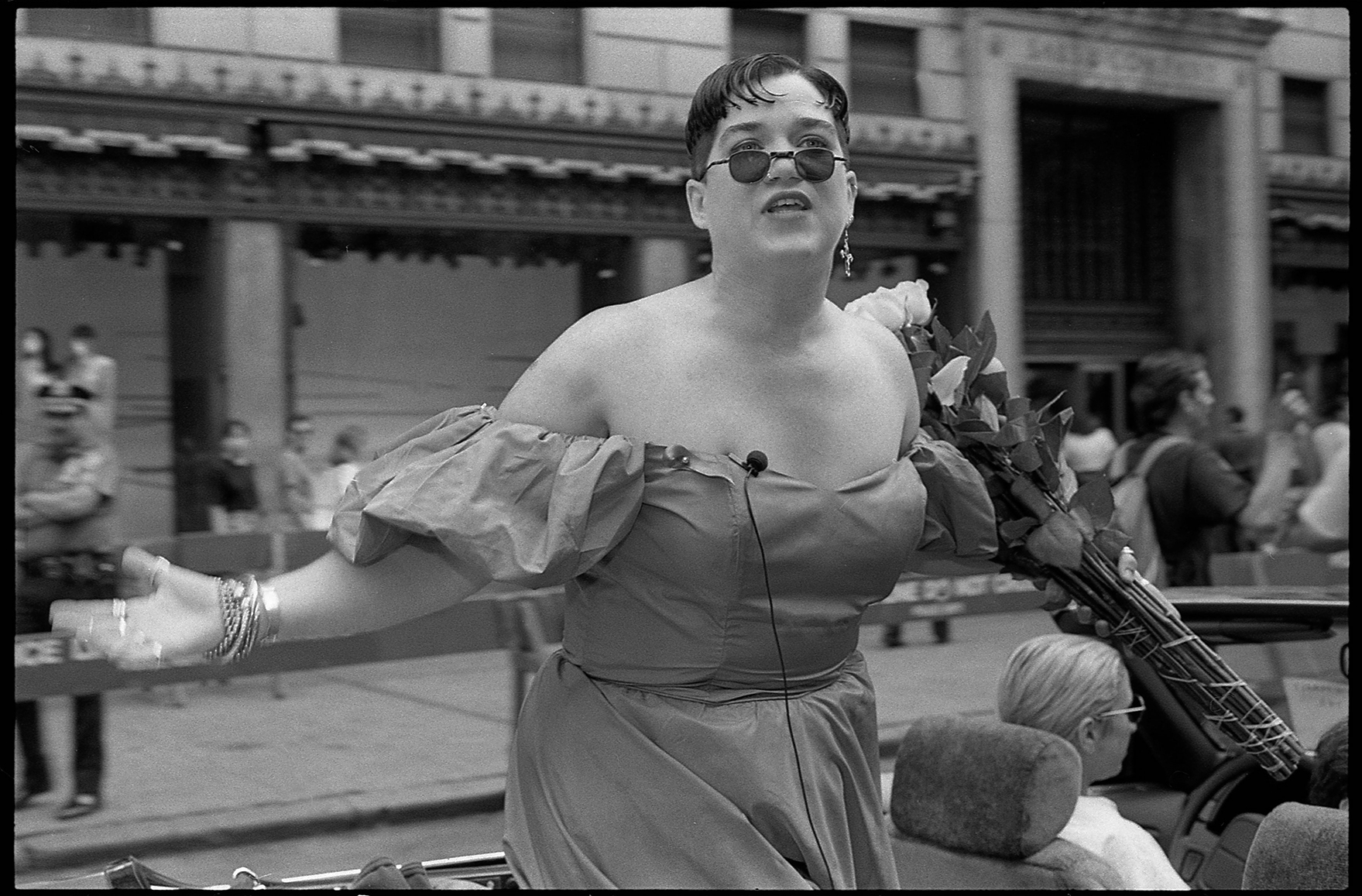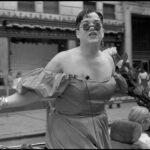 Comedian Lea DeLaria at New York City Gay Pride Parade, June 27, 1993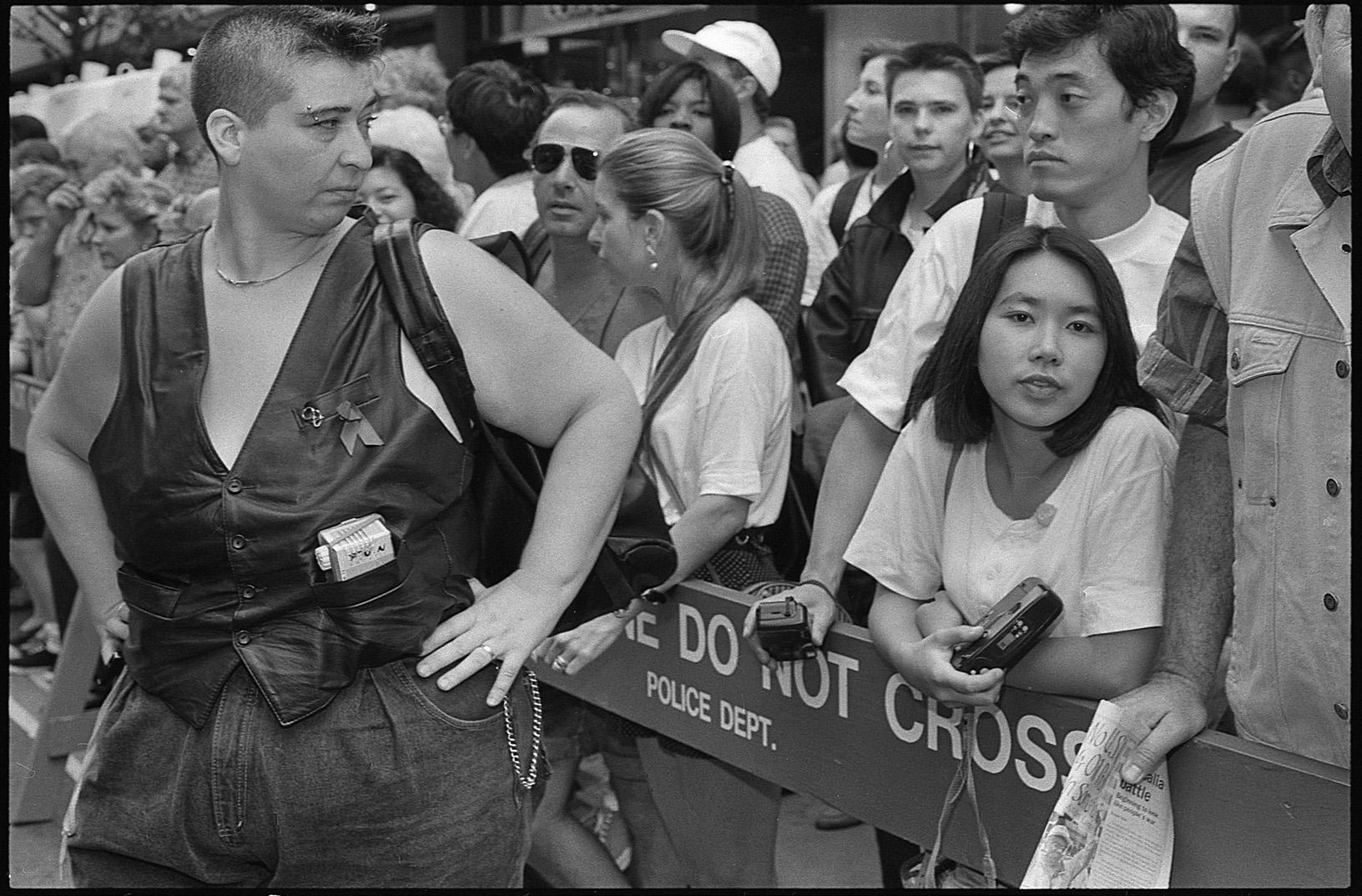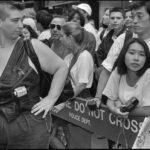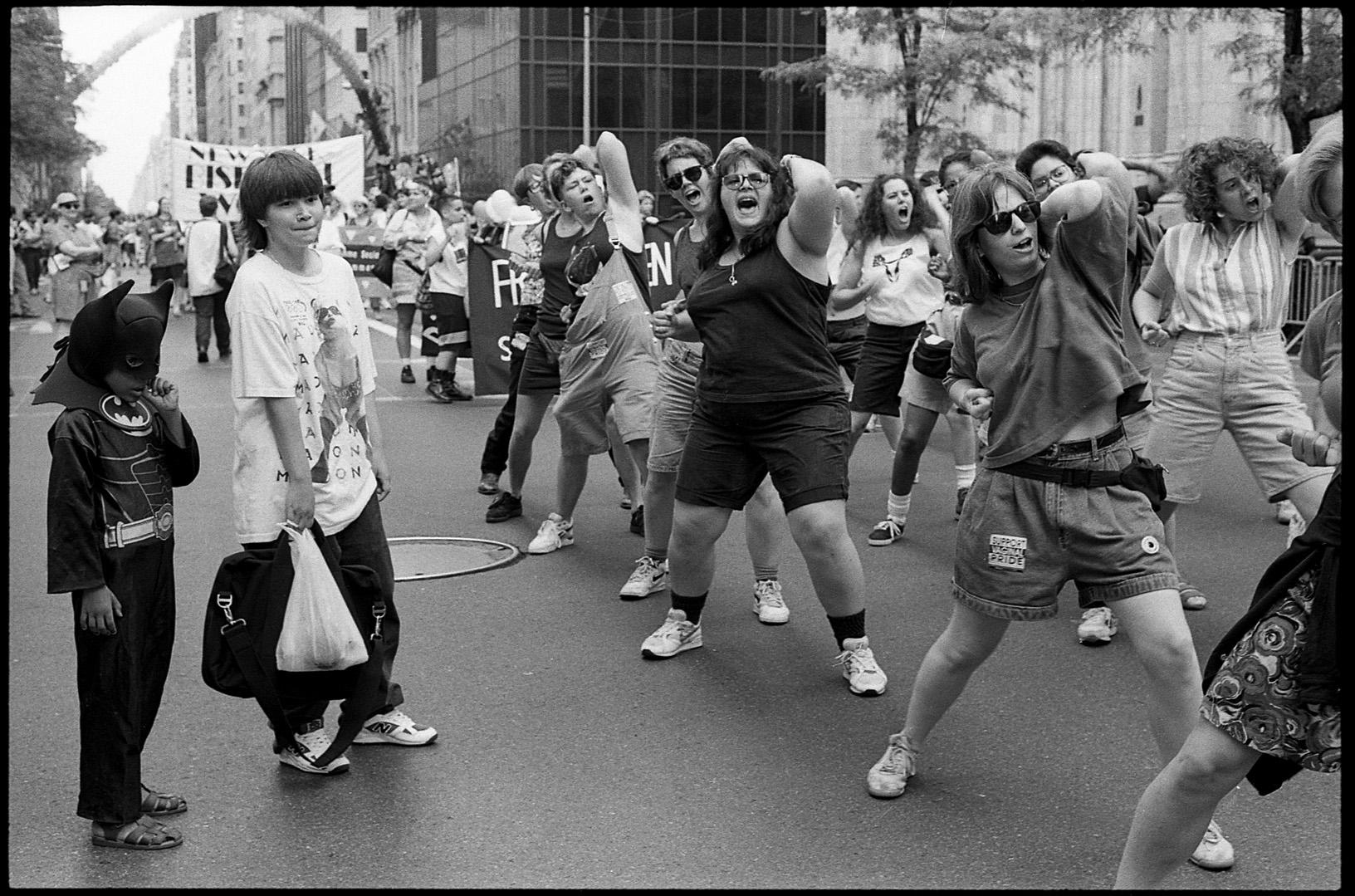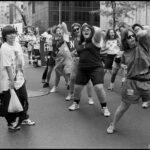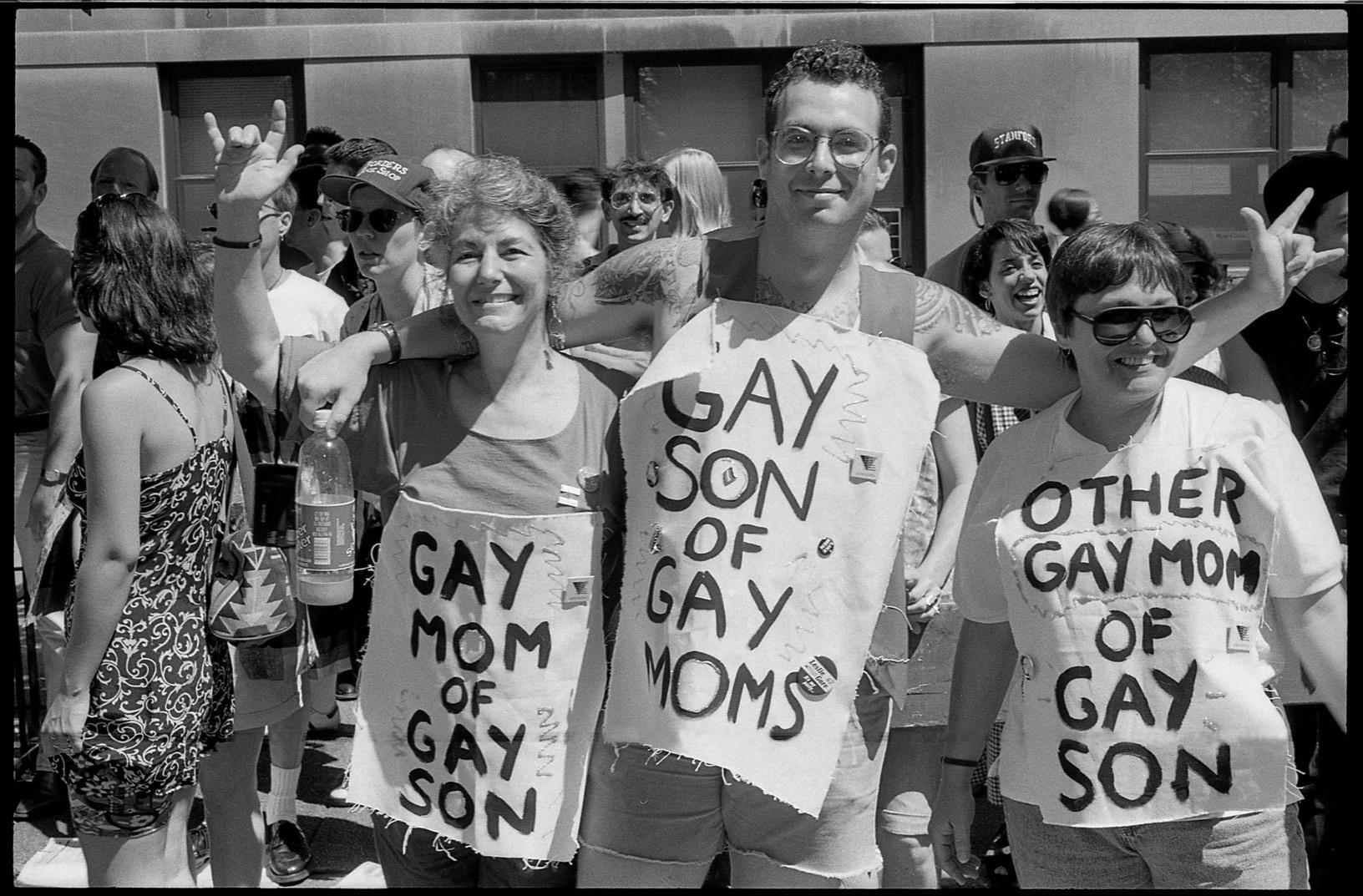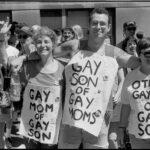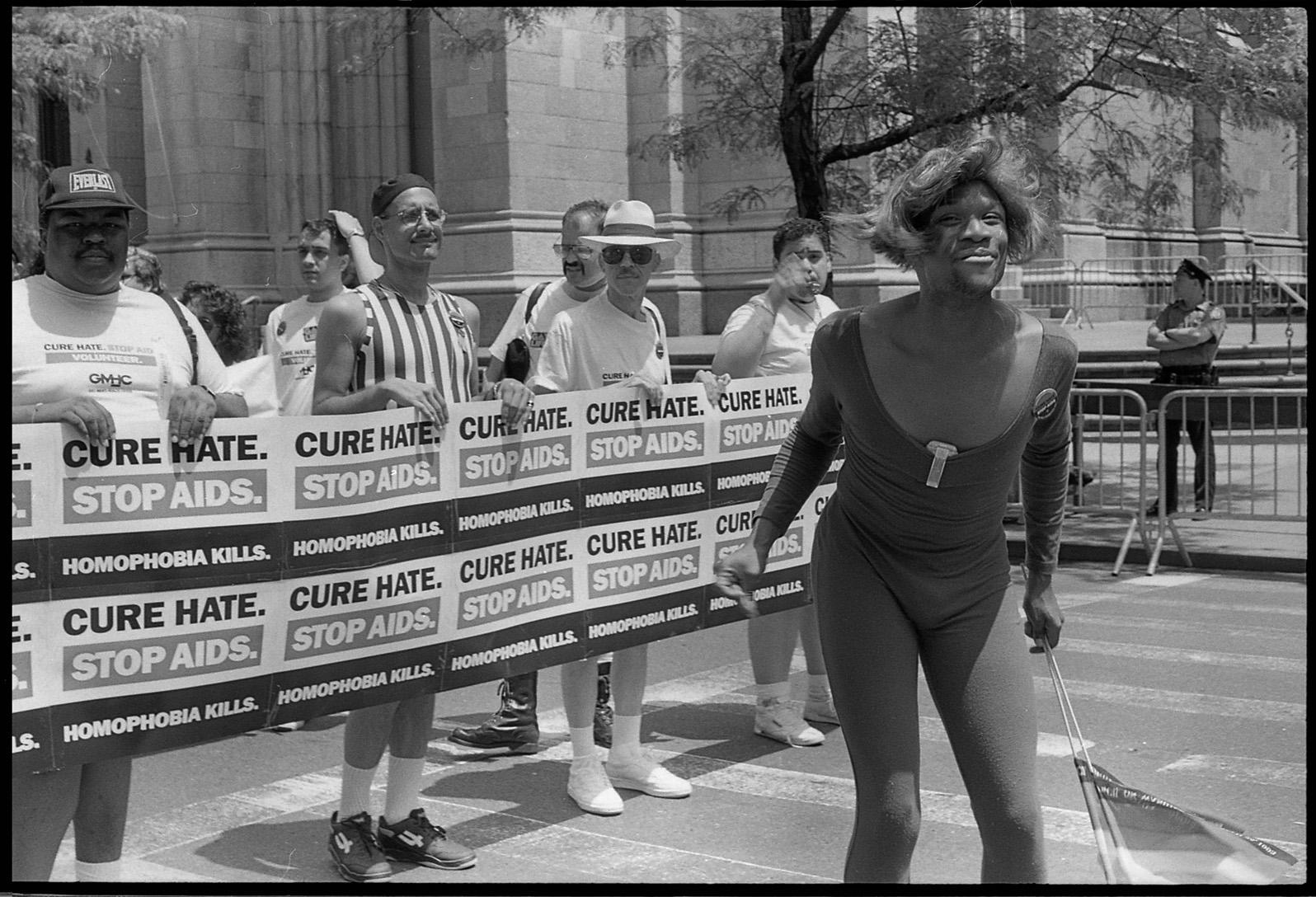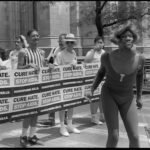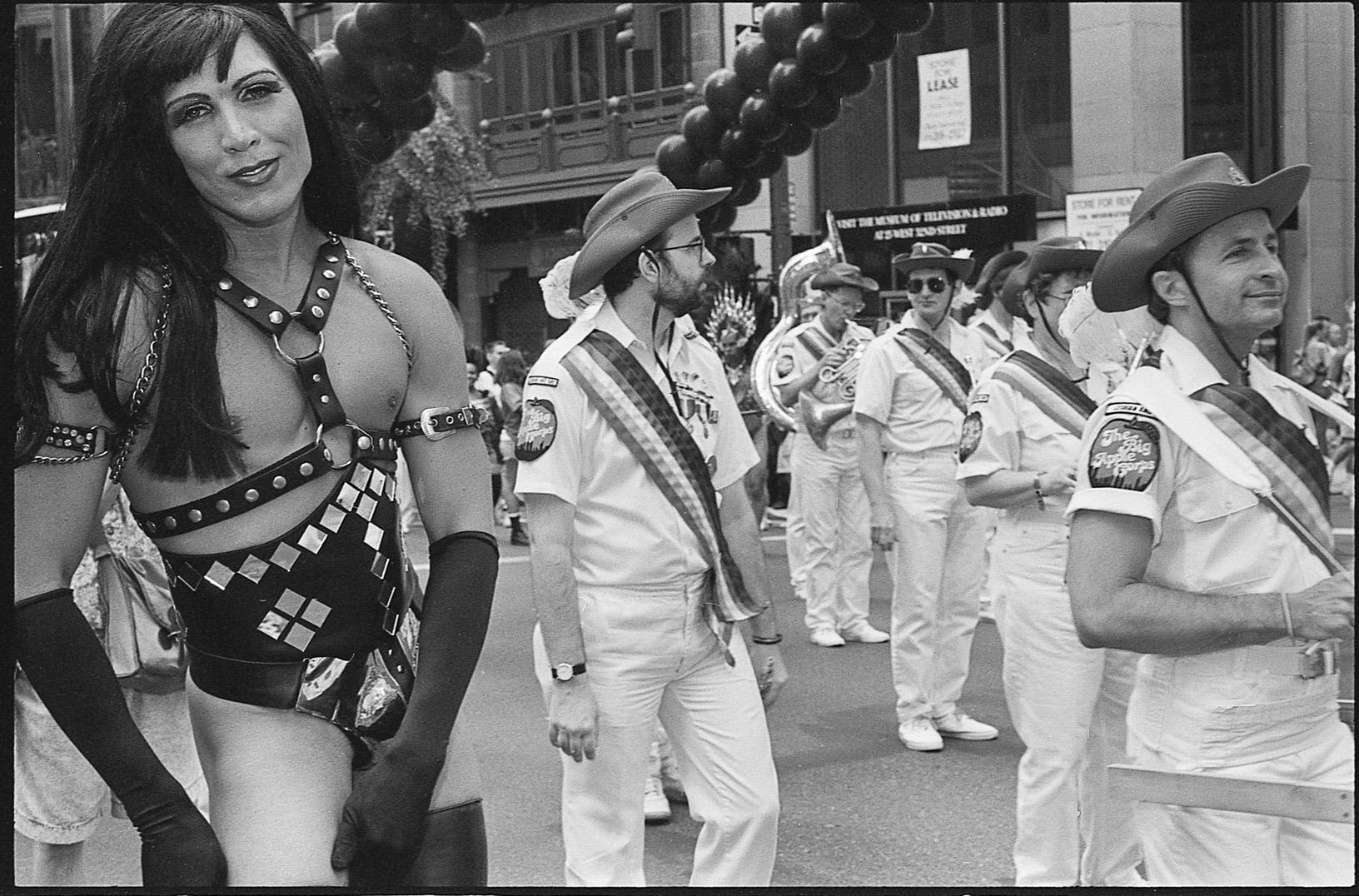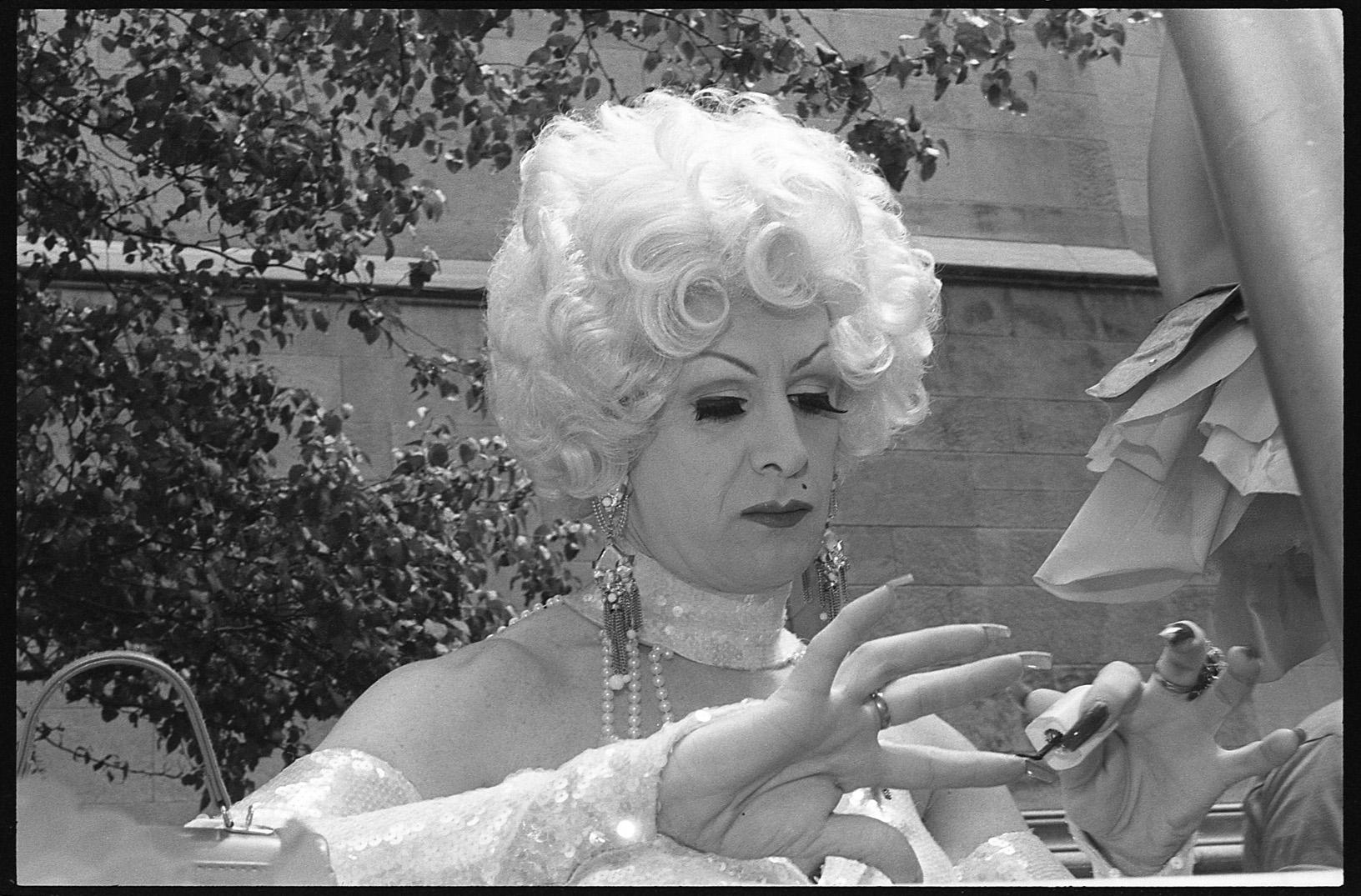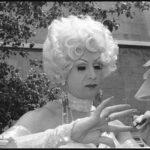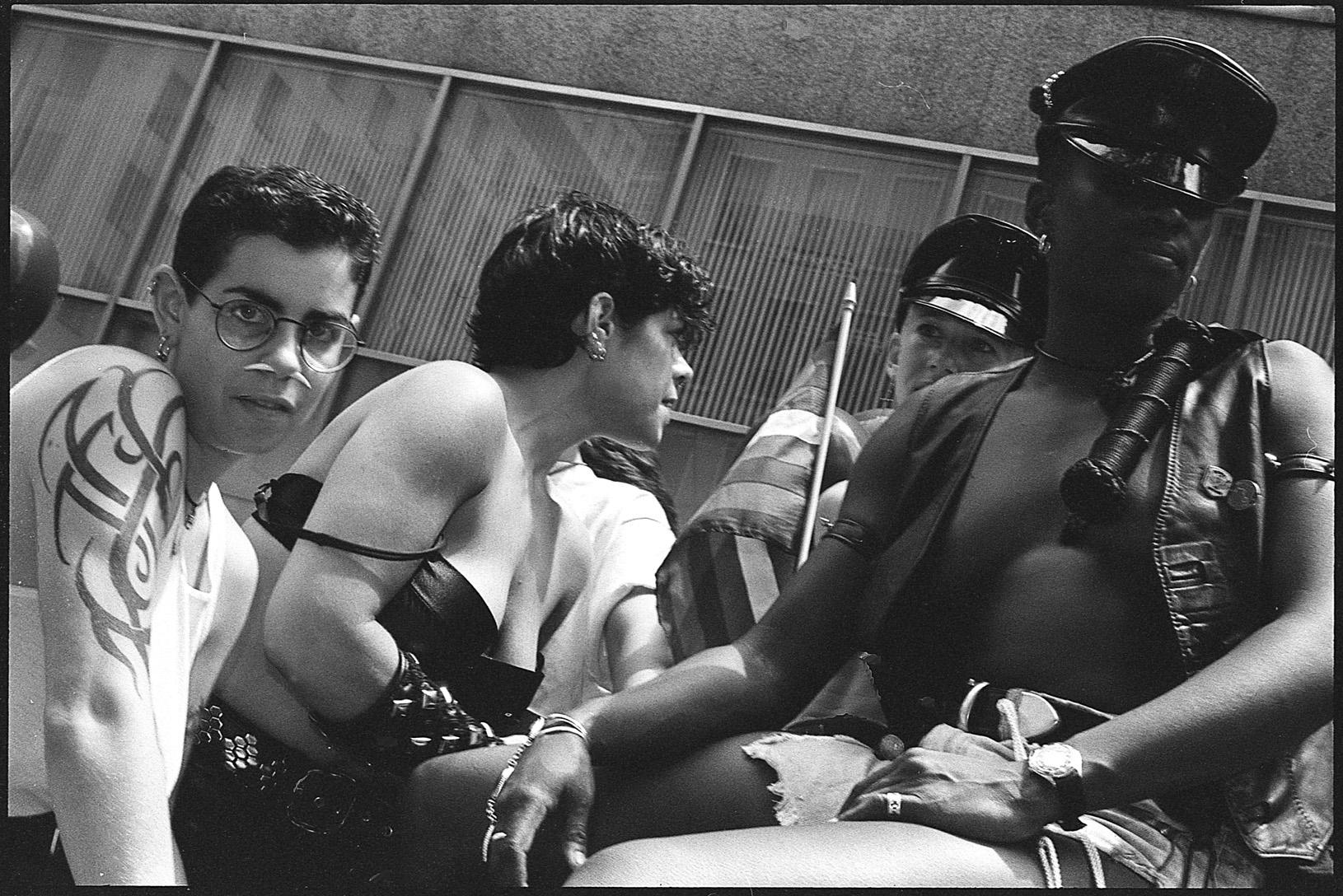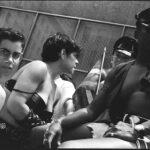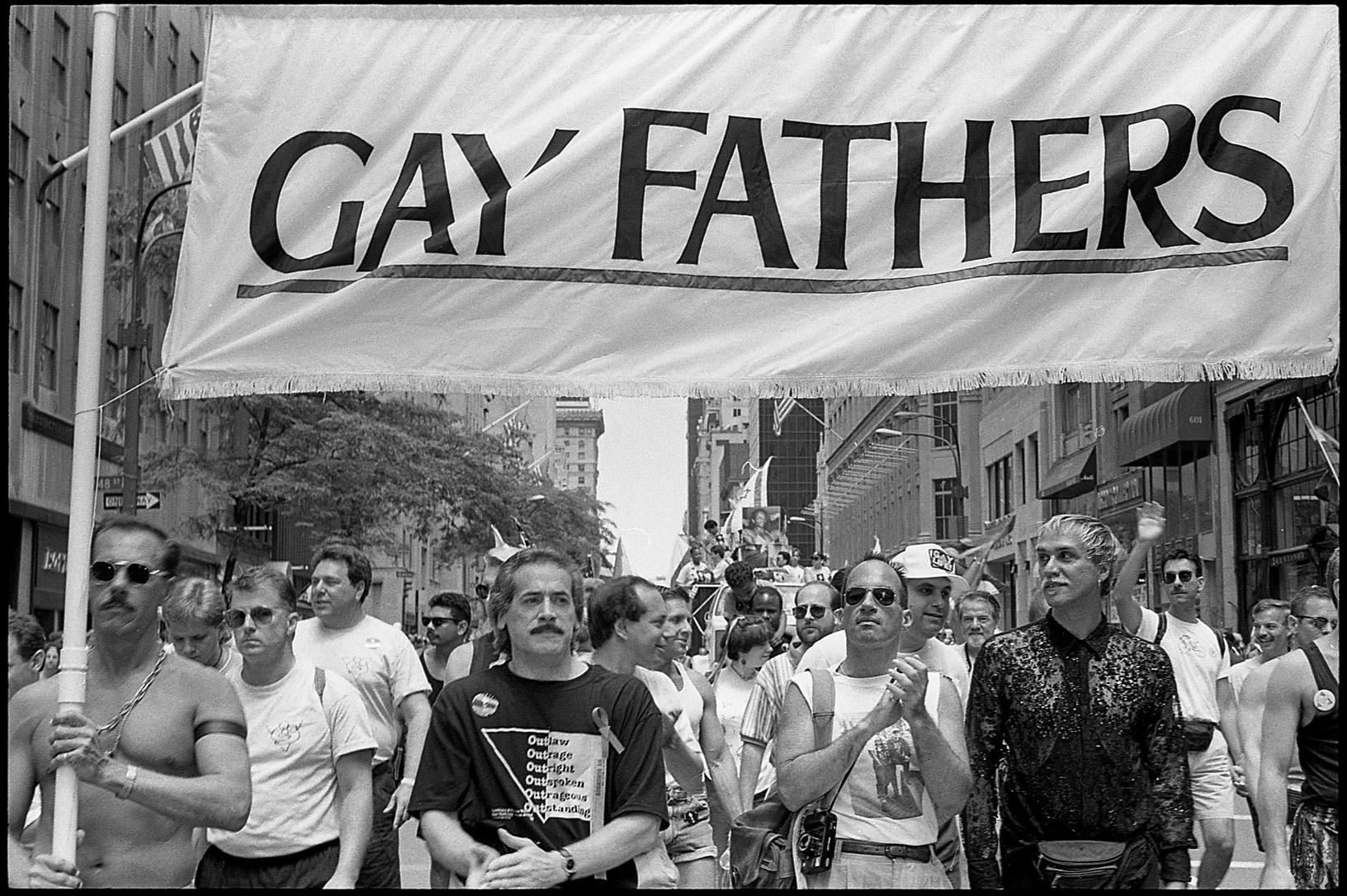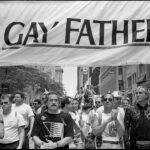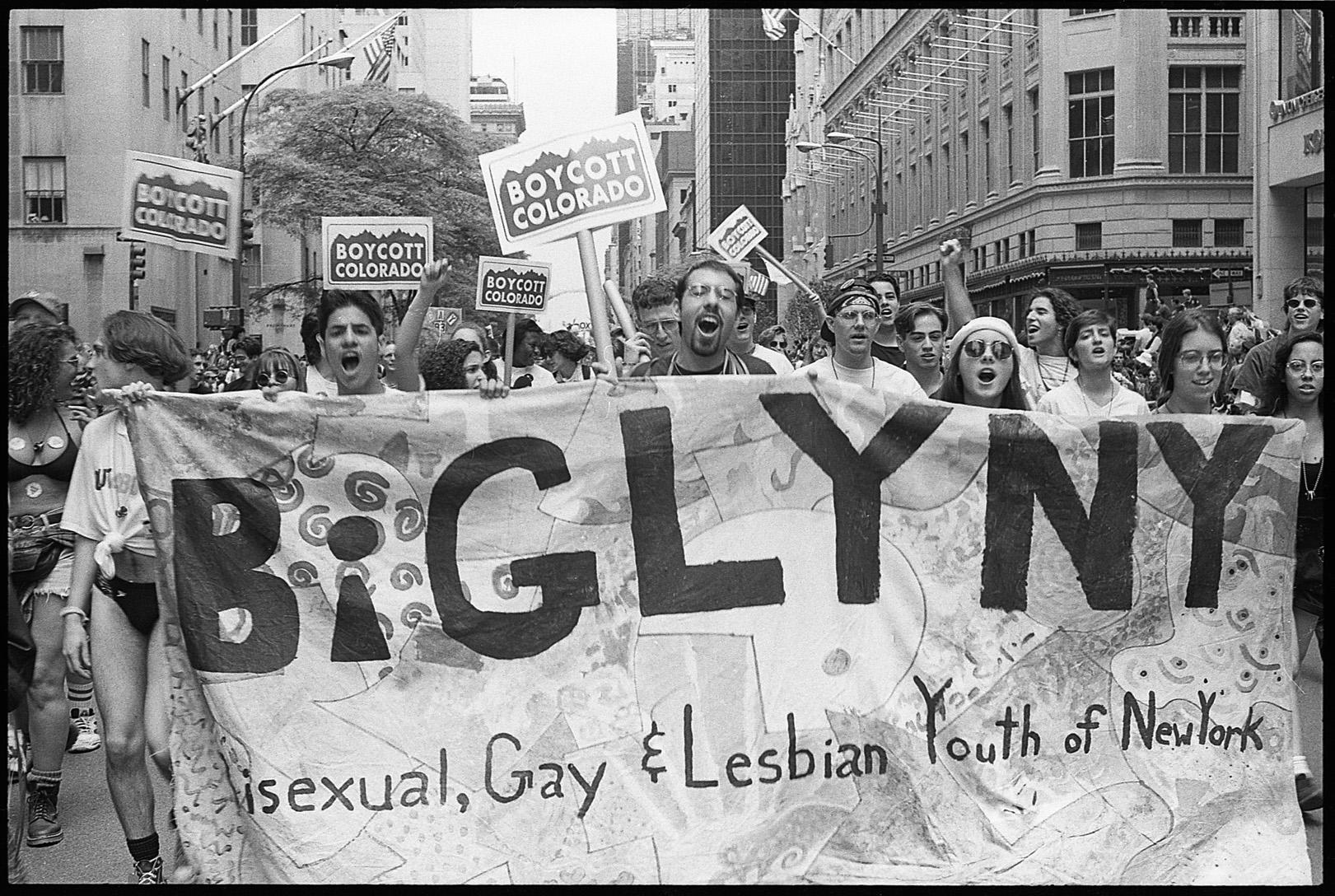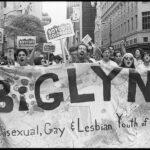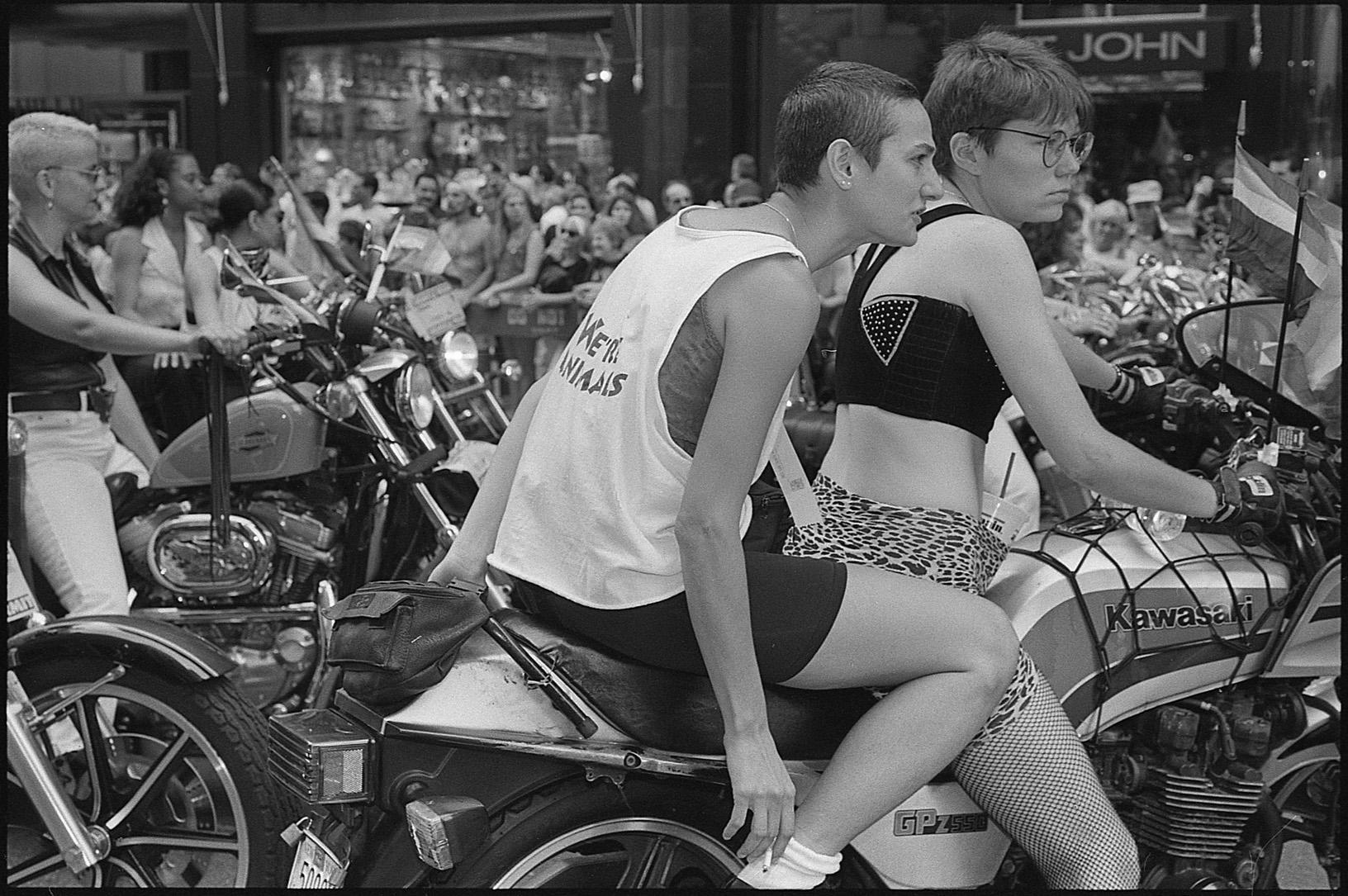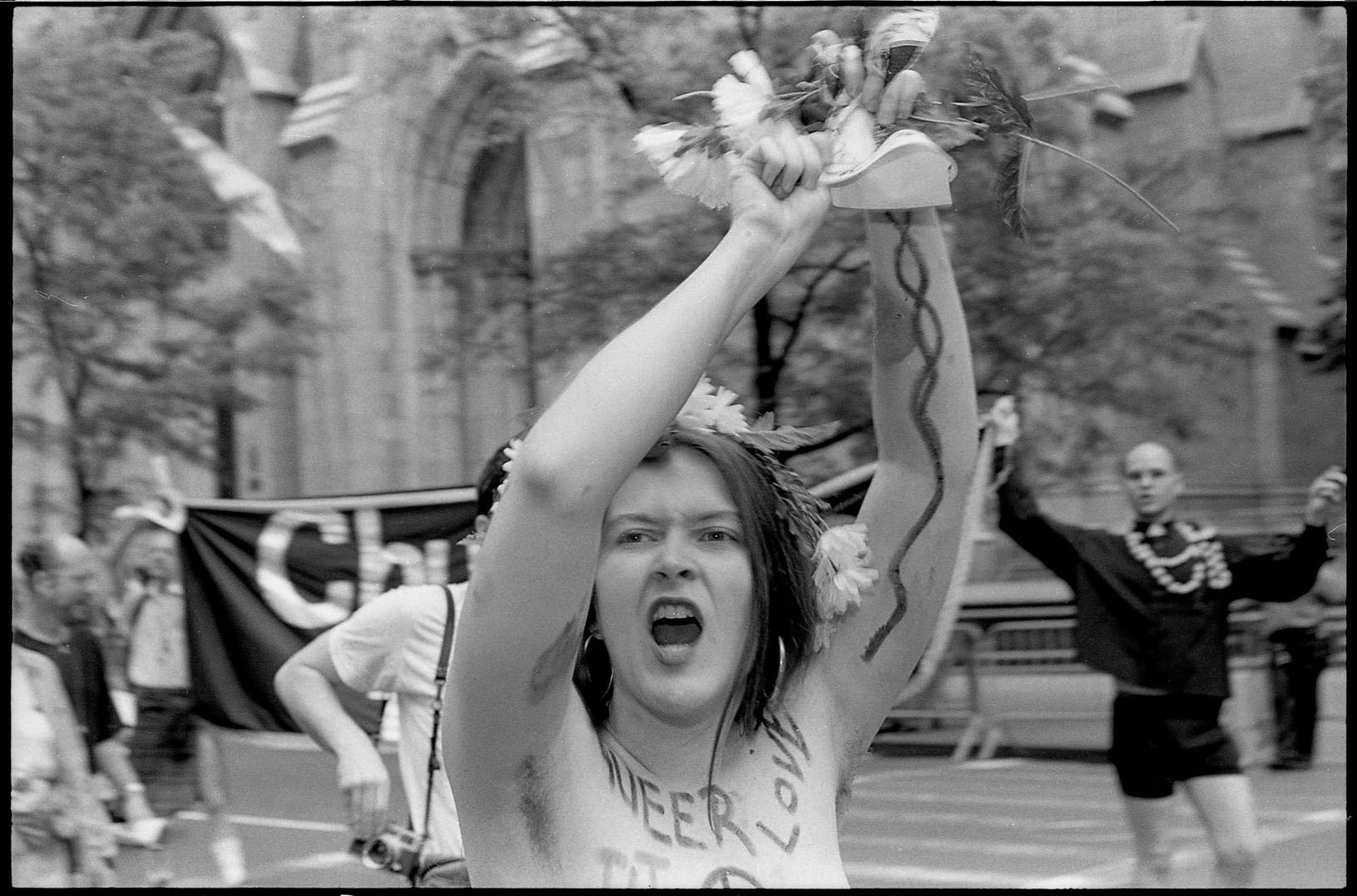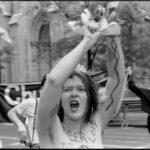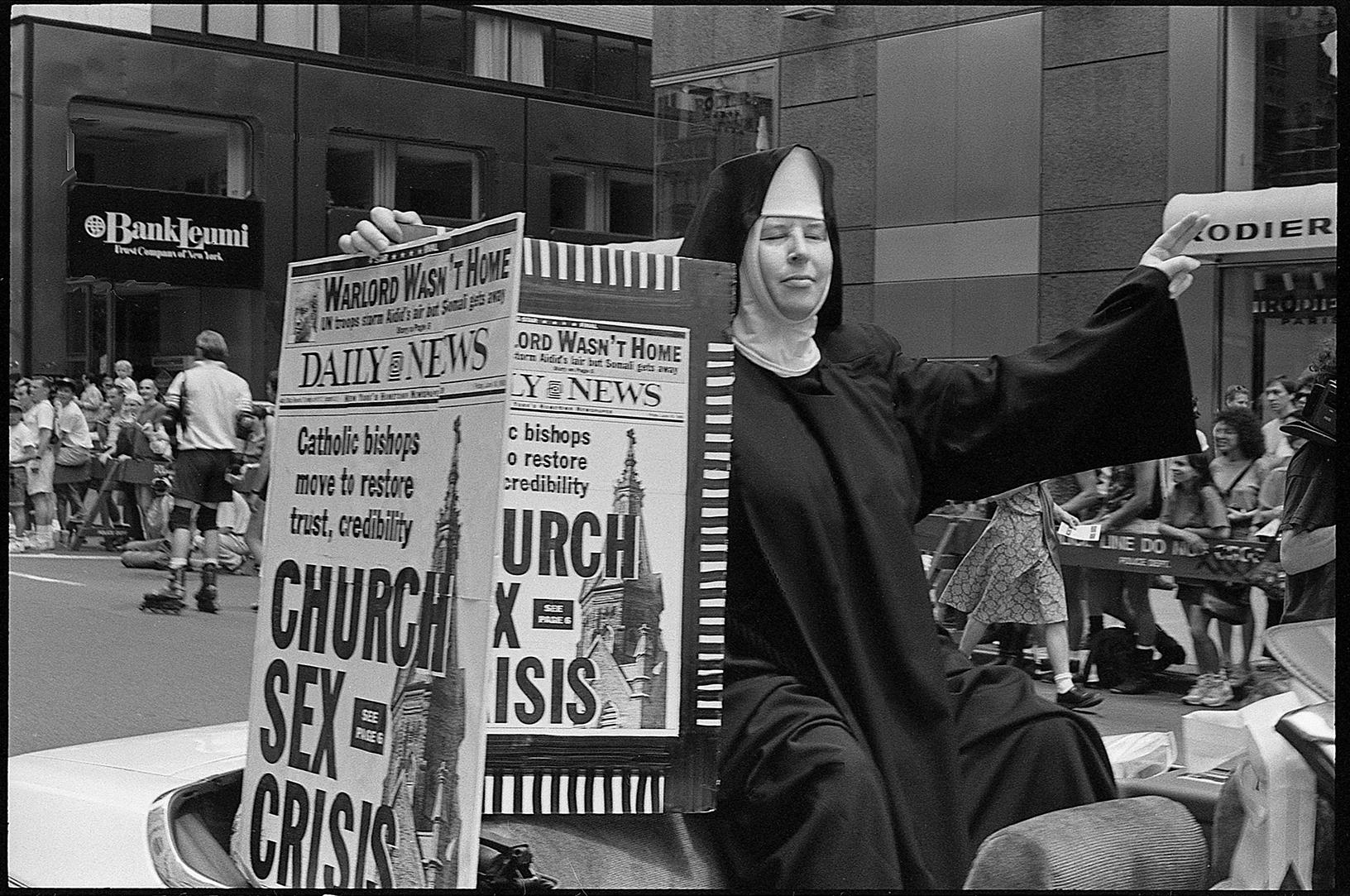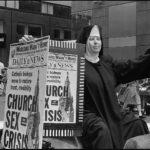 Elizabeth Meixell AKA Sister Cunnilingus, founder of Church Ladies for Choice.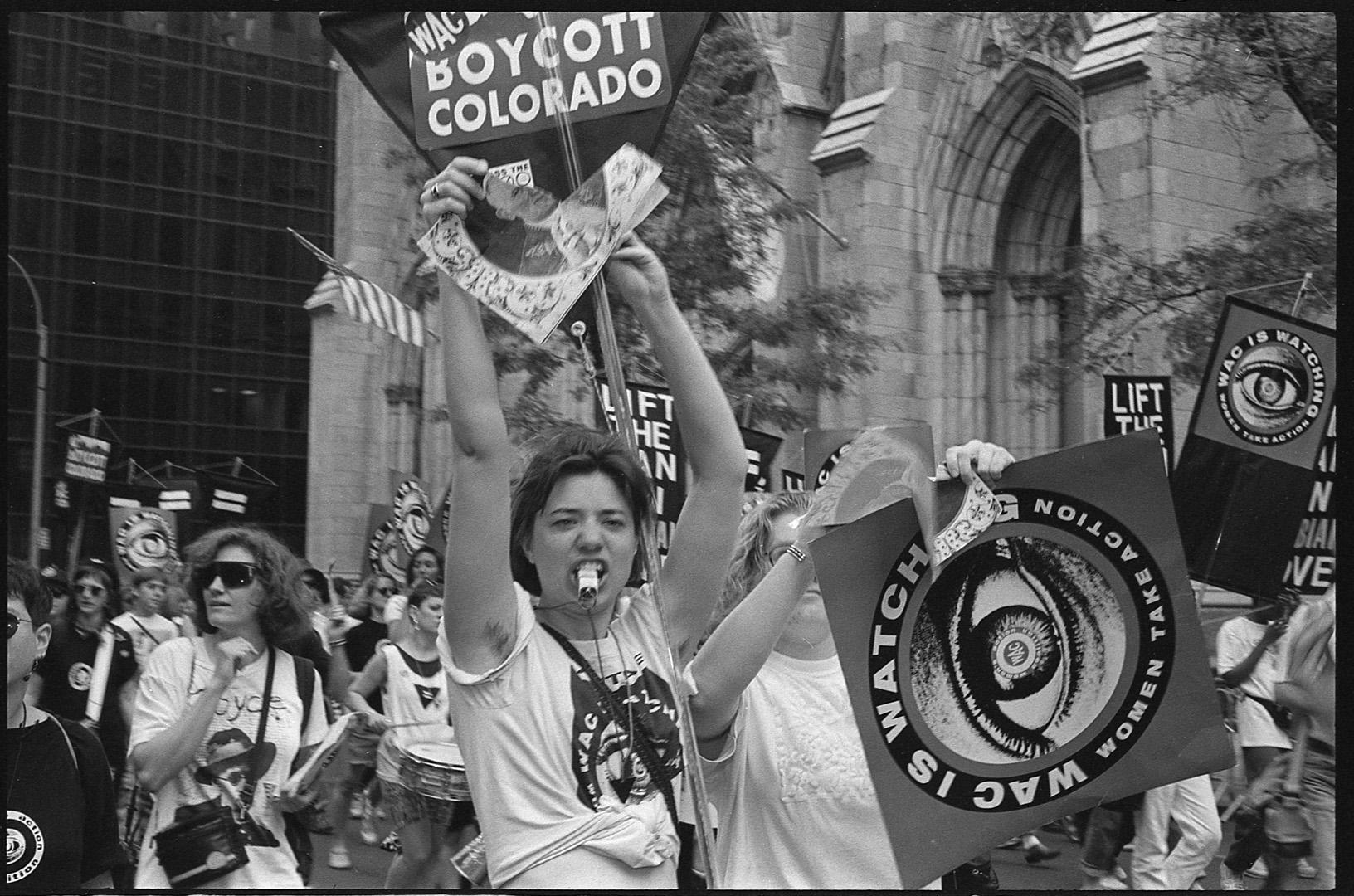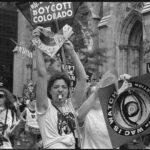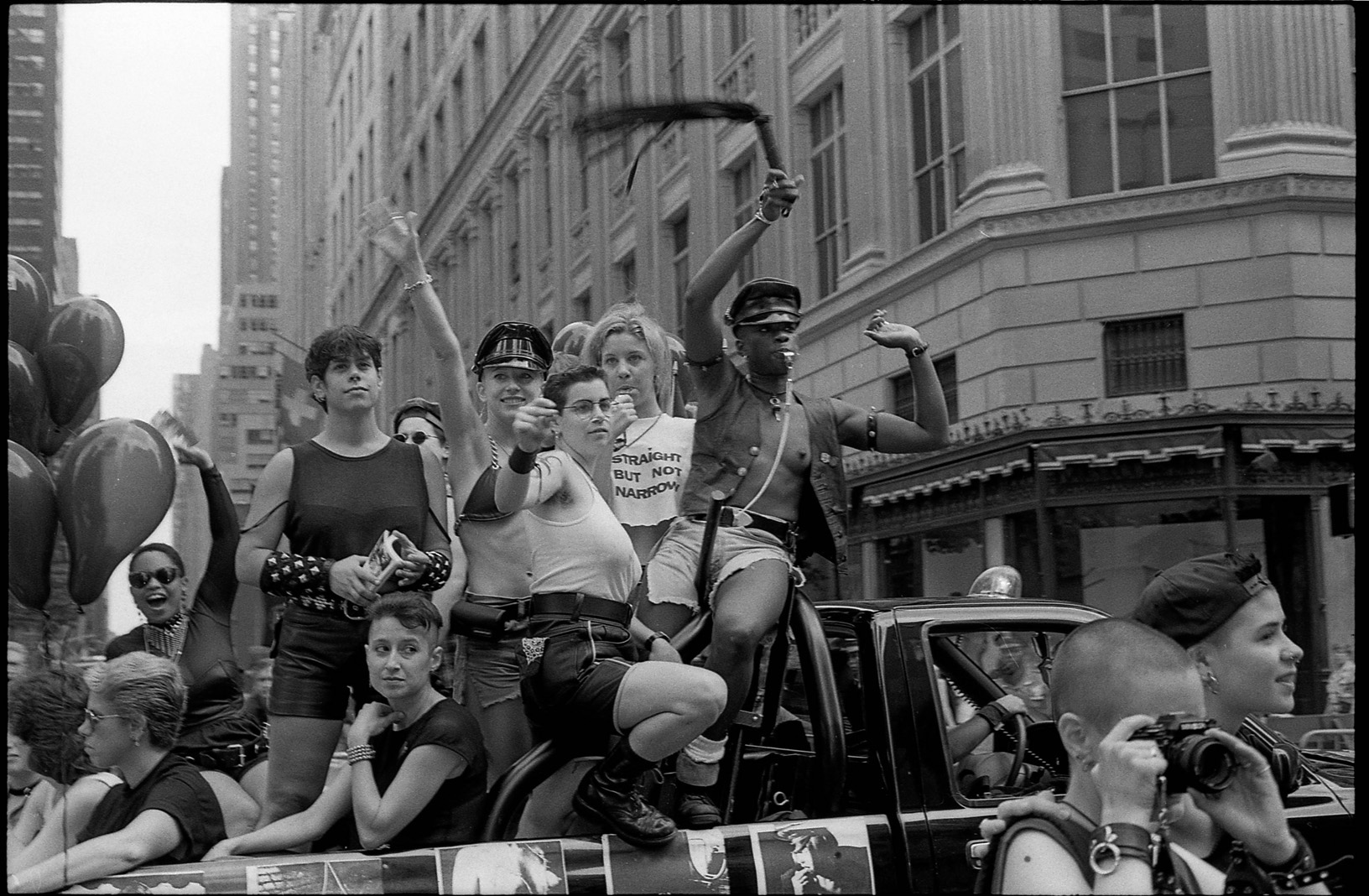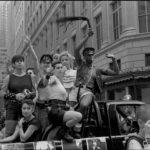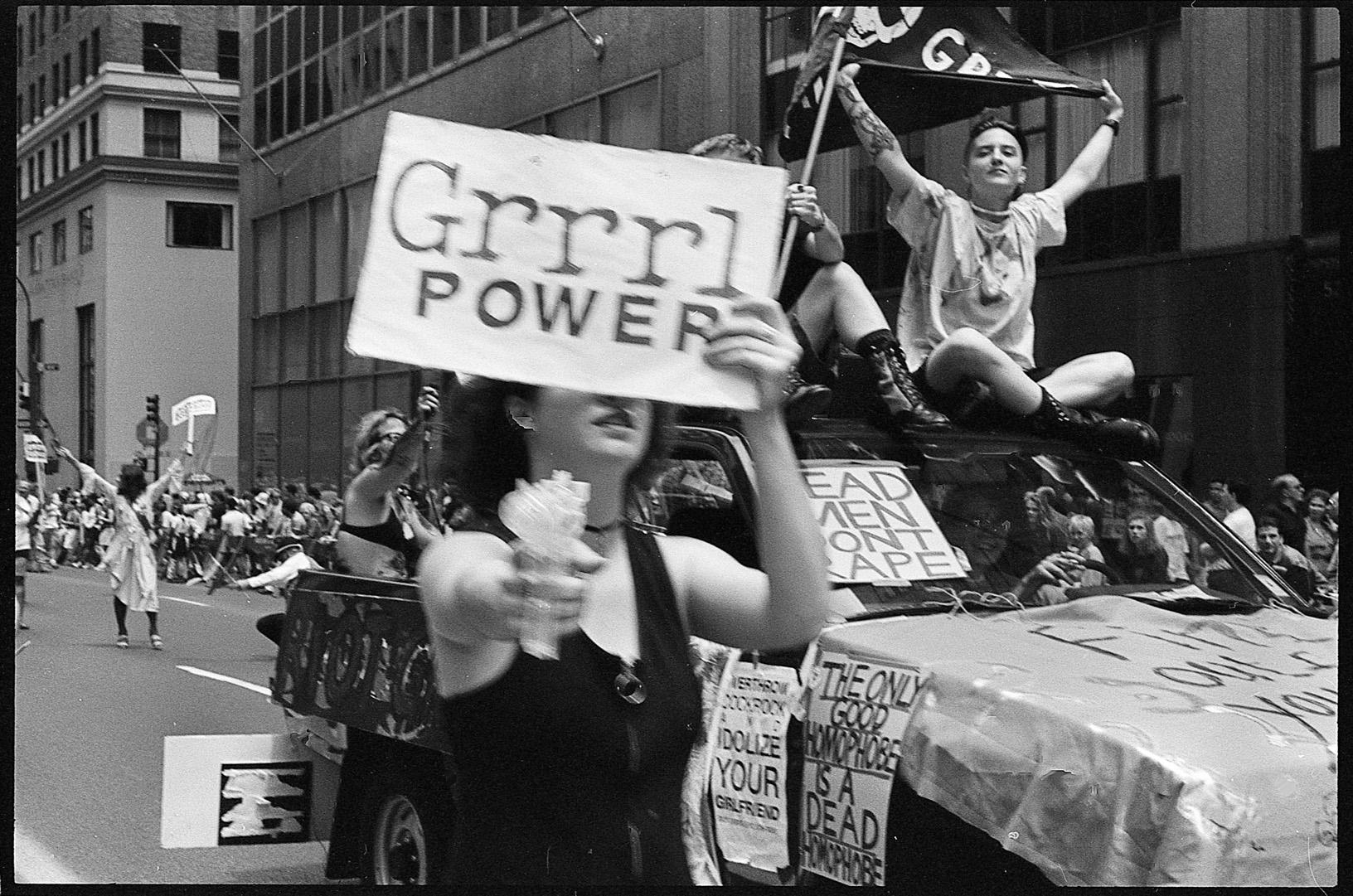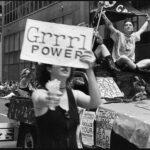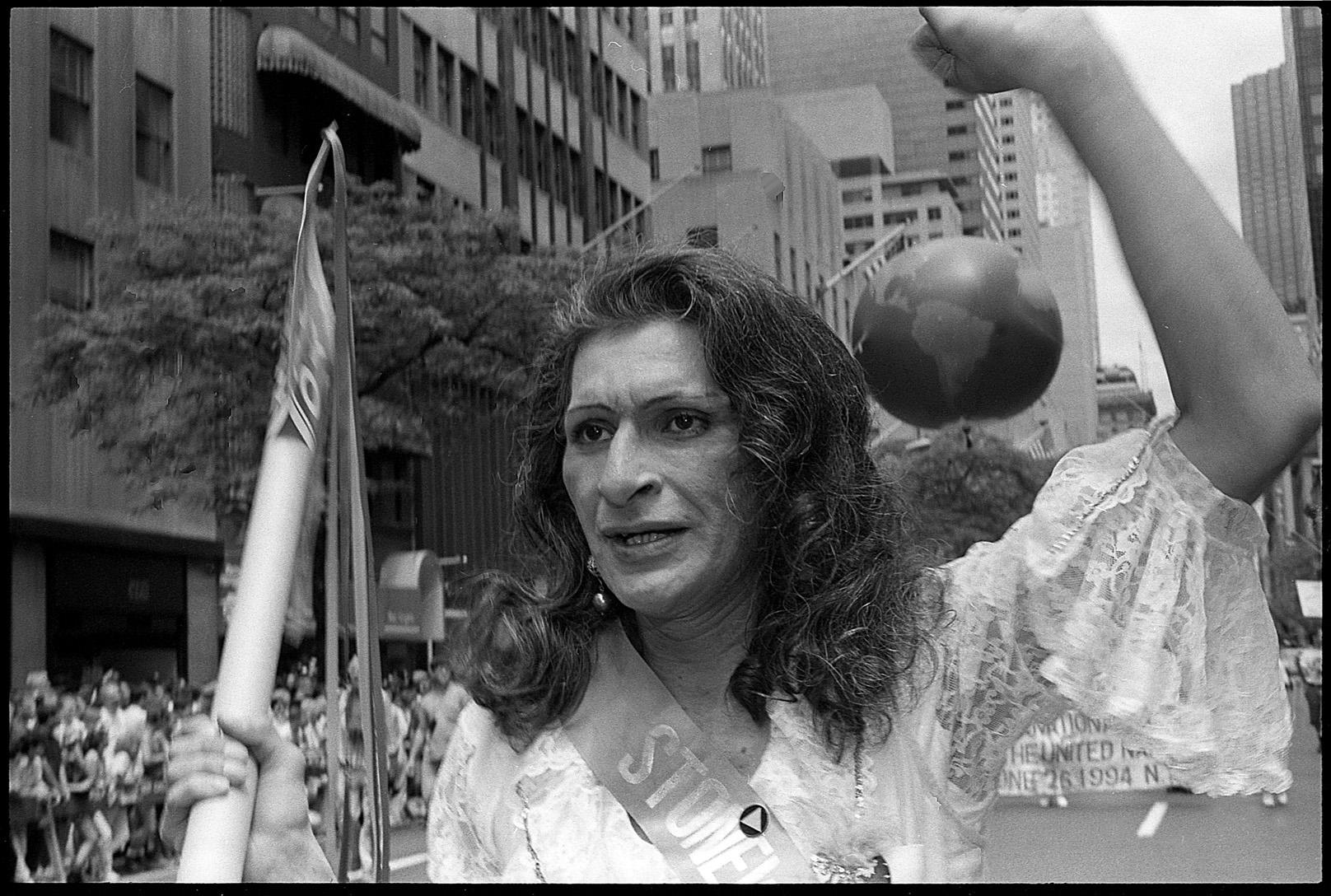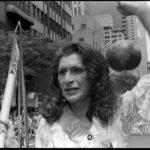 Stonewall veteran and trans rights leader, Sylvia Rivera (1951-2002).
ACT UP March, Stonewall 25th Anniversary, June 26, 1994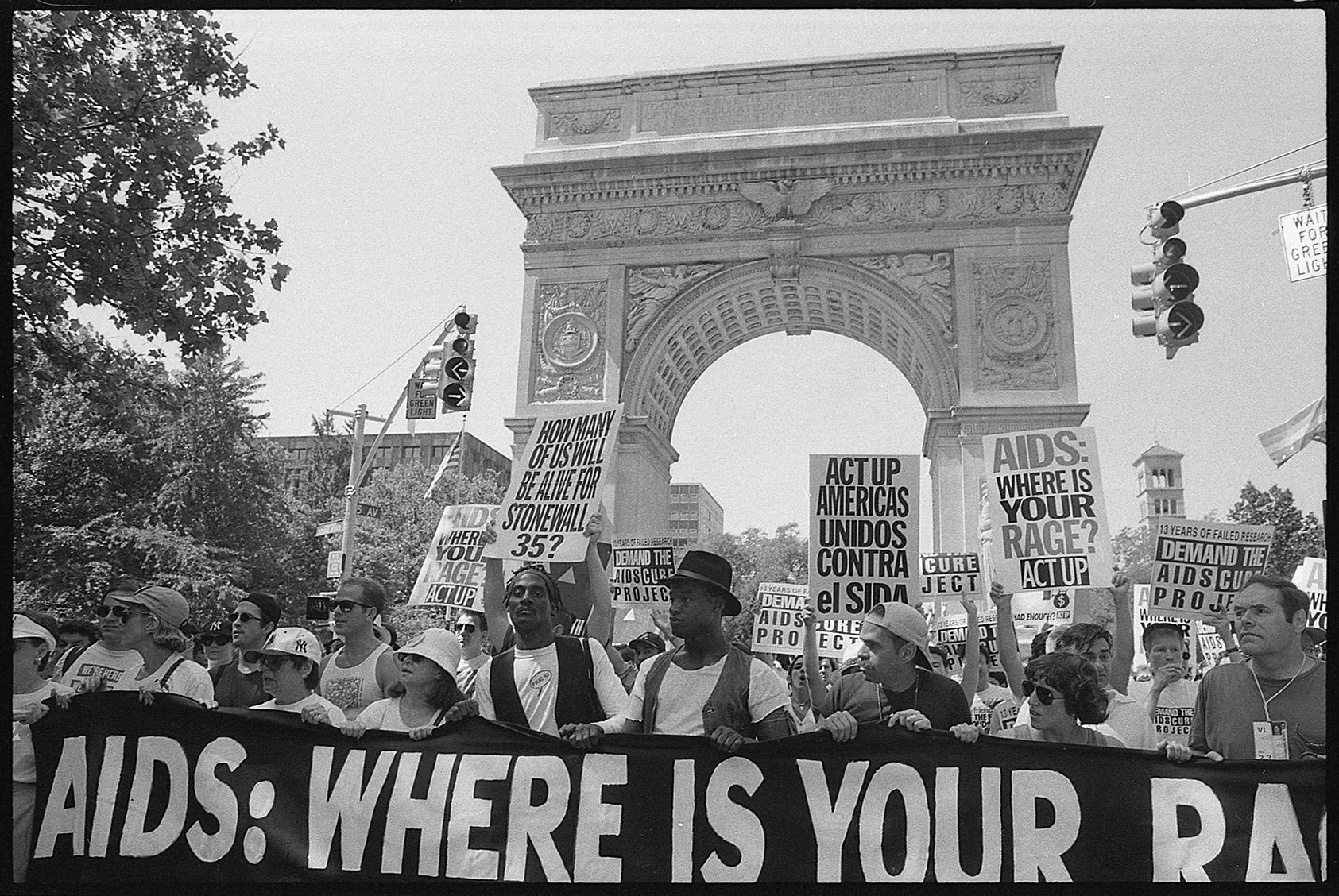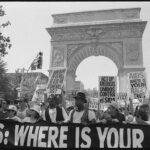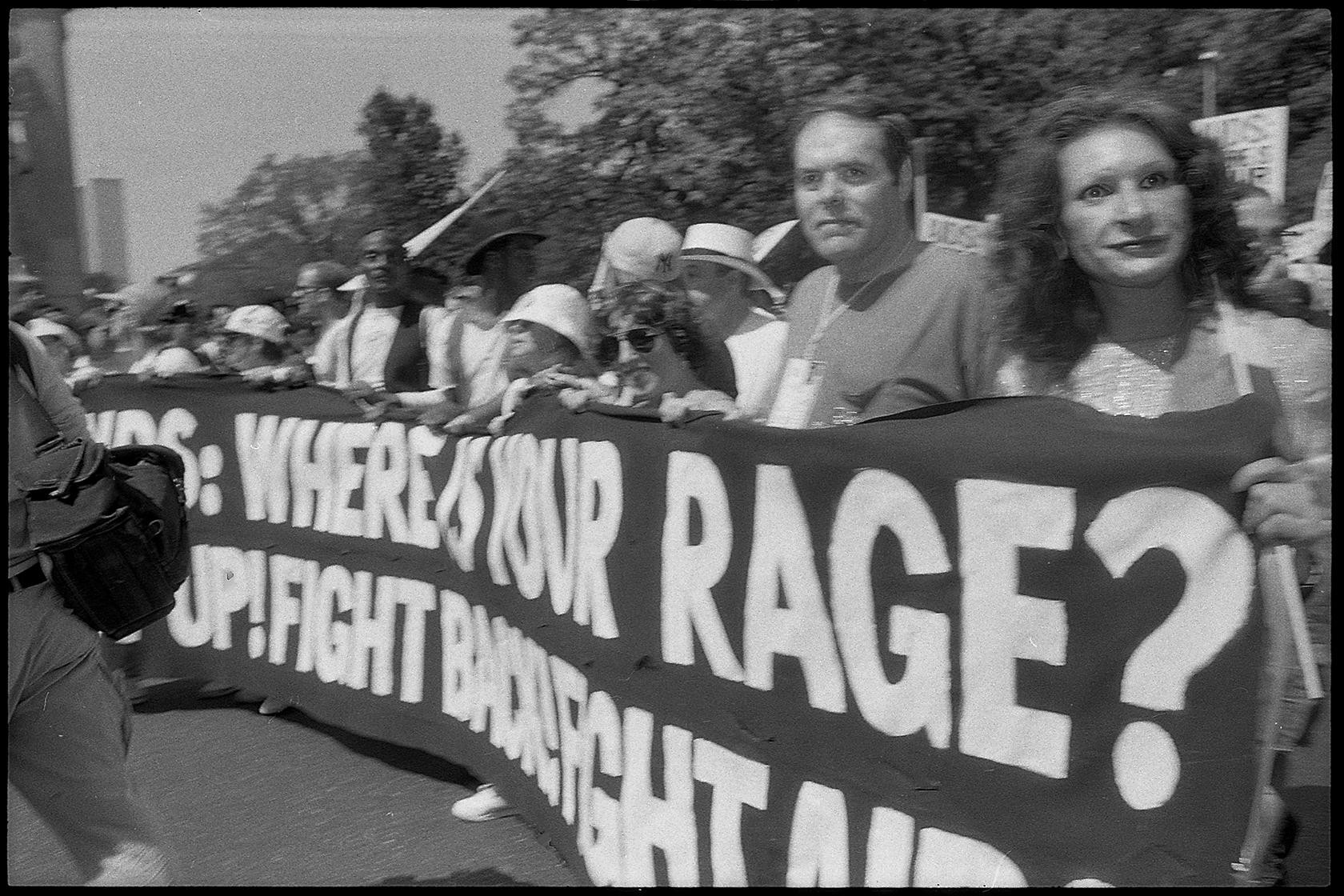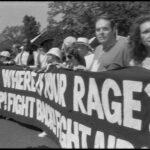 Far right, Stonewall veterans, Sylvia Rivera and John O'Brien.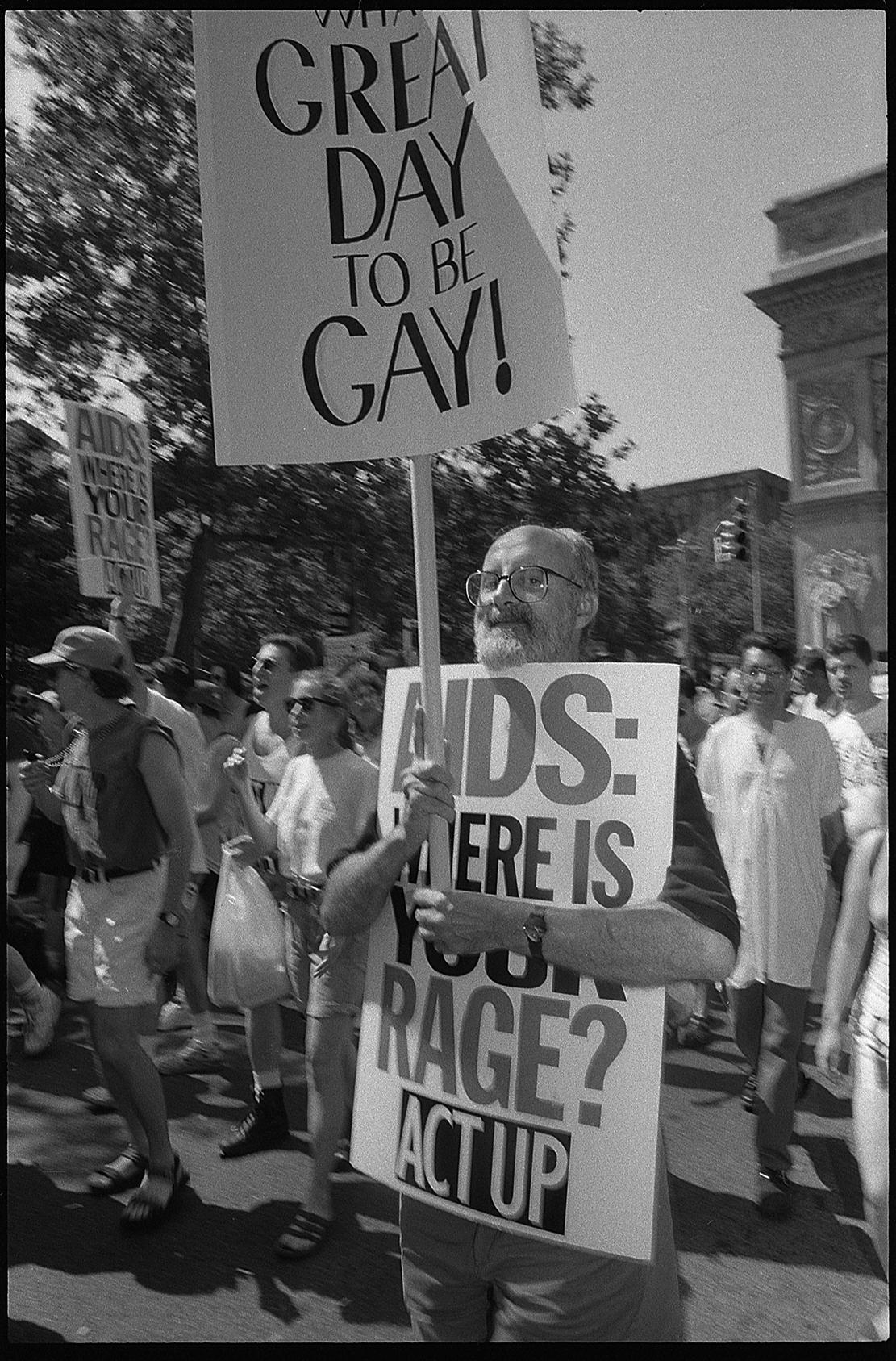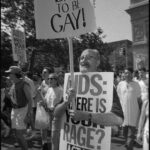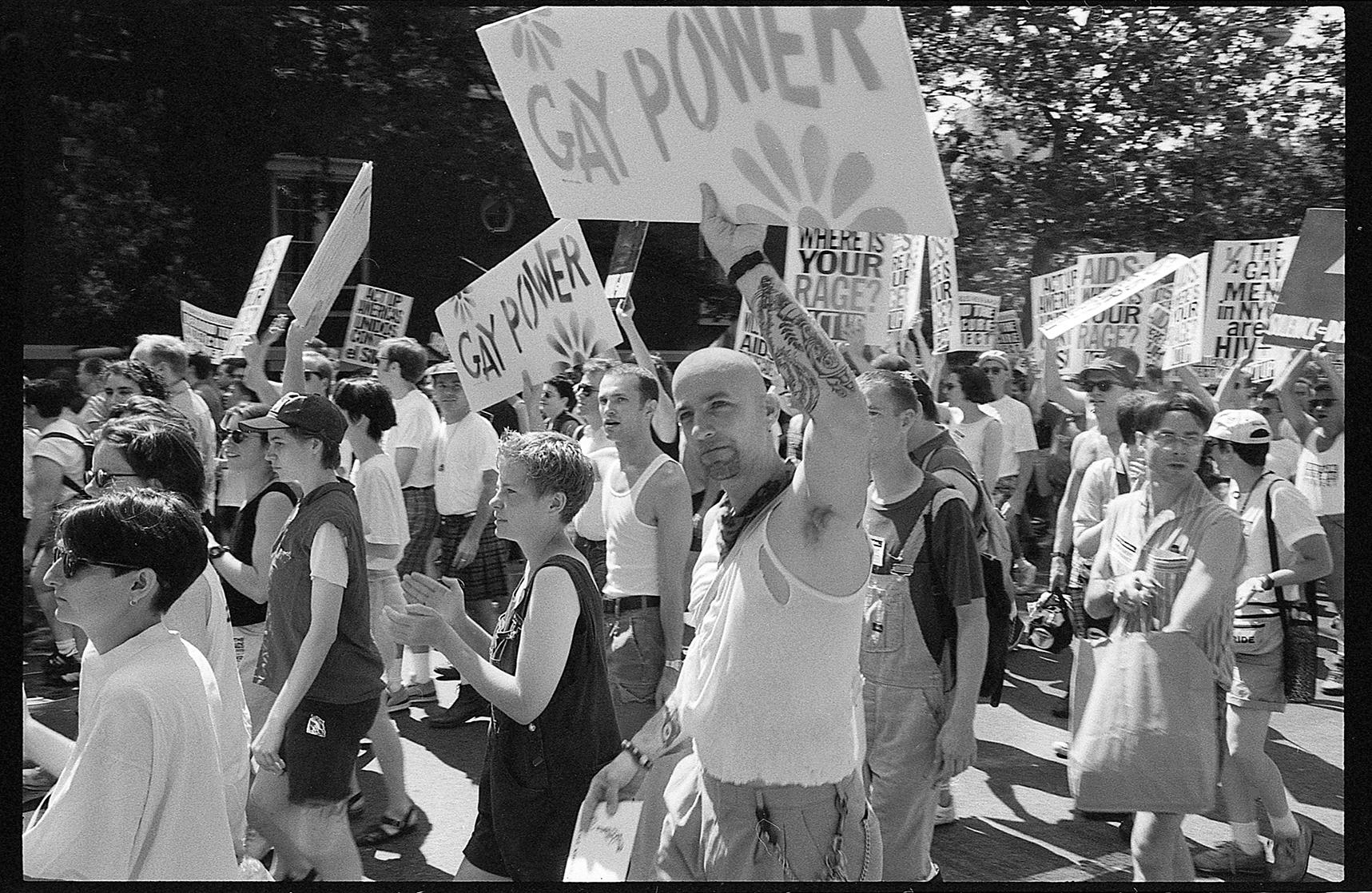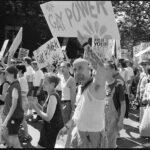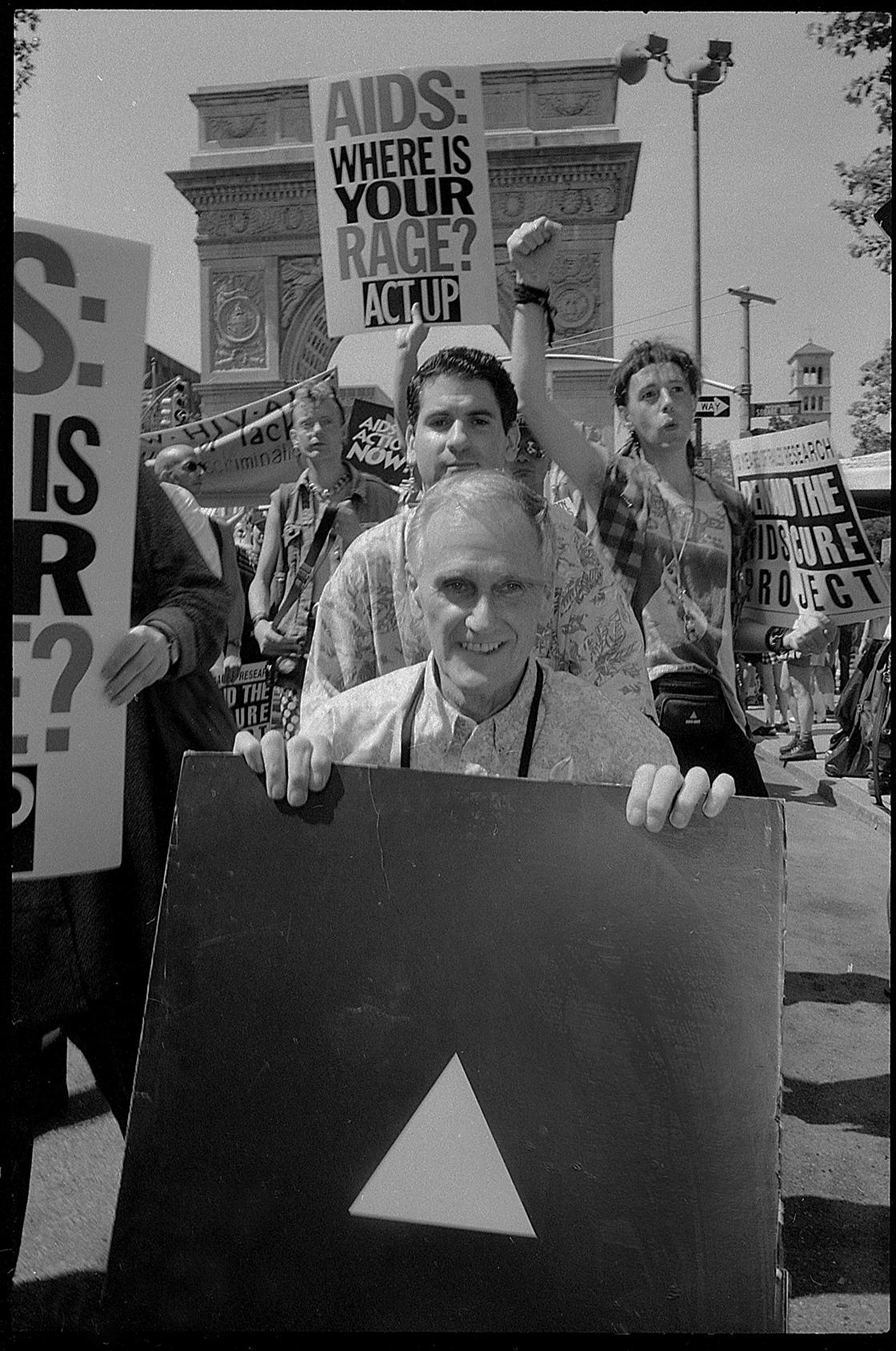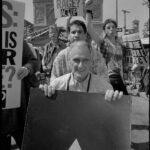 Gay rights pioneer, Robert "Bob" Kohler(1926-2007).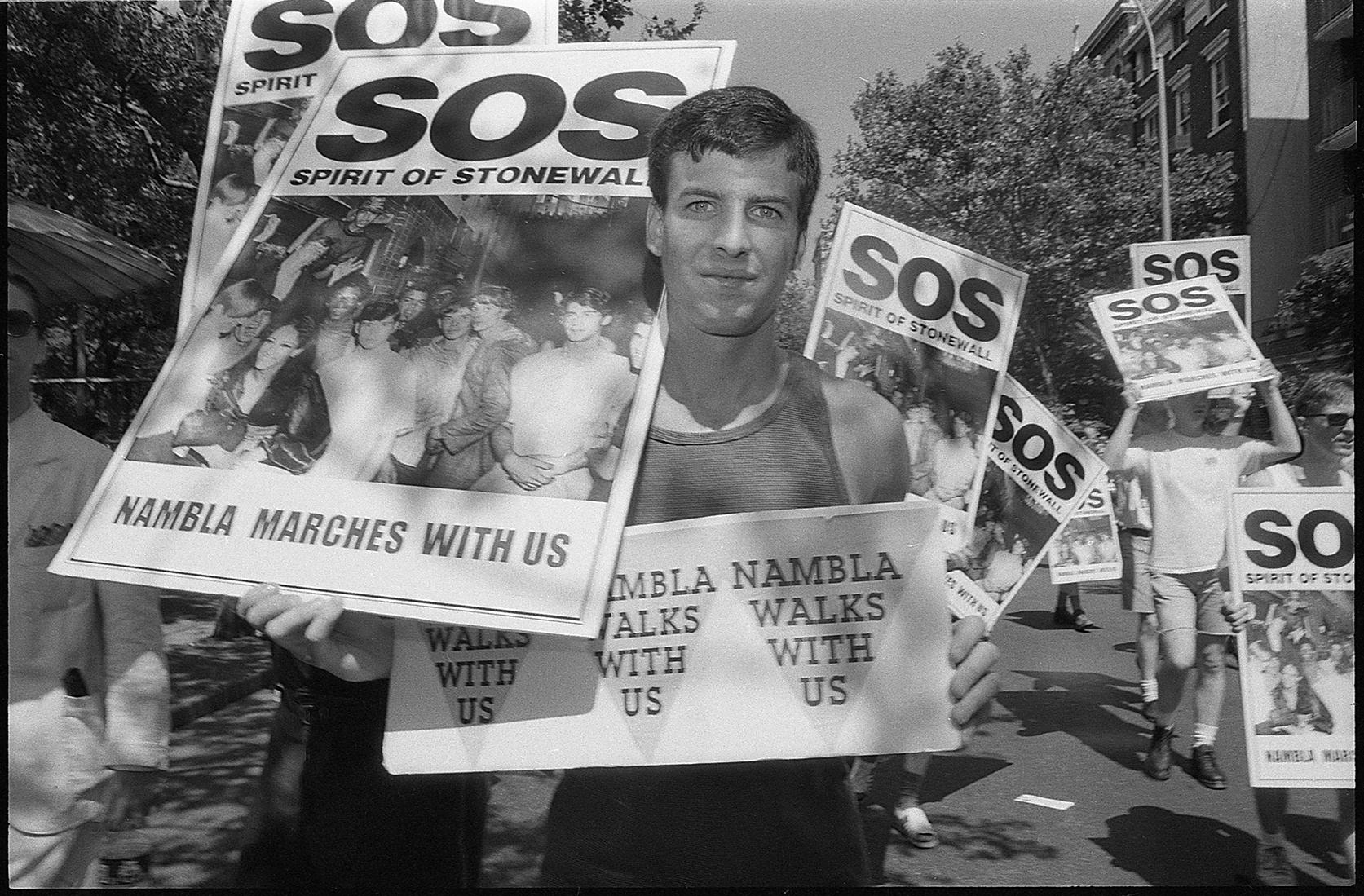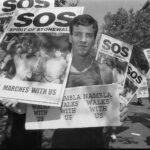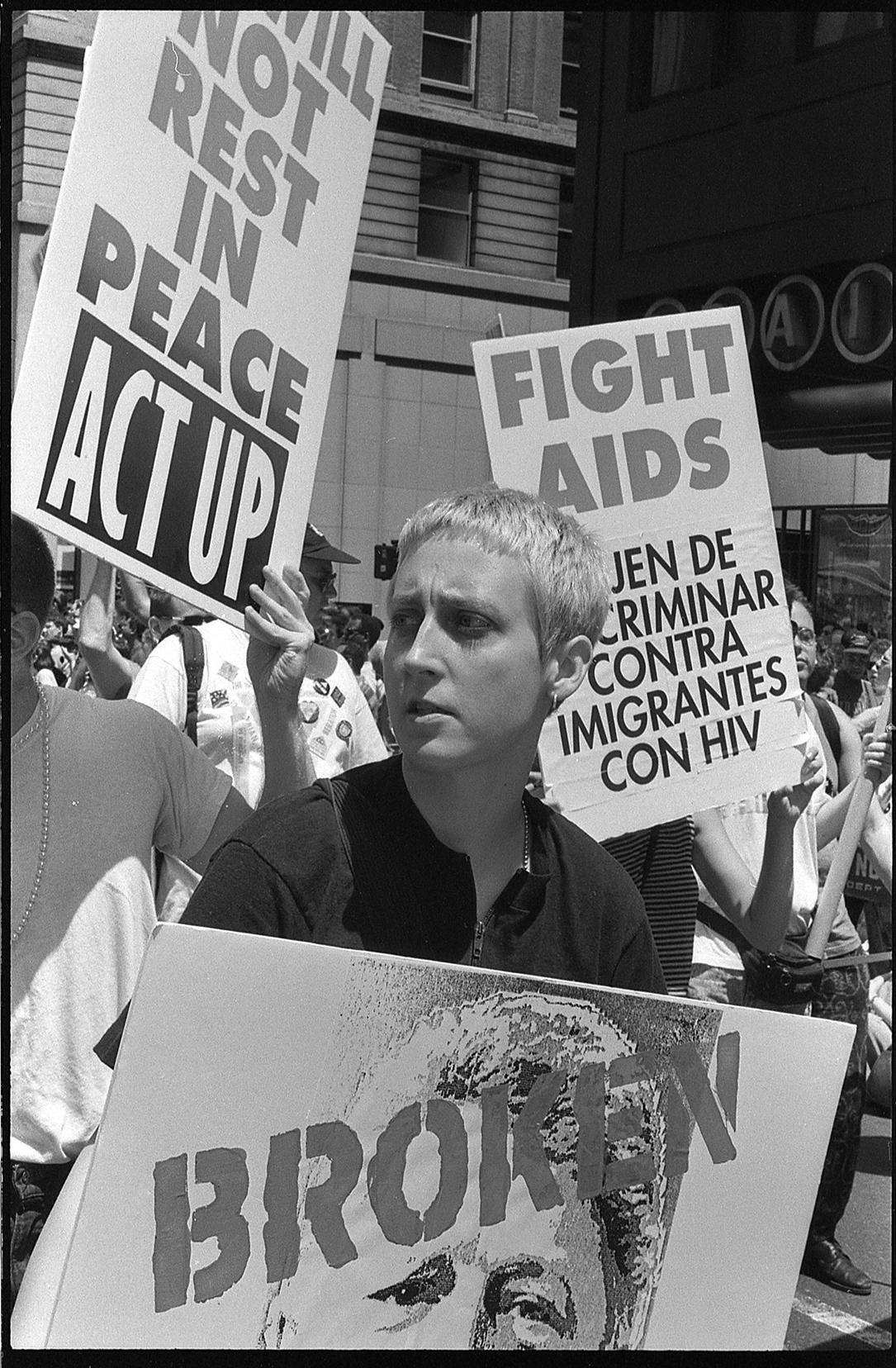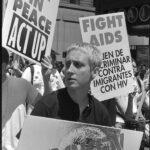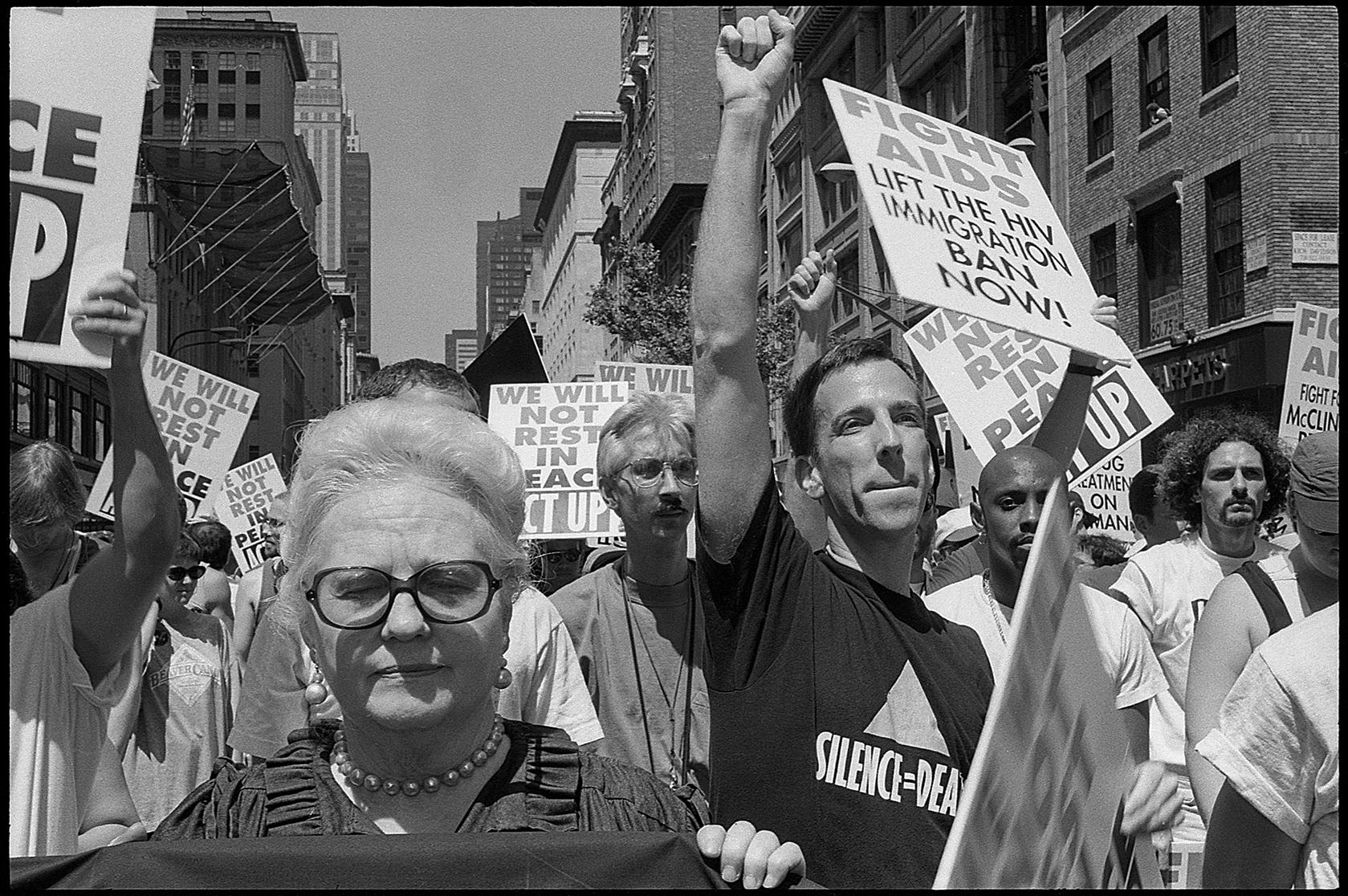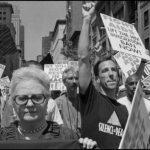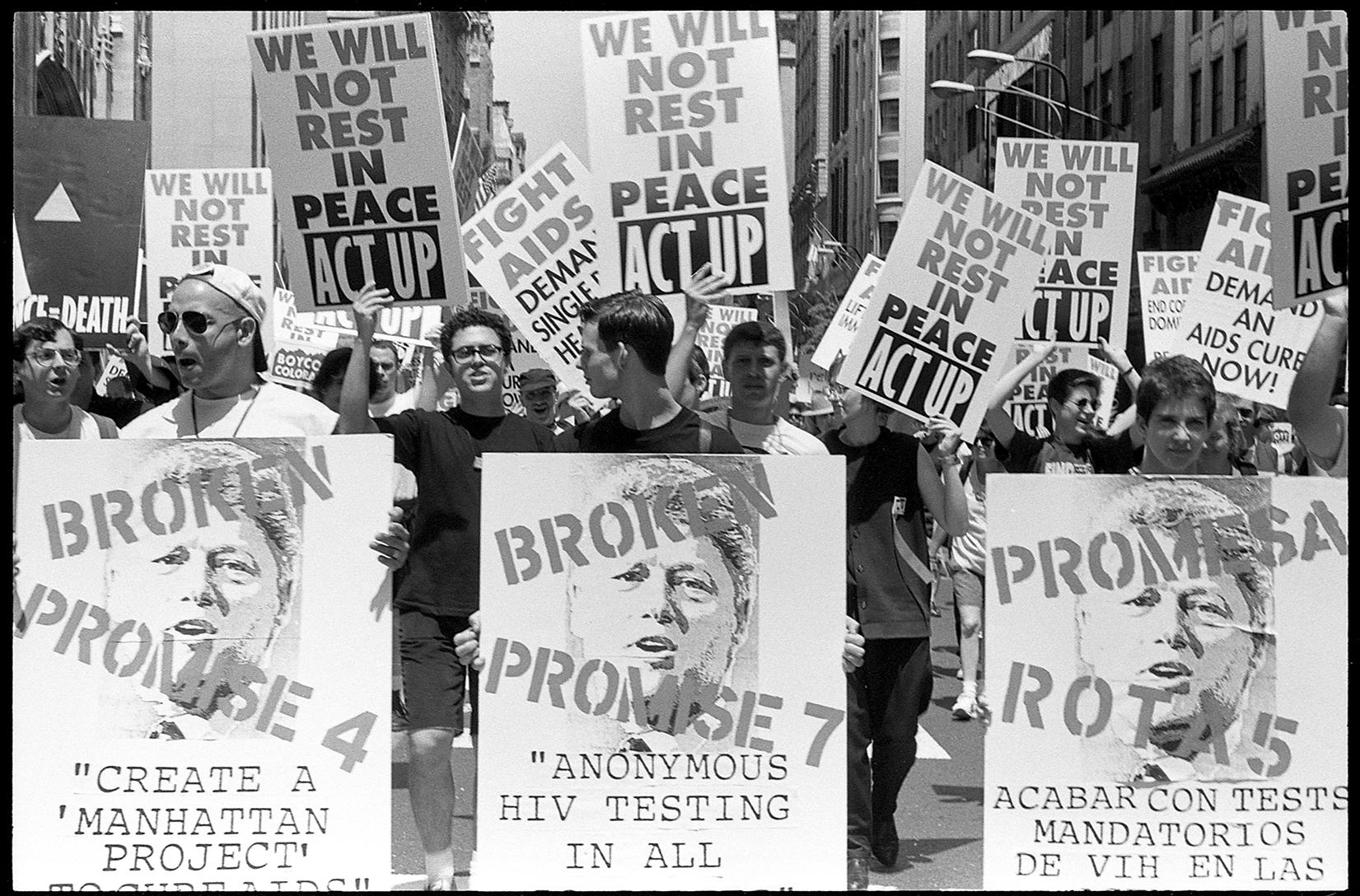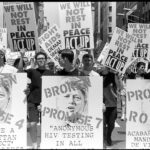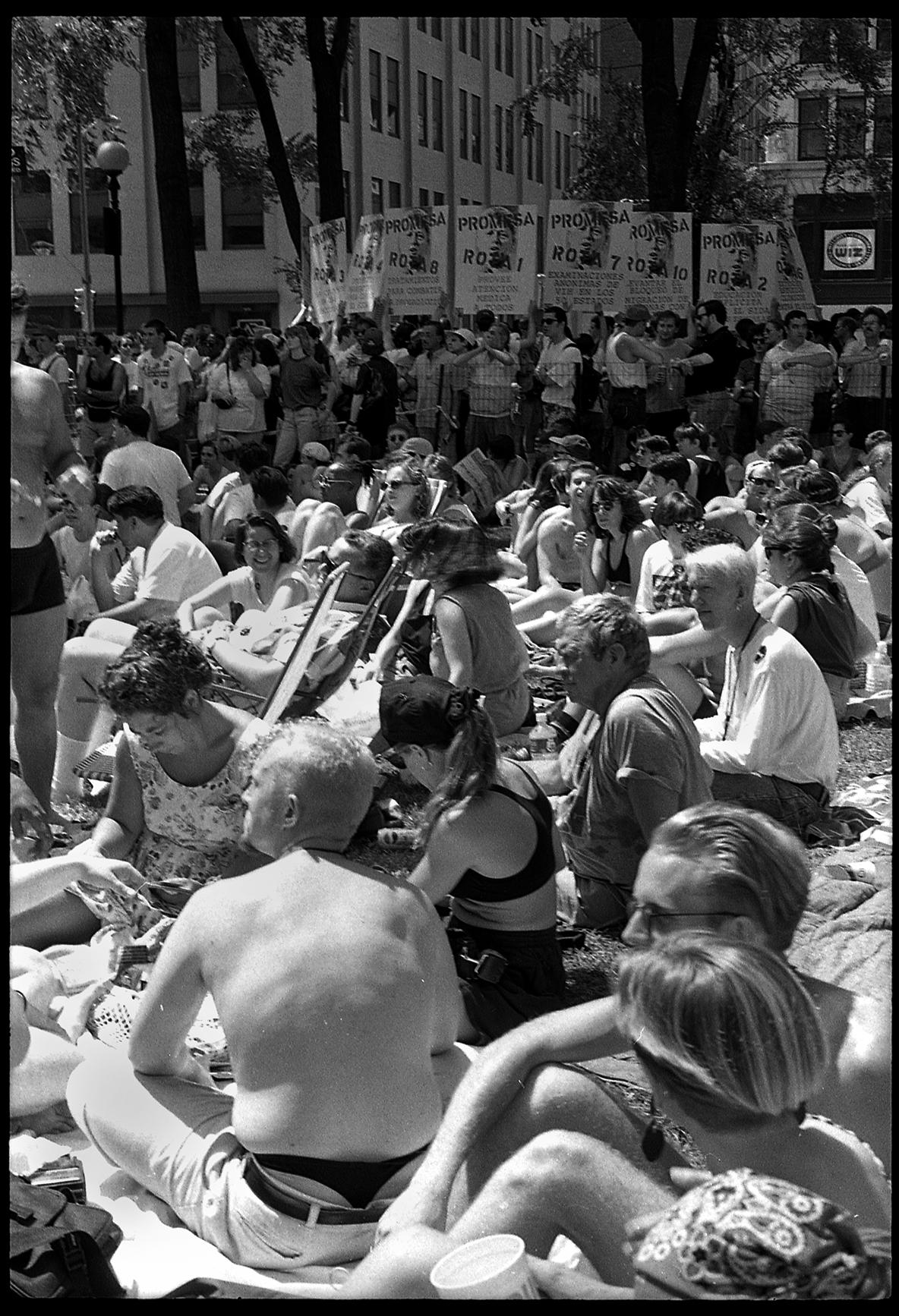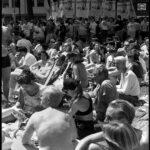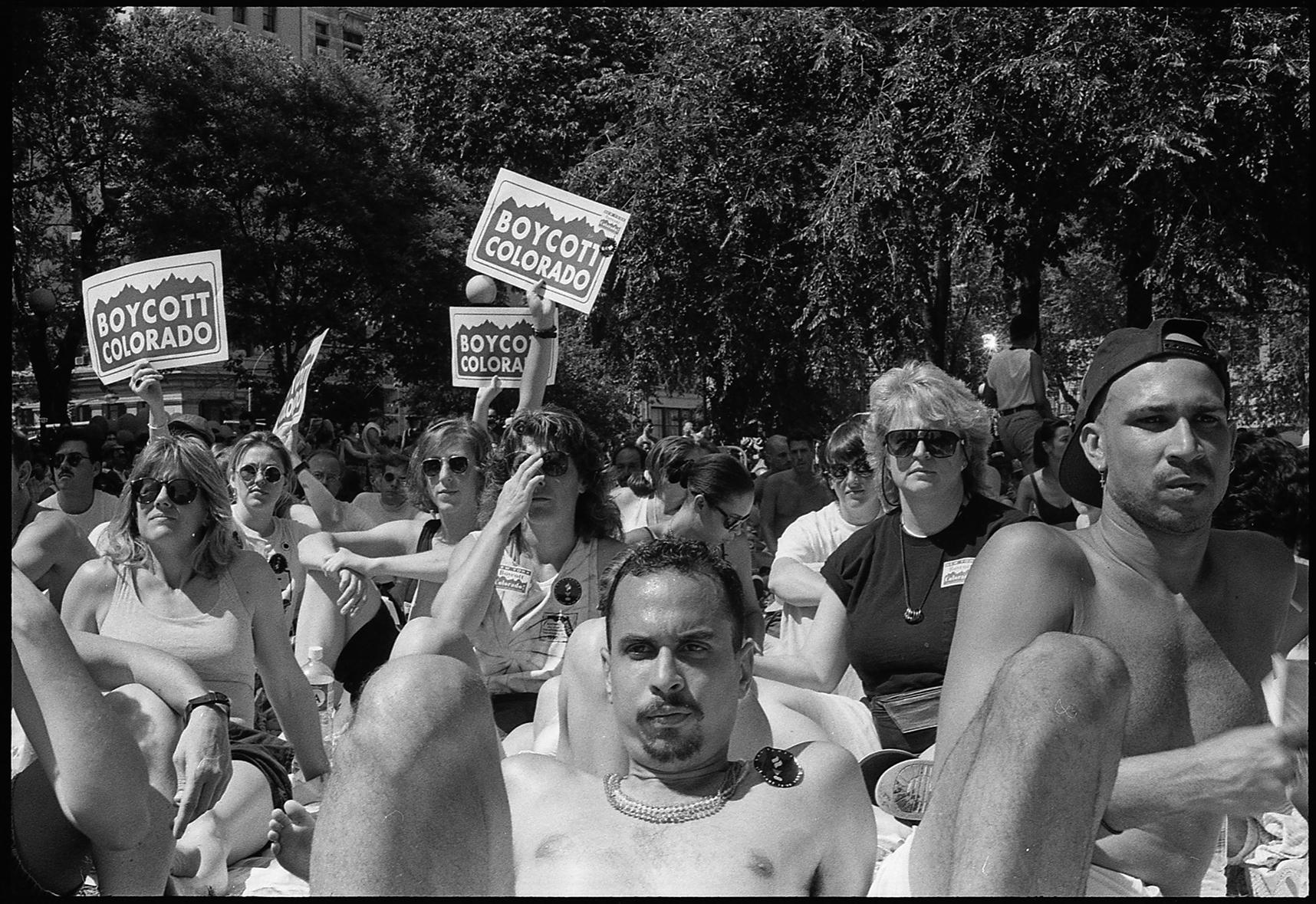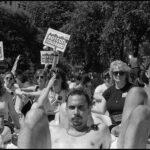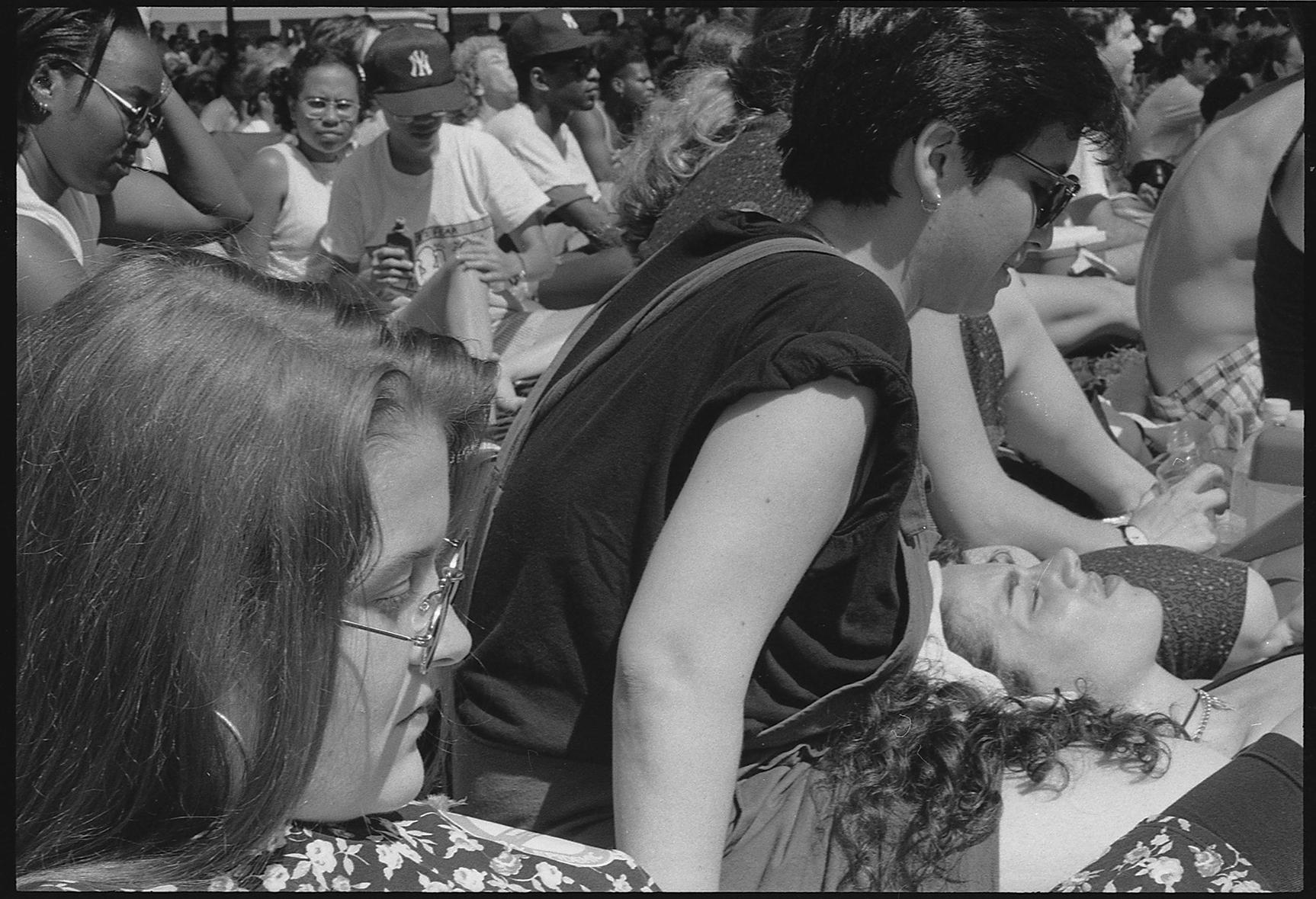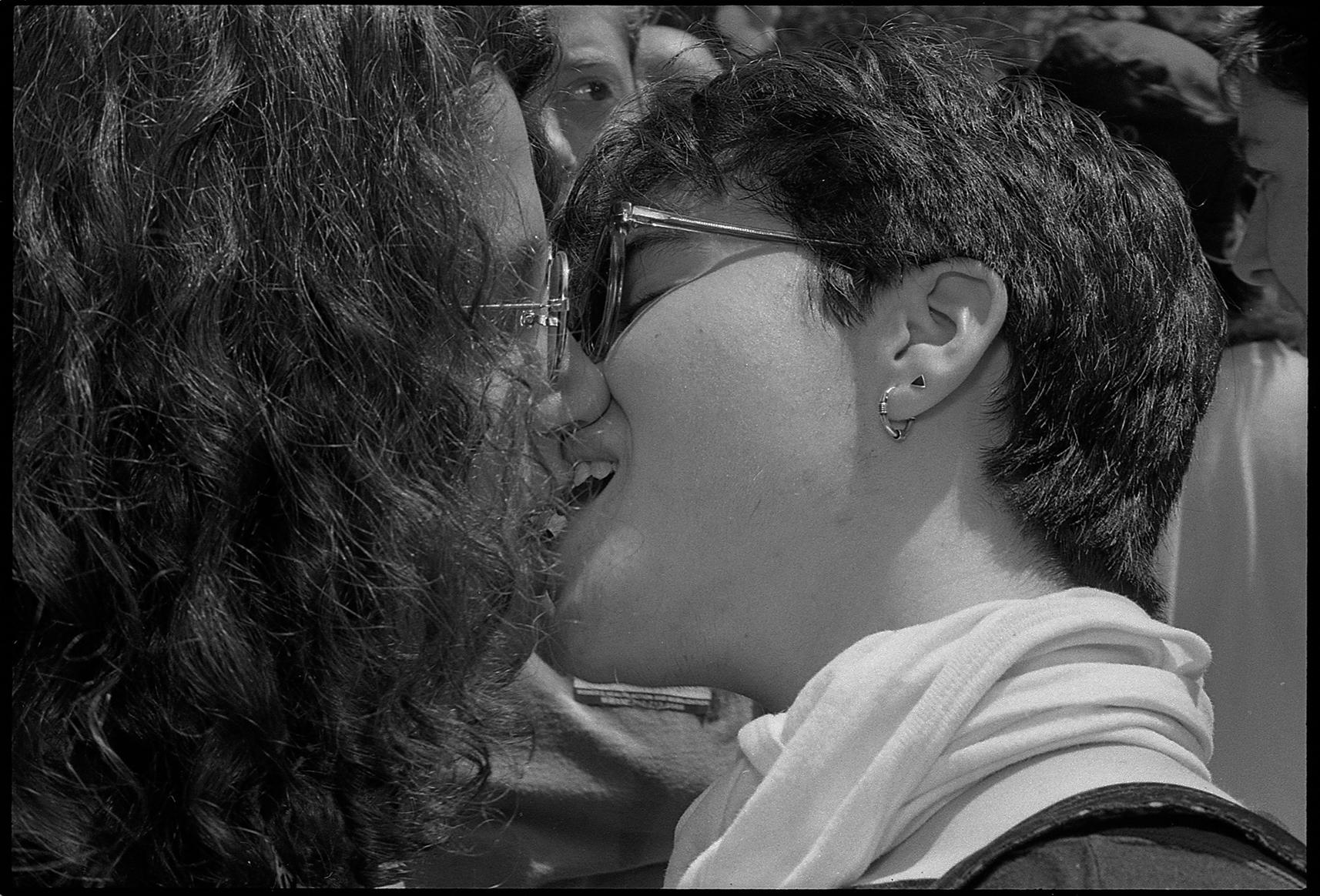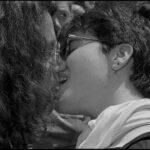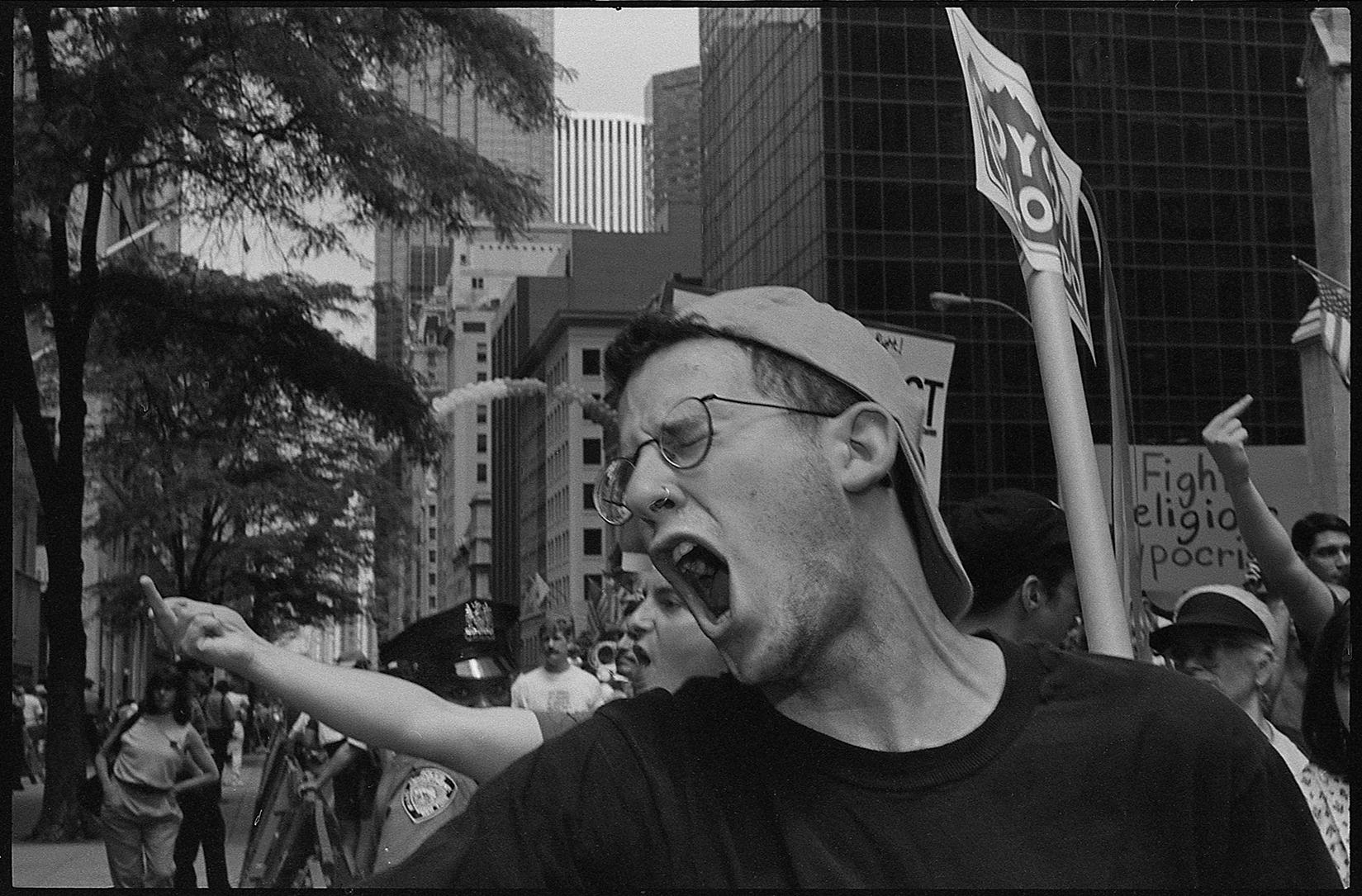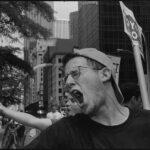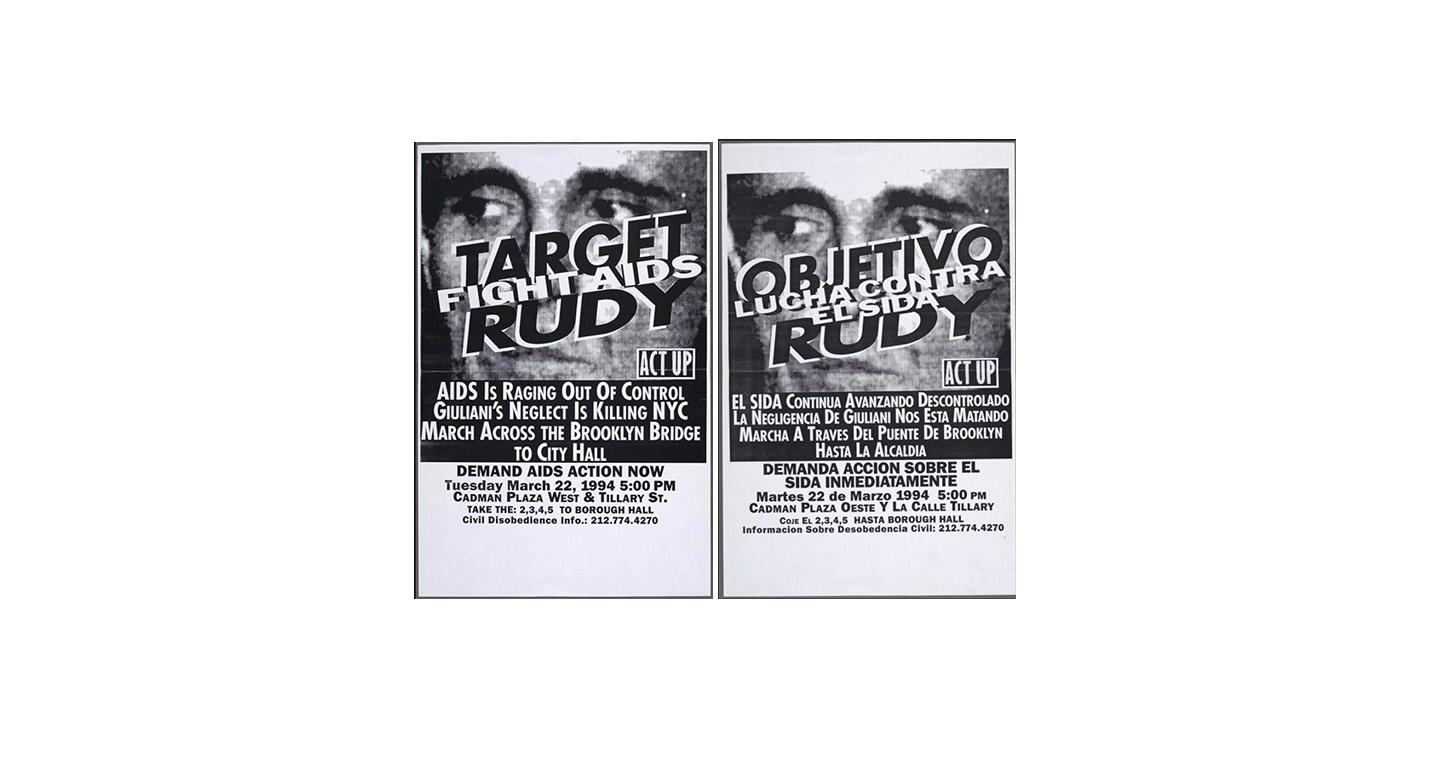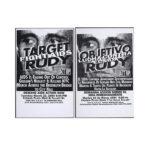 Target Rudy, March 22, 1994.
More than 1500 activists, including ACT UP NY, the Harlem Group, Mothers Voices and AIDS Service providers, march across the Brooklyn Bridge from Brooklyn to City Hall to focus media attention on drastic cuts proposed to DAS. Forty-seven are arrested.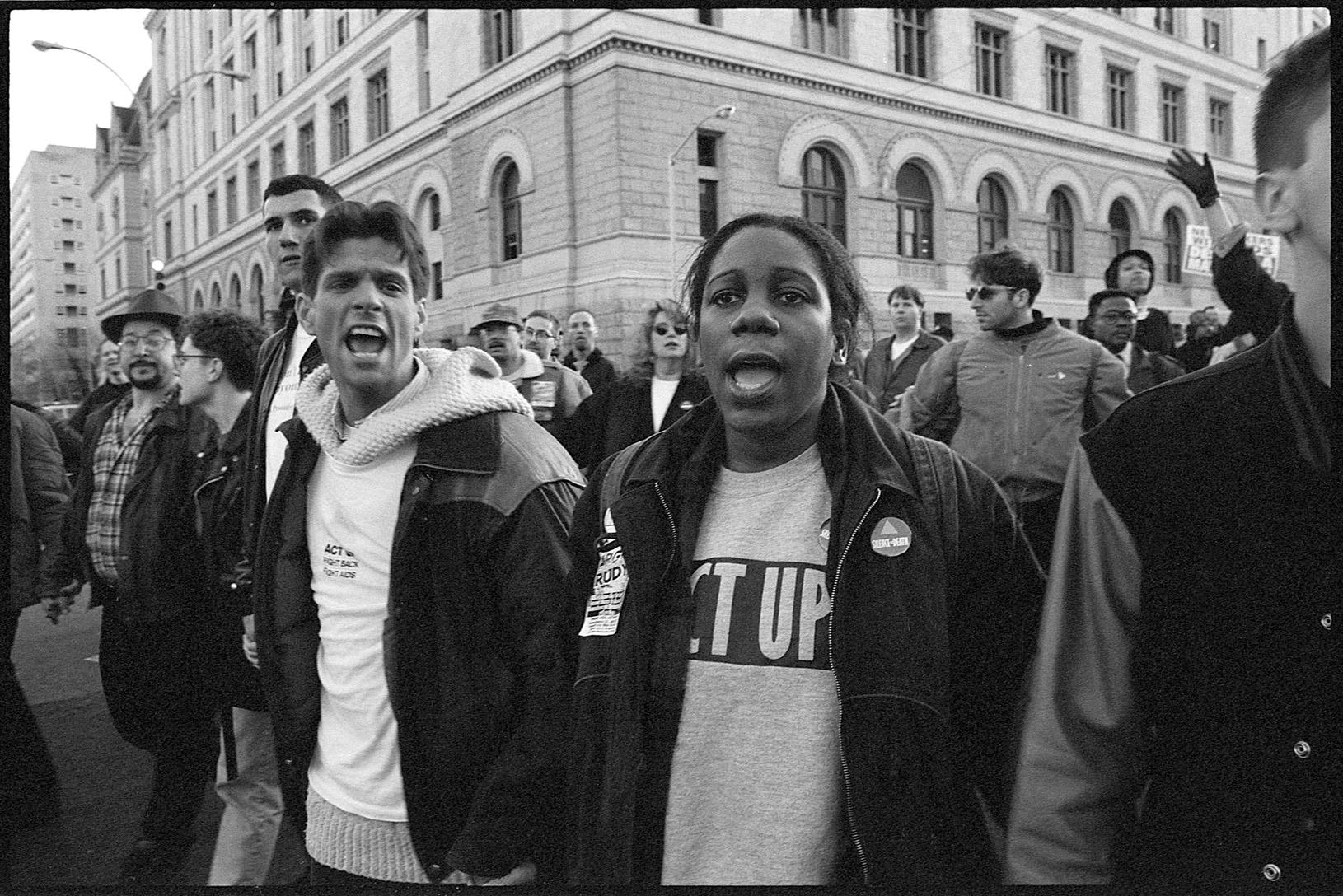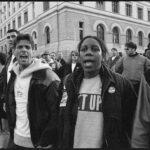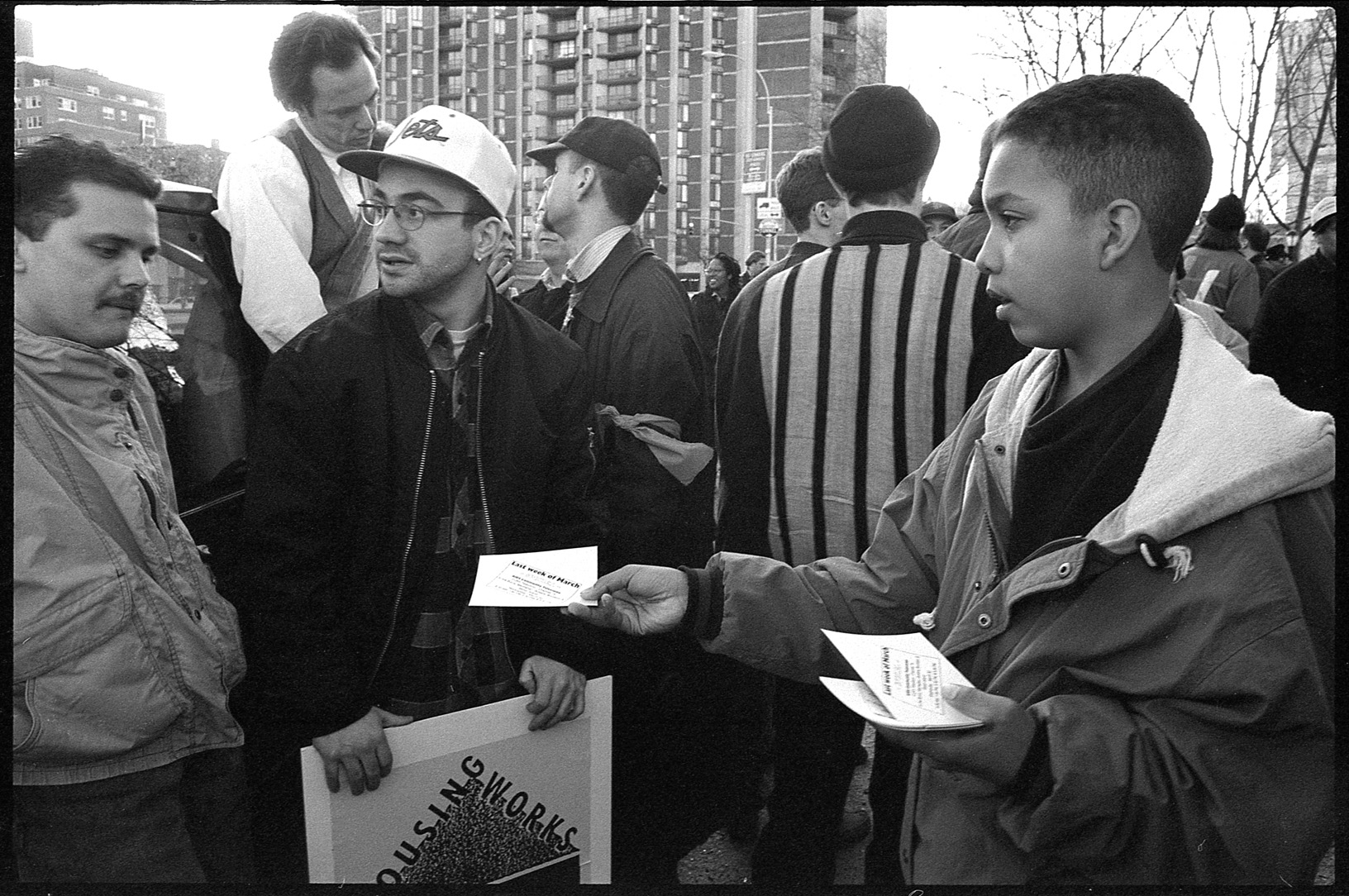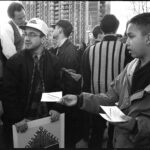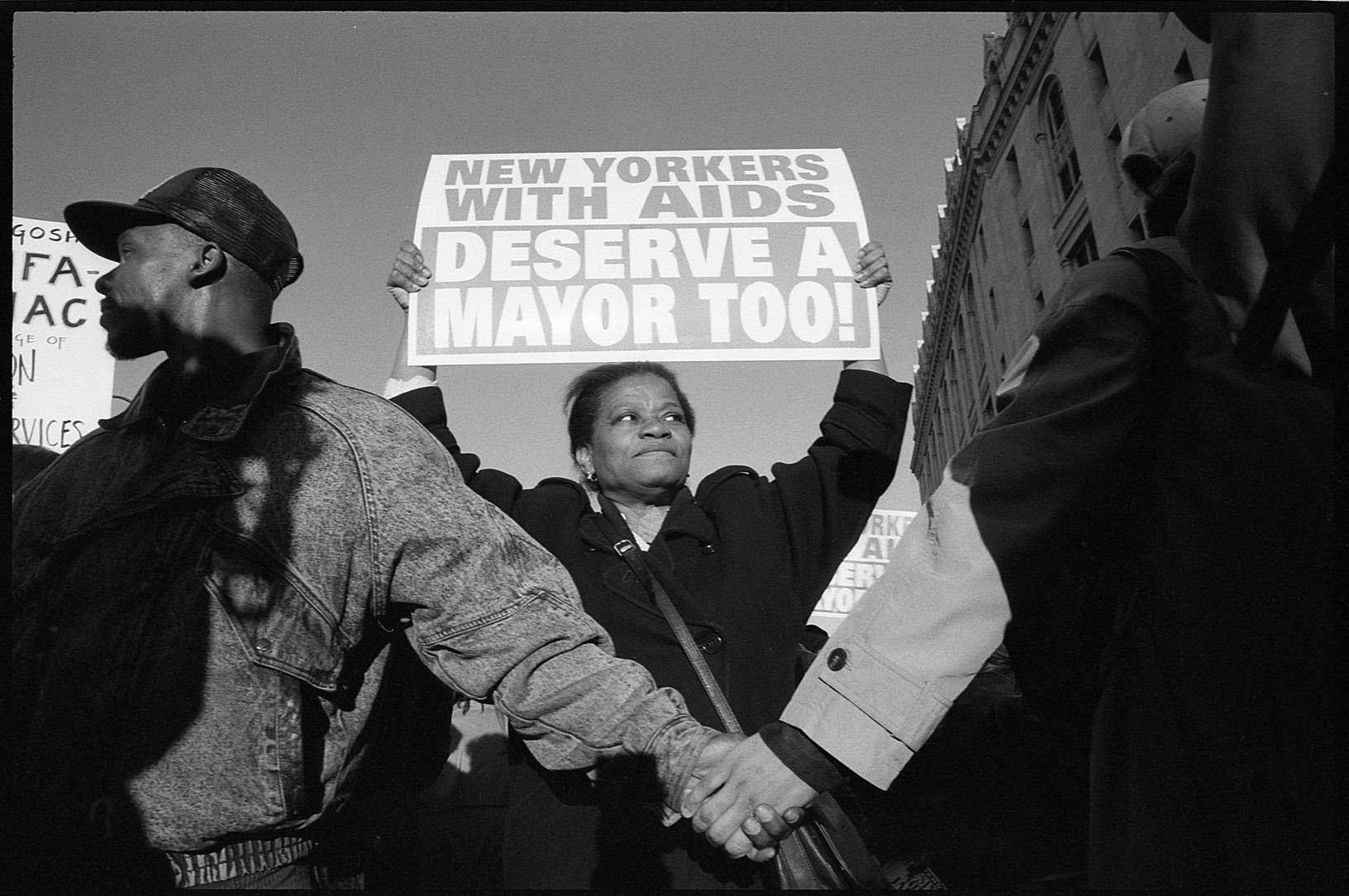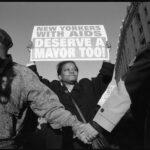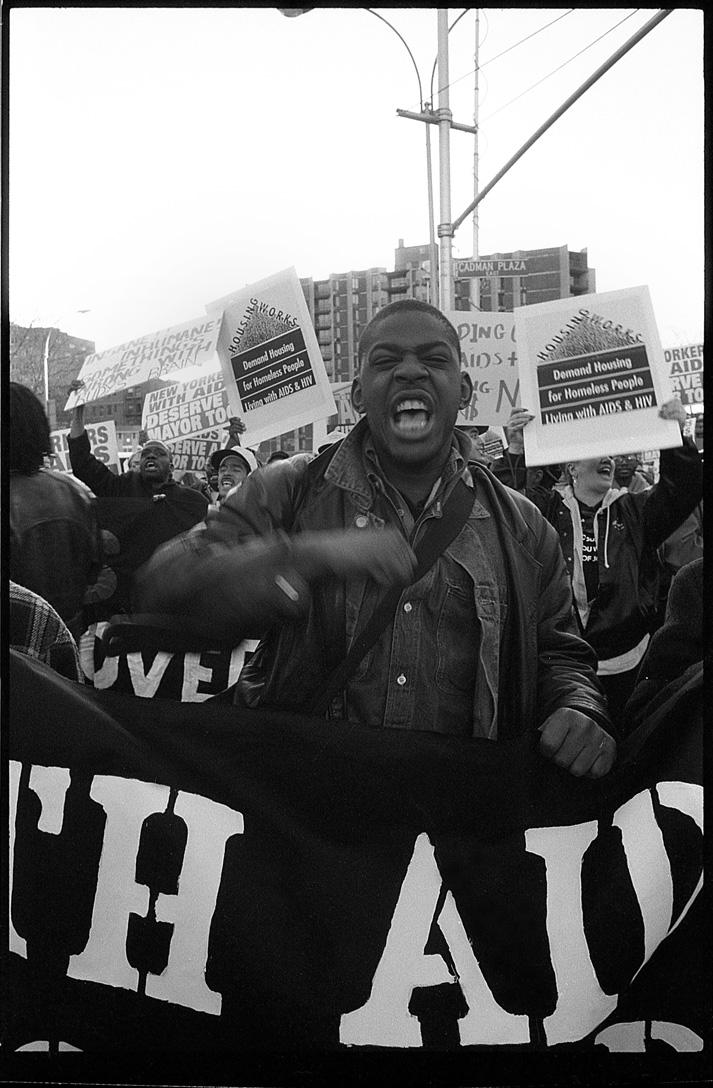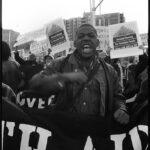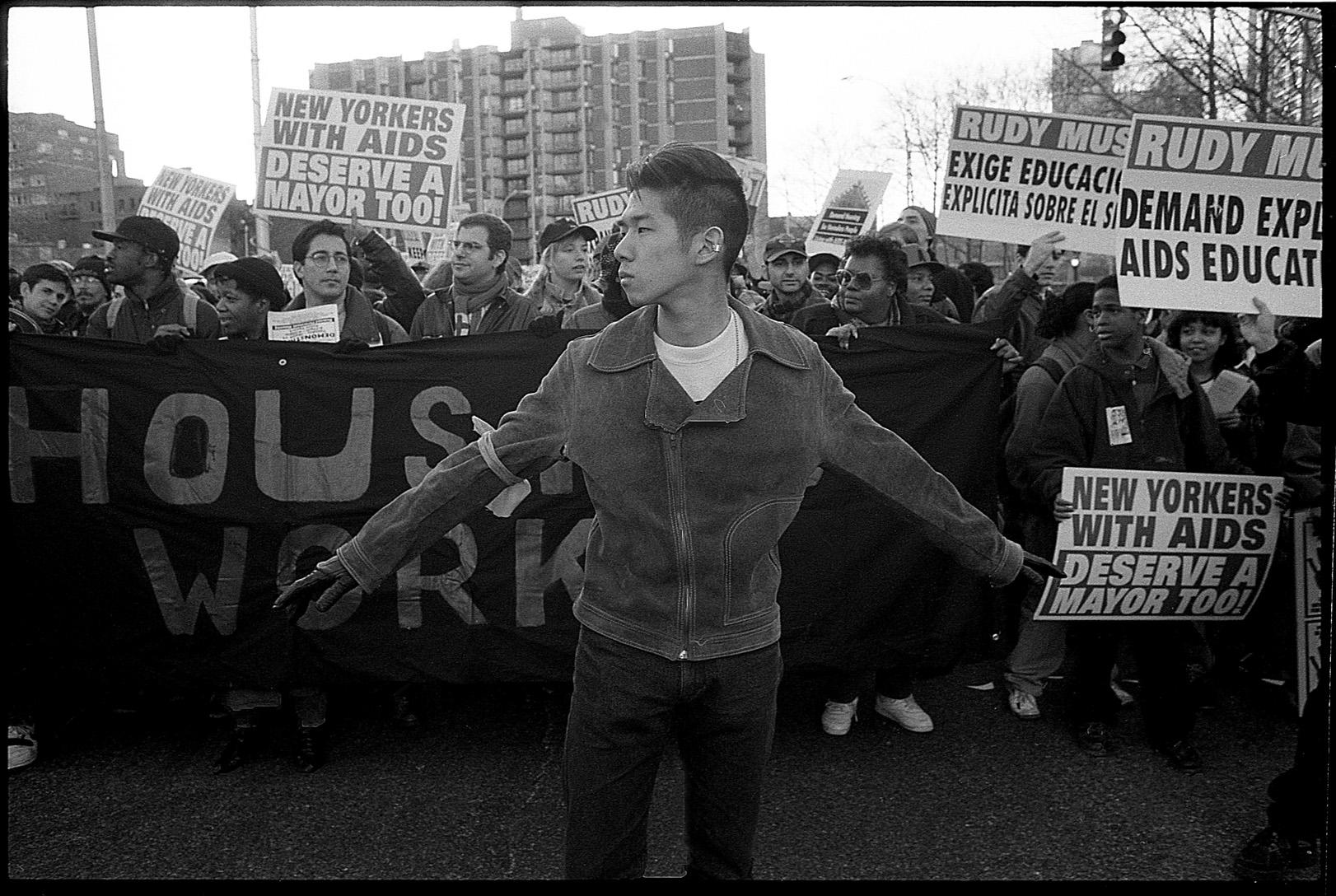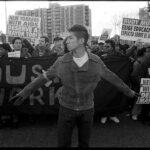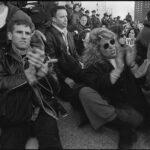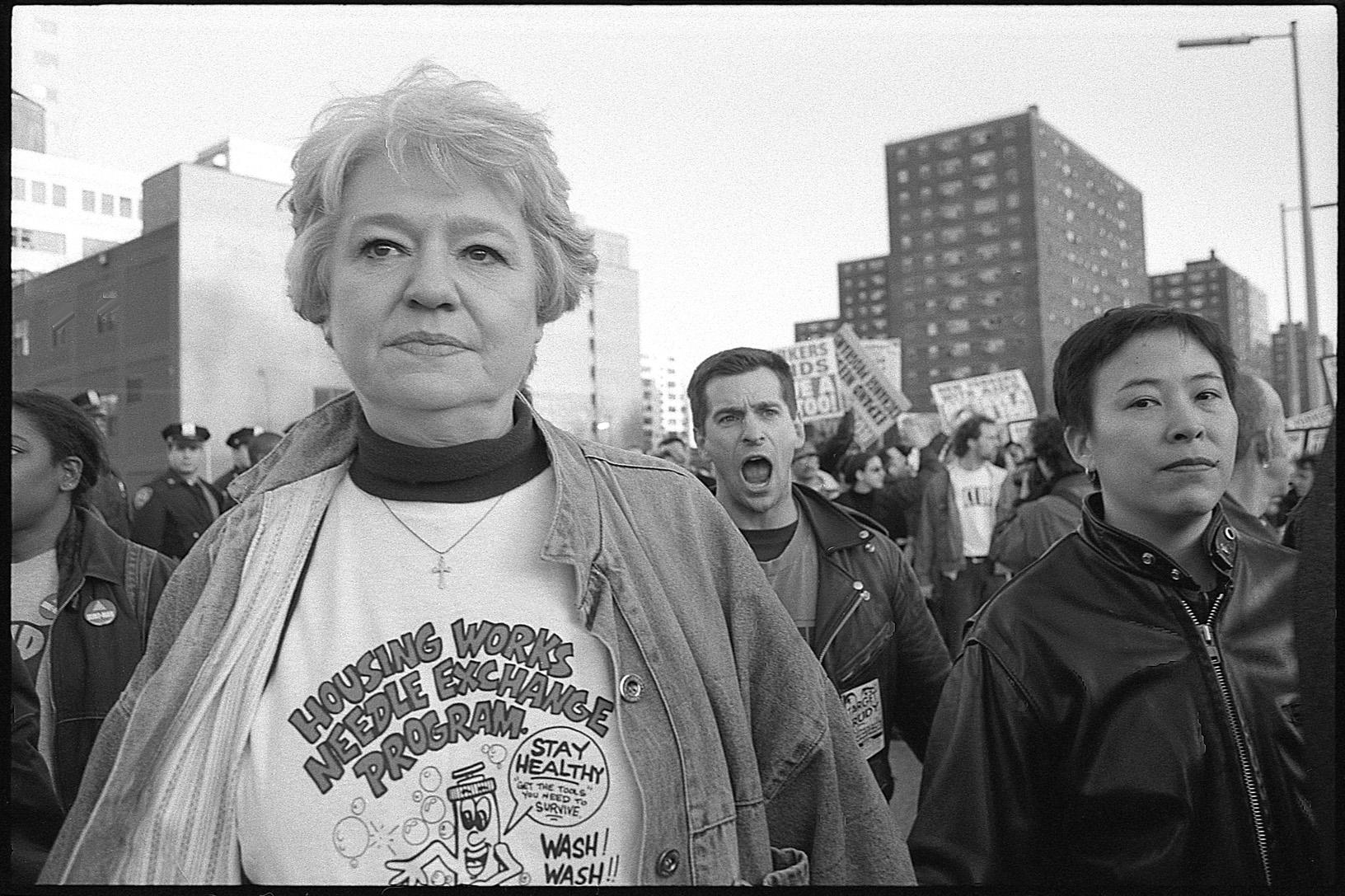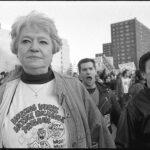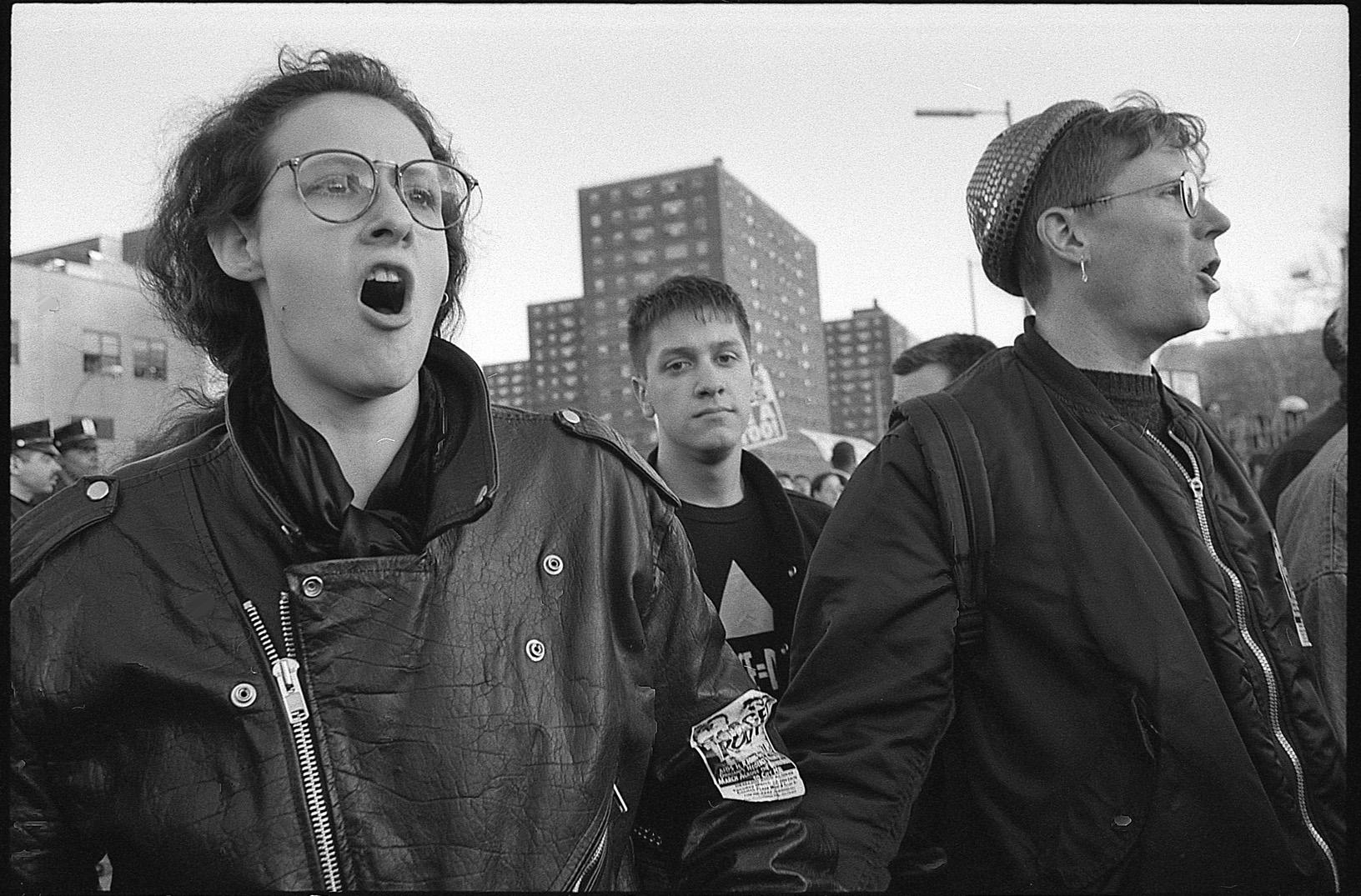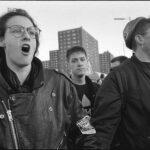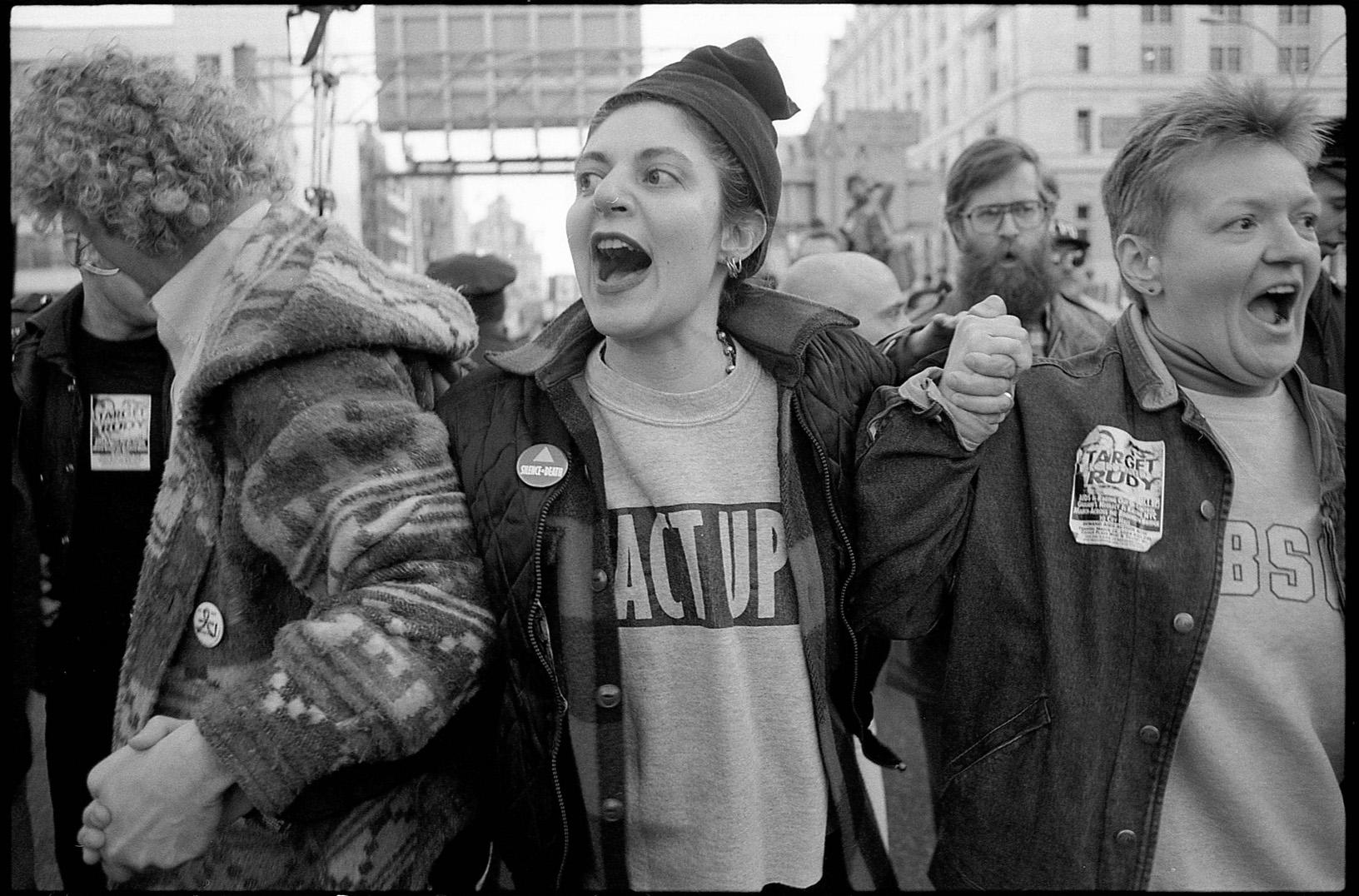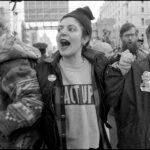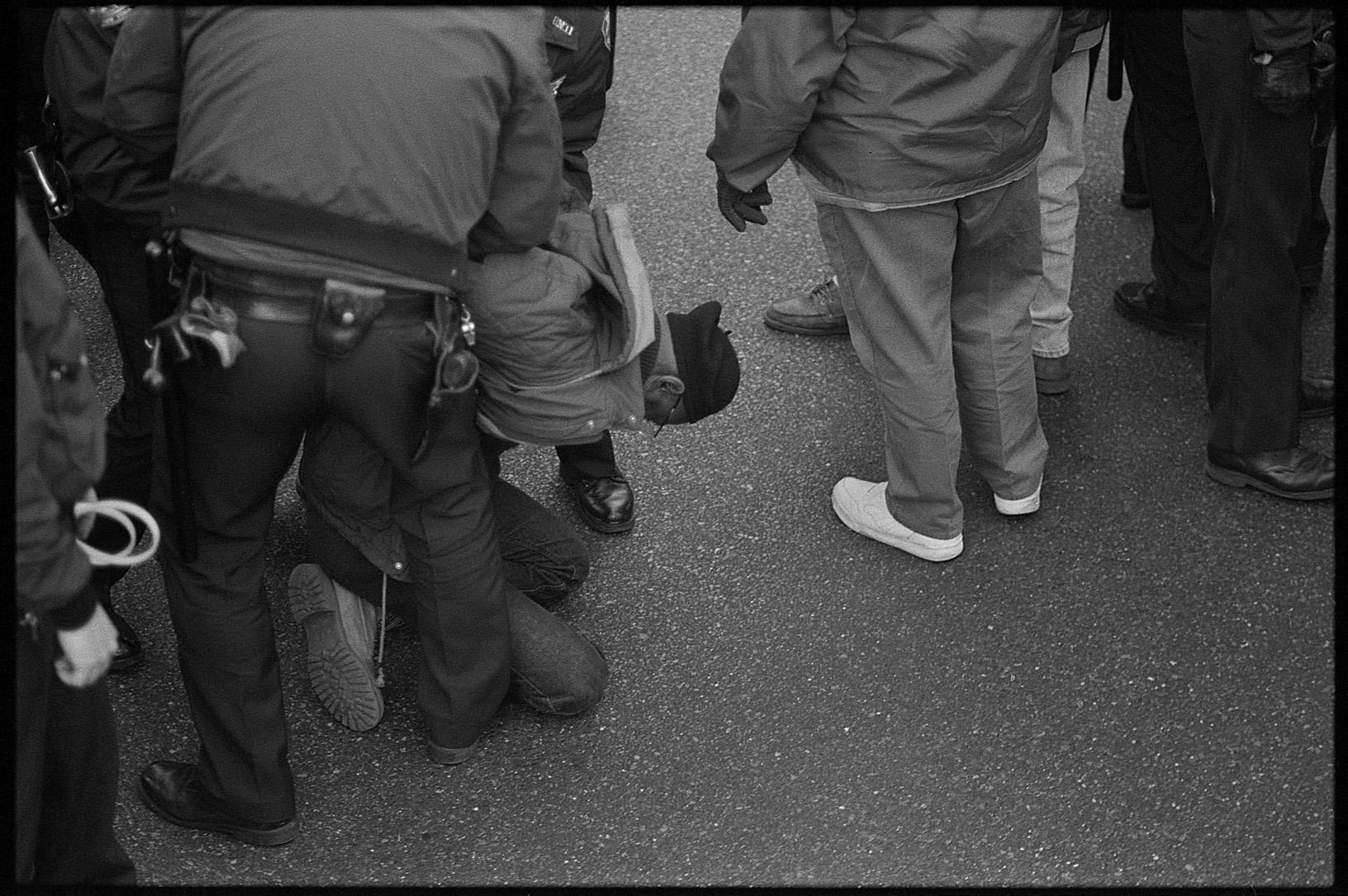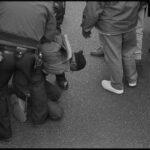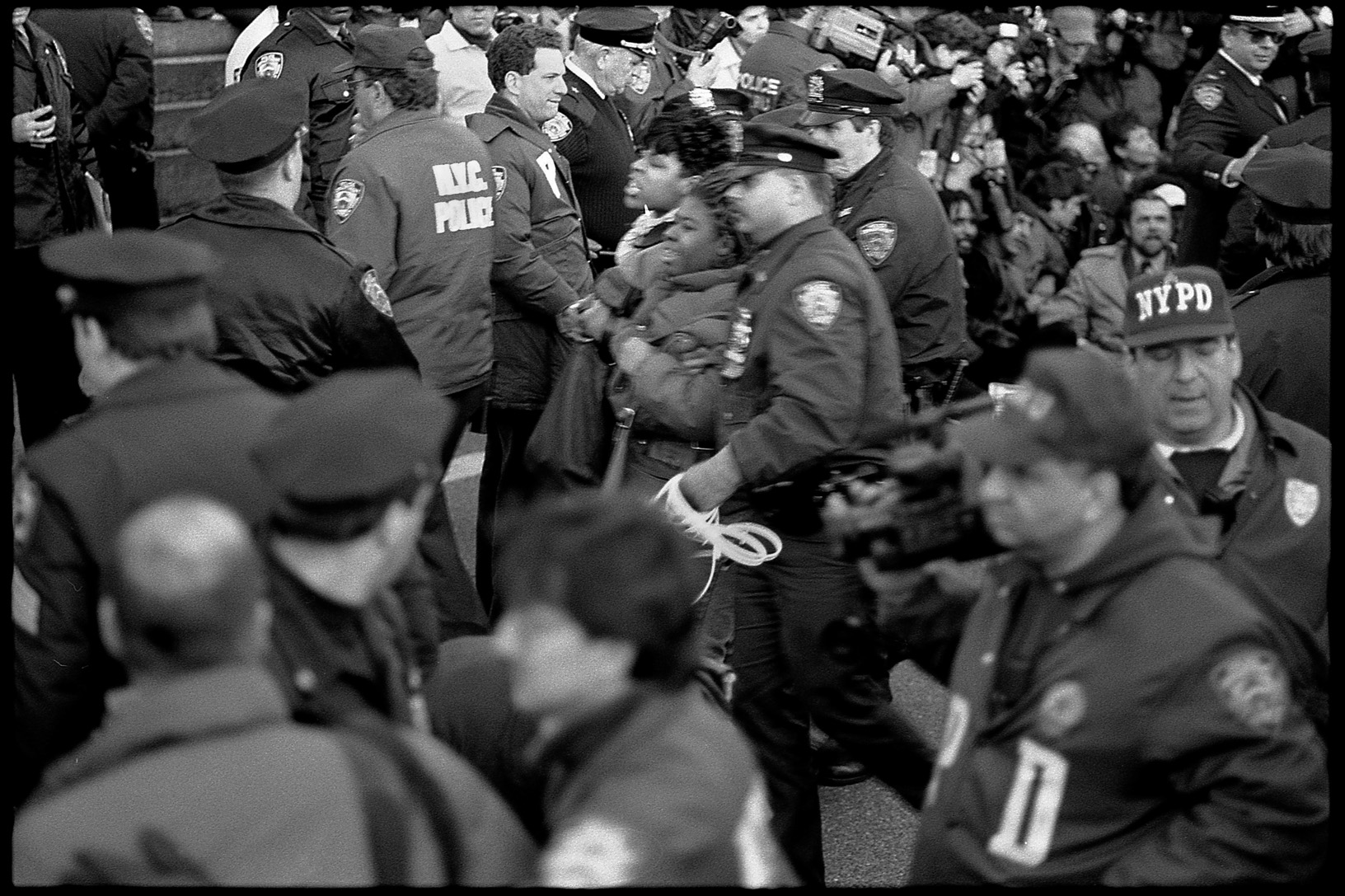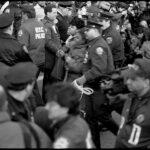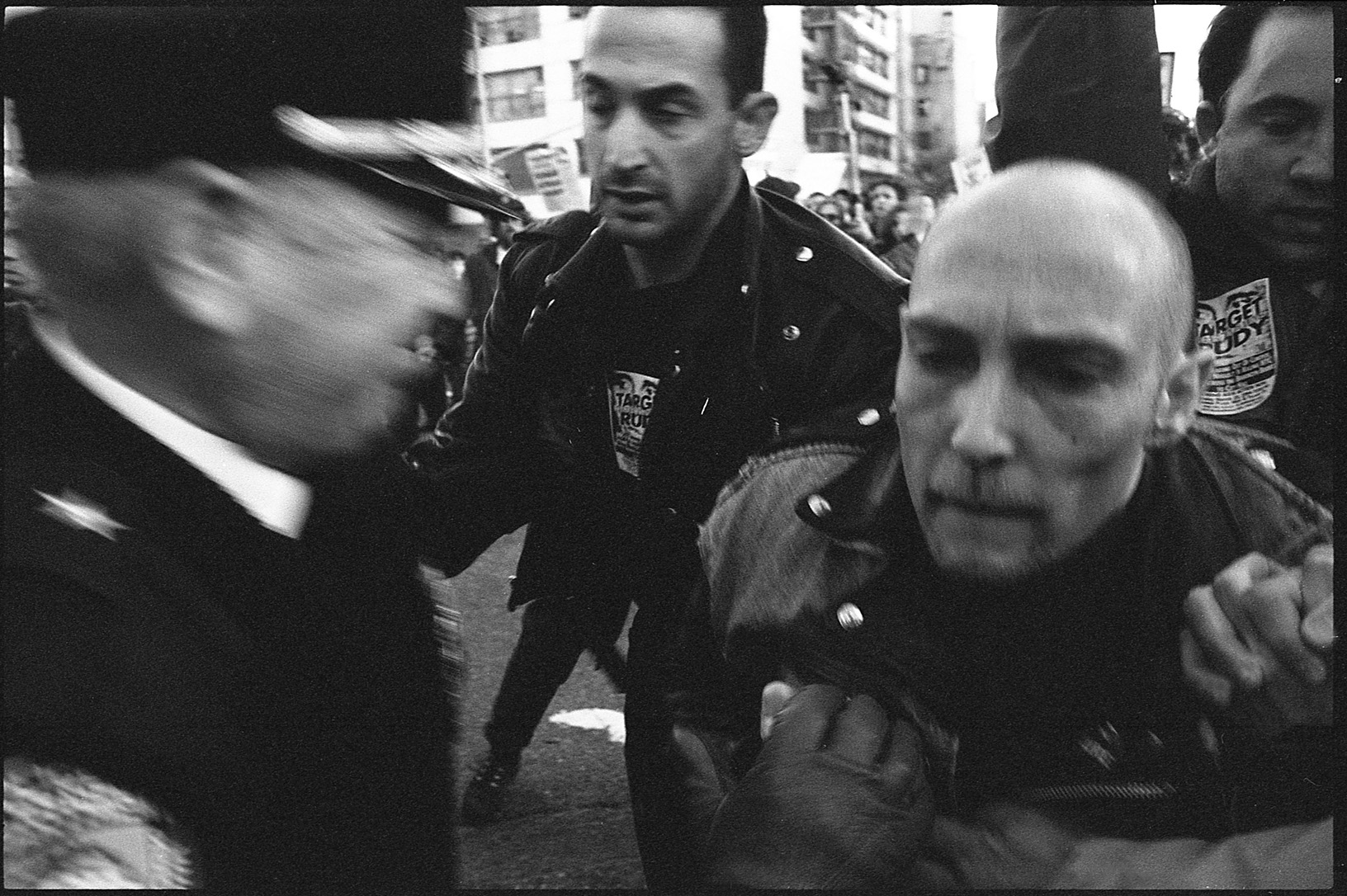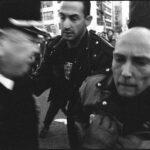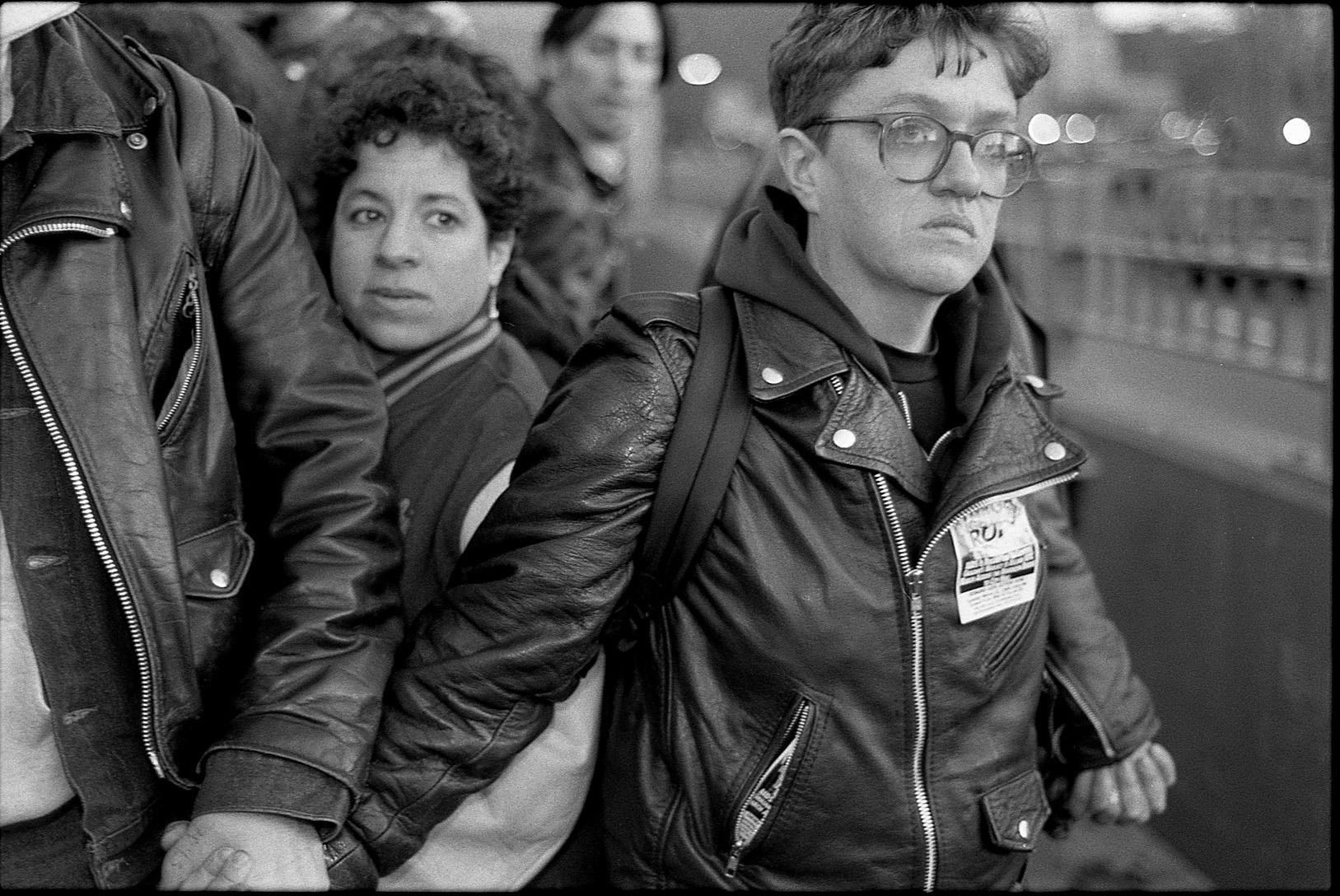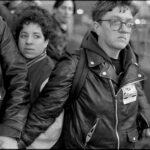 Ali Forney, Safe Space, New York, 1994.
In 1994, while working on a project on healthcare for young people, I photographed at Safe Space, a drop in center for at risk LGBTQ+ youth in Times Square. While there, I met Ali Forney. Ali, was gender-nonconforming and forced to live on the streets at the age of 13.  They attended Safe Space where they met Carl Siciliano, the director of the center. "In December of 1997, Ali was murdered on the streets. They were 22 years old. Their tragic death called attention to the atrocious conditions for homeless LGBTQ+ youth in New York. In 2002, committed to making a difference and honoring Ali, Carl founded the Ali Forney Center.
"Since AFC's launch with just six beds in a church basement, the organization has grown to become the largest agency dedicated to LGBTQ+ homeless youths in the country — assisting over 2,000 youths per year through a 24-hour Drop-In Center which provides over 70,000 meals annually, medical and mental health services through an on-site clinic, and a scattered-site housing program." (Ali Forney Center)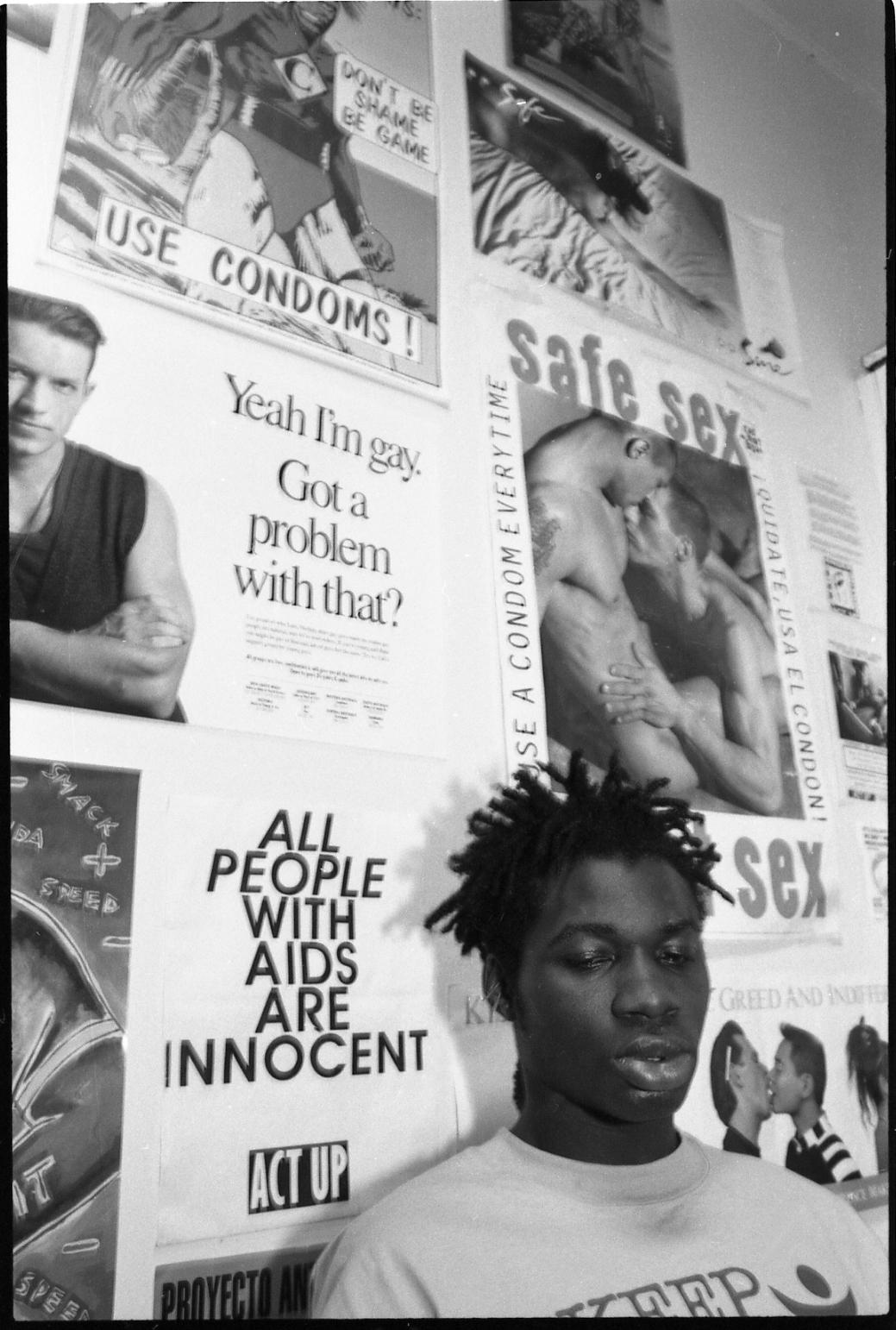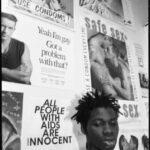 Ali Forney, Safe Space, New York, 1994.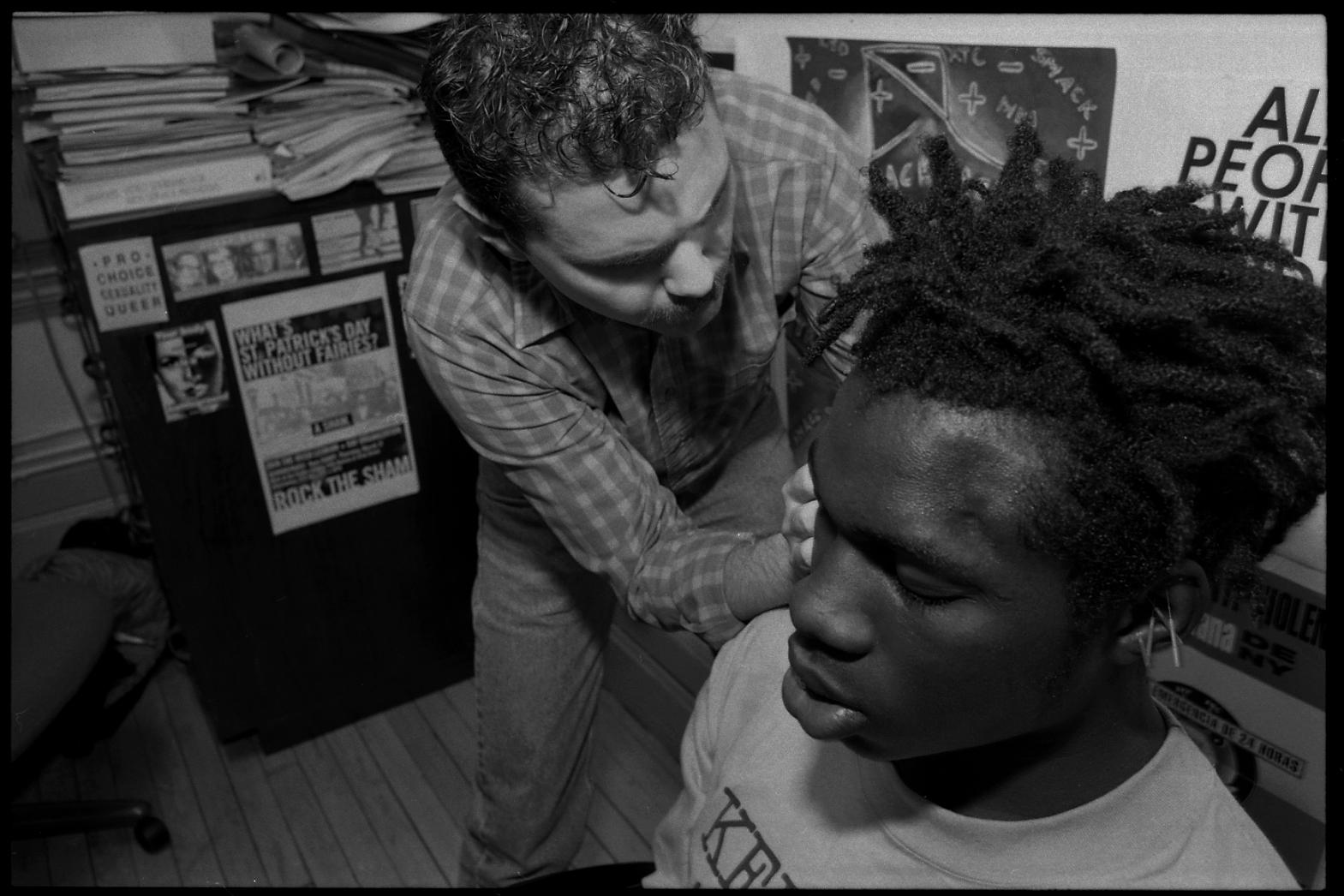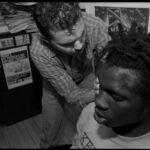 Ali Forney, Safe Space, New York, 1994.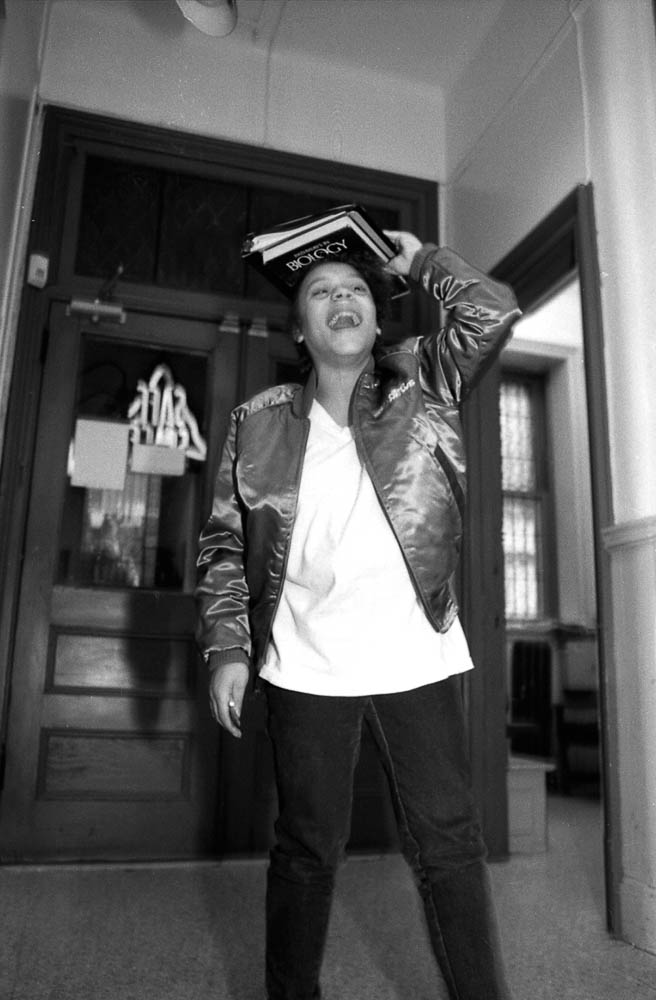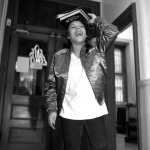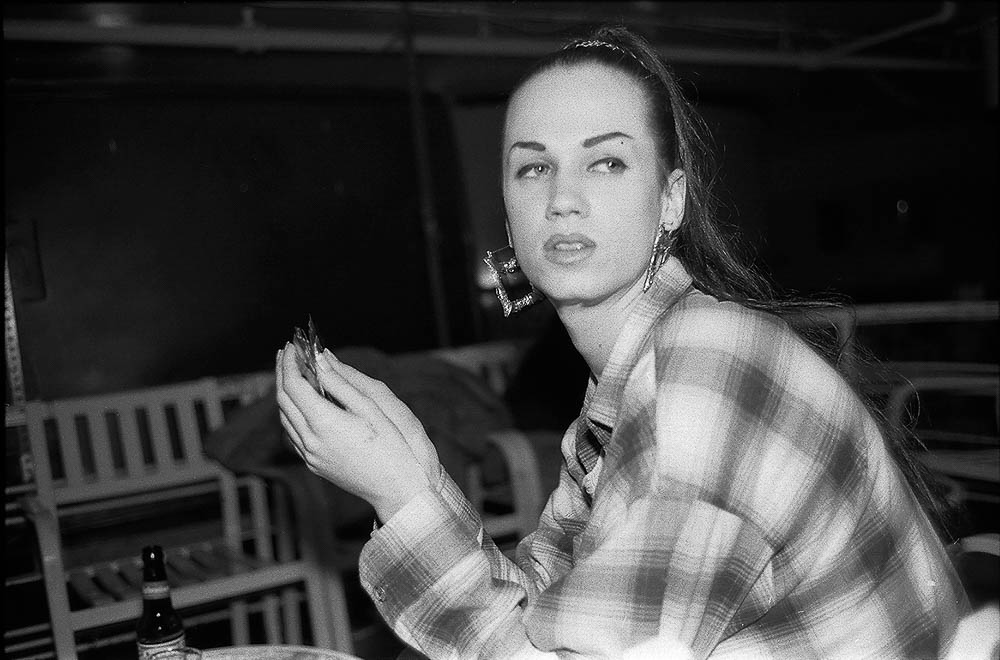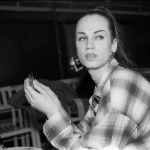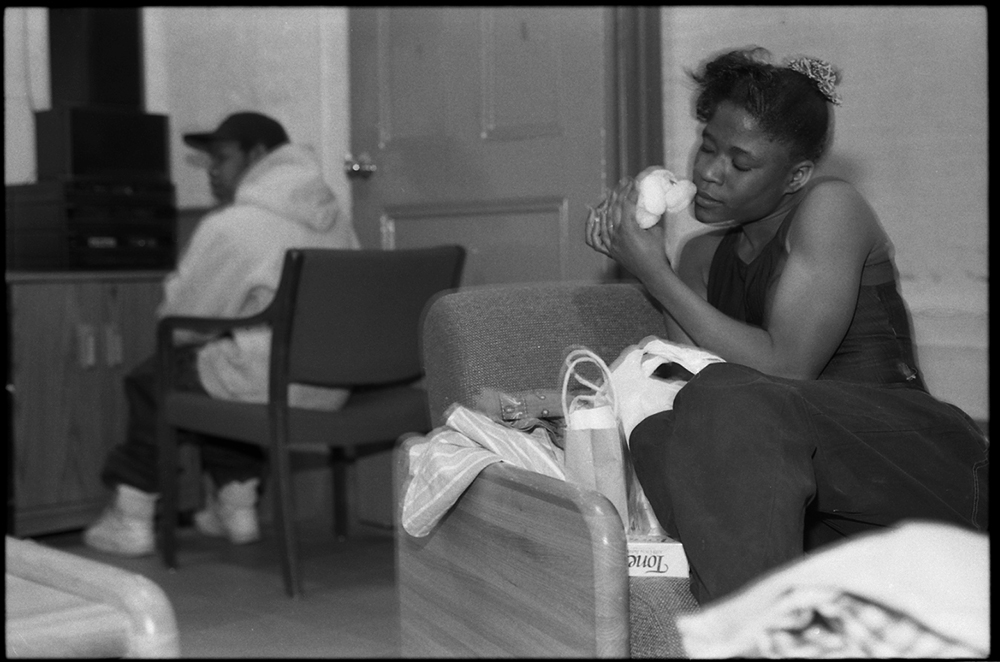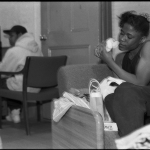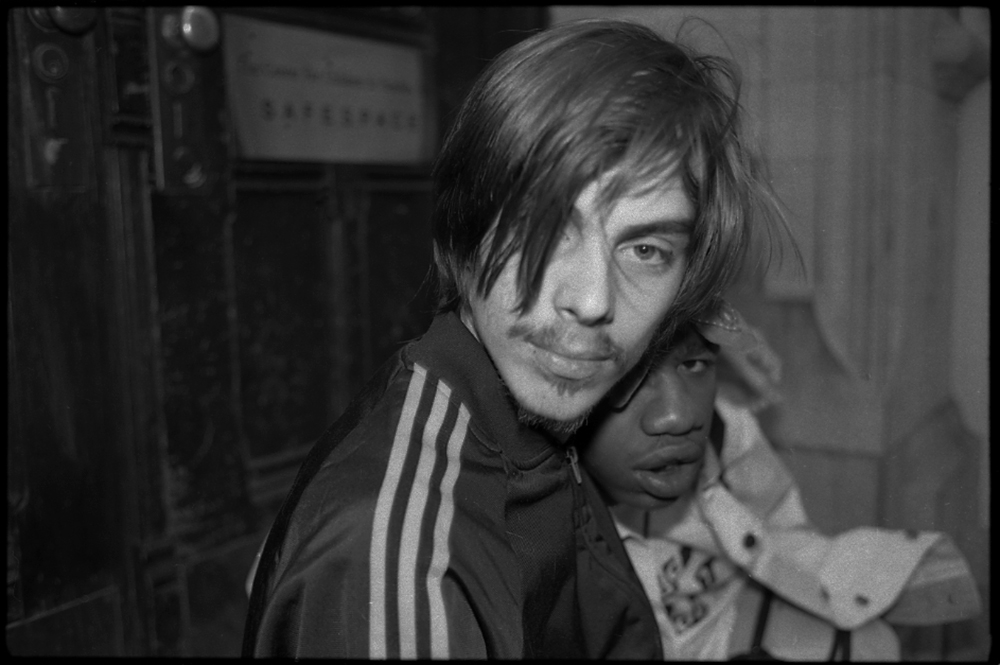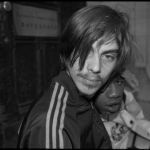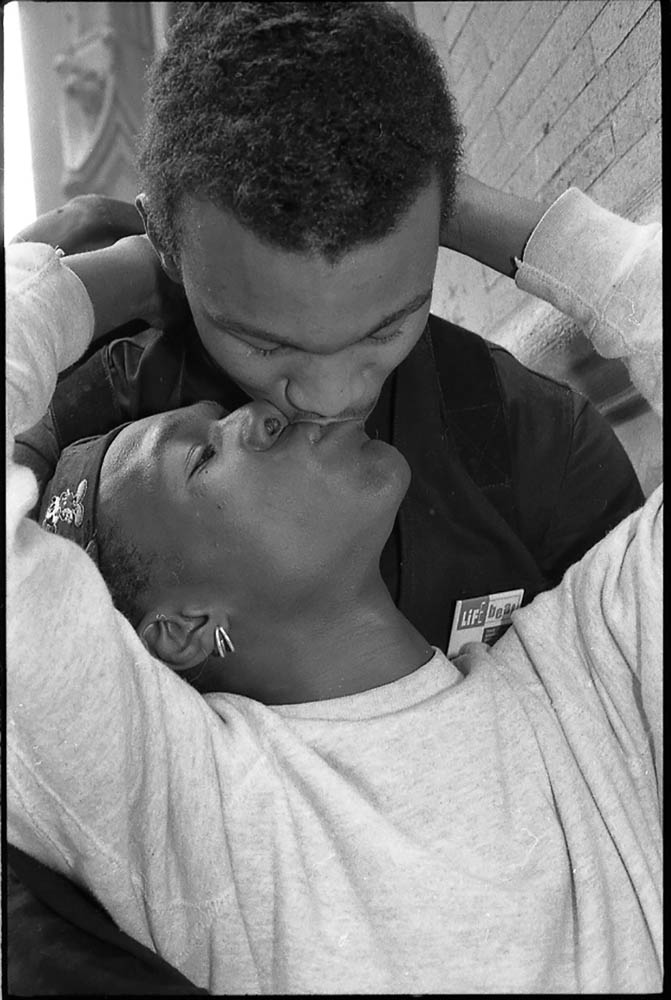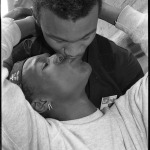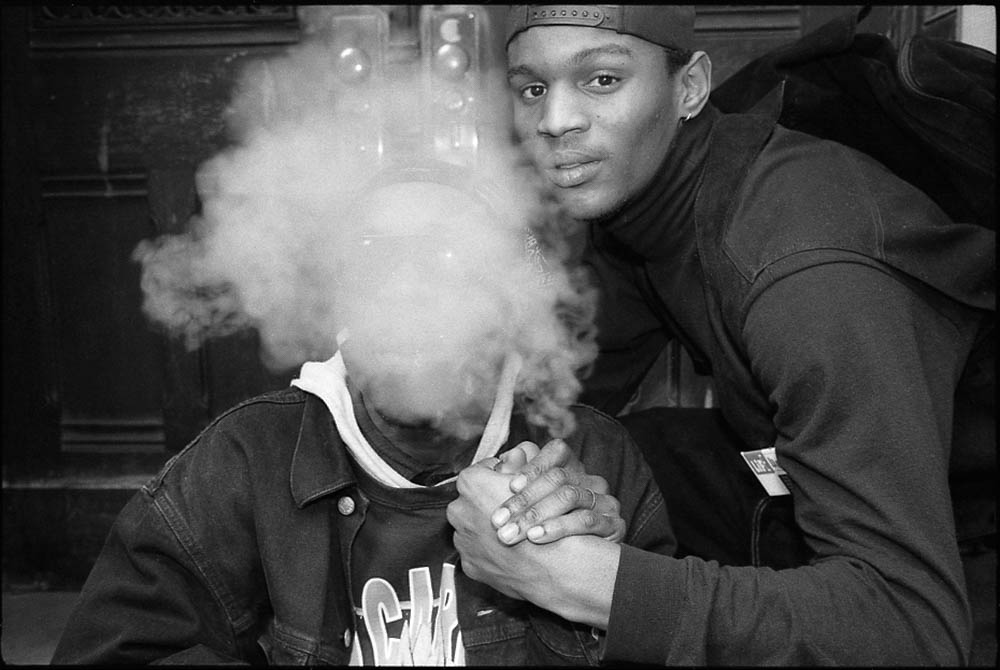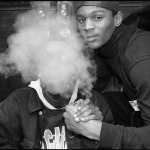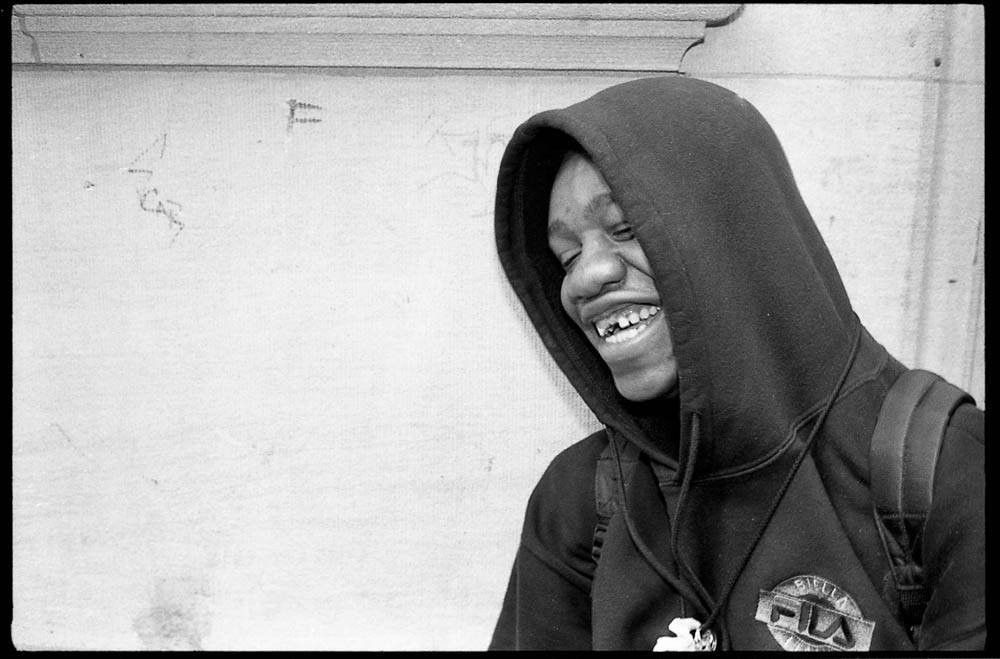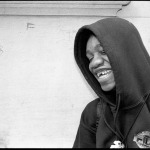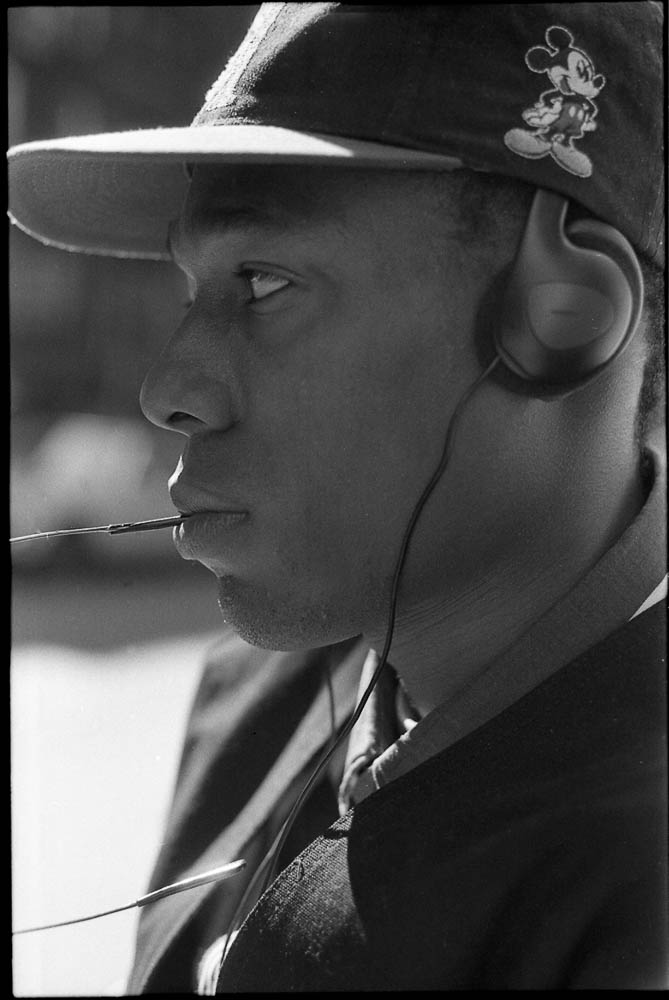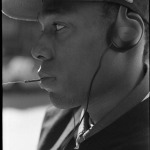 Coco, Safe Space, New York, 1994.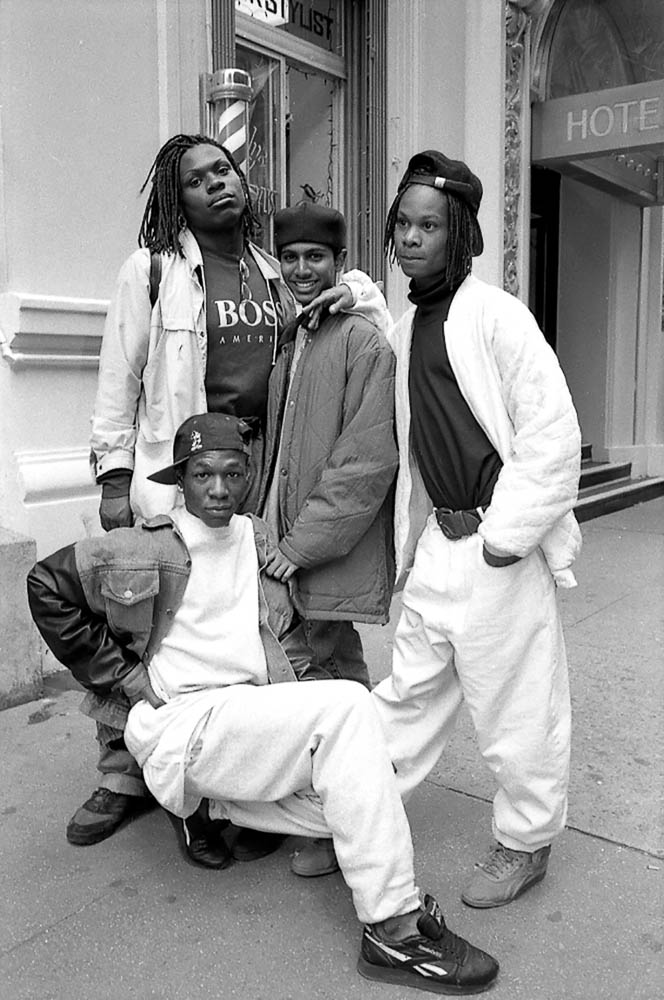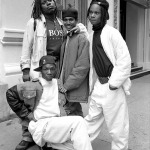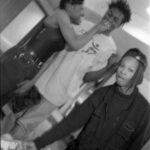 In memoriam: "Little Chocolate", Ali Forney and Regine.